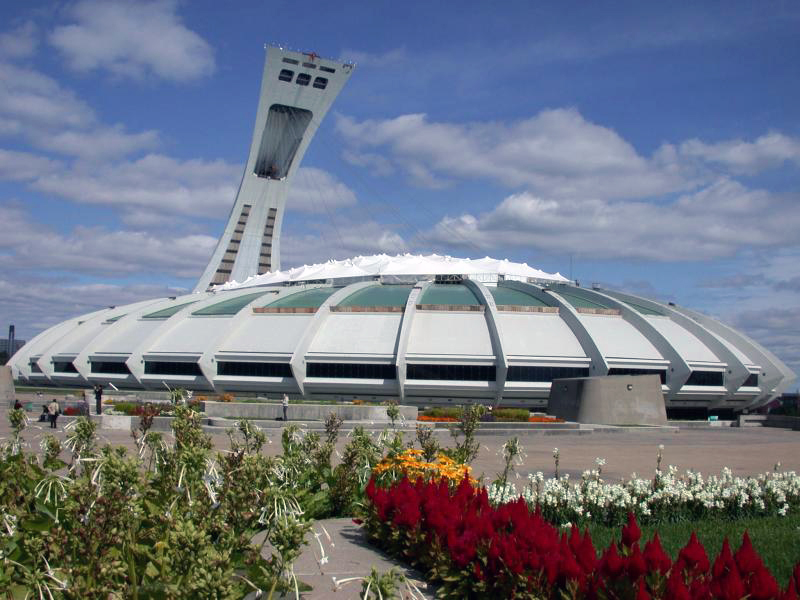 August 18, 2002: Montreal, Quebec
I write this on the morning after the Montreal Expos organization played its first home game as the Washington Nationals. Much has occurred since Mike and I made our visit to Olympic Stadium, located in the great city of Montreal. In 2002, Major League Baseball purchased the Expos from then-owner Jeffrey Loria. With control of the Expos, MLB had every intention to move them from Montreal. This was a far cry from the days when the Montreal Expos were the model organization of Major League Baseball. They fielded great teams comprised of homegrown talent. At one time the Expos had two of the greatest pitchers ever, Pedro Martinez and Randy Johnson, not to mention Hall of Fame catcher Gary Carter and All-Stars like Andre "The Hawk" Dawson, Tim "Rock" Raines, Andres "The Big Cat" Galarraga, and Dennis "El Presidente" Martinez. The Expos finished in the top four in attendance for five consecutive years (1979 to 1983). They had what seemed to be a National League East Division-winning team in 1994, but with Major League Baseball going on strike that August, the Expos' 74-40 record was for naught. Baseball in Montreal was never the same since the players and owners ended Expos fans' dreams of a World Series title.
Despite all the bad reviews of Olympic Stadium, built for the 1976 Olympics, I could not wait to attend a game there. The third game of the four-game series between the Expos and the San Diego Padres was also Vladimir Guerrero Bobblehead Day. On this day, fans would receive a ticket that would determine whether they would receive one of the 5,000 bobbleheads or a free soda, a free hot dog, or a free ticket to an upcoming game. The Expos had hit the jackpot with their bobblehead giveaway days, with fans lining up outside Olympic Stadium for an opportunity to receive an Expos bobblehead. Although Mike and I did not win a bobblehead, we were lucky enough to meet a retired couple on the Metro (Montreal's subway system) who gave us their two extra tickets, for free! Mike and I offered to pay face value, but they refused, saying how they were given two season tickets through their daughter's company. Mike and I talked to them about Les Expos the entire ride. It was sad to discuss the looming move of the Expos to the United States, but baseball is not the national pastime of Canada. Although there is a history of baseball in Canada (it is where Jackie Robinson began his journey to the Major Leagues as a Montreal Royal), baseball was always a secondary sport in the land of frozen ponds. It is hard to believe that a few hundred individuals can ruin the game of baseball for an entire country, but baseball in Montreal died after the 1994 strike, even despite Canada's other team (the Toronto Blue Jays) being the two-time defending World Champion at the time.
It wasn't hard to enjoy a ballgame at Olympic Stadium. With the help of two home runs by Jose Vidro and 24,872 Expos fans, starting pitcher Tomo Ohka fought though nine innings for a complete game and a 9-2 Expos win. Olympic Stadium offered a festive venue to enjoy baseball. Although many fans just came to the ballpark for a chance at a Vladimir Guerrero bobblehead, the ones who sat through the game made plenty of noise. In Montreal, fans of all ages are known to open and close empty seats around them, creating a crescendo of noise during key situations of the game. During the game, Mike and I met many interesting people, one of whom I will never forget.
While Mike and I were waiting for the game to start, I was talking to a father who brought his three sons to the game. During our conversation, Expos pitcher Tony Armas, Jr. began signing autographs by the dugout. I noticed one of the brothers wanted to go, so I offered to take him. After he got his glove signed, I noticed numerous signatures on his glove, Ken Griffey, Jr. and Vladimir Guerrero to name a couple. What I found surprising was how the names were worn out. I asked him why and his father responded, "He uses it for Little League." I was shocked when I heard this so I asked him directly why he used it for Little League; he replied, "It's my lucky glove." That is what baseball is all about; I could not see many children playing with a glove that has two Hall of Fame players' autographs on it. It saddens me to think that because the Expos have left Montreal, that boy and his brothers have thrown their gloves in their closets. Only time will tell if a new generation of Montreal's residents will get to call a new iteration of the Expos their own.
Les Expos vivra pour toujours!