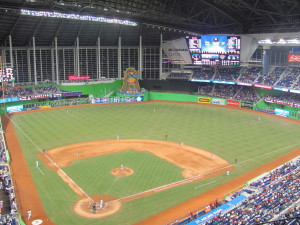 Ballpark Nerd Rank: 23
Opened: 2012 Capacity: 36,472
Schedule and Promotions
Seating Chart, Ticket Prices & Ballpark Nerd Recommendations
Base Reserved sections 7-8 & 21-22
Vista sections 306-322
Getting to the Park
Address: 501 Marlins Way, Miami, FL 33125
Ballpark Nerd recommends researching Little Havana before making your way to Marlins Park which is located in the middle of a residential neighborhood. Most fans drive to the game, if you do make sure you purchase parking prior to the game. Public transit options include Metrorail Express Shuttle, Bus and Tri-Rail Connections.
Don't Miss
Sites
The much maligned Home Run Feature in right-center field is Miami. It is between 65 and 75 feet tall, with bright pink, blue, aqua, and orange colors along with moving dolphins. It's unique and represents Miami to the fullest. I love it!
The Bobblehead Museum located on the first base concourse displays hundreds of bobbleheads from all over baseball.
Aquatic home plate backstop build on each side of home plate, these bulletproof aquariums hold a total of 1,050 gallons.
Art work is located throughout Marlins Park to embody the unique Miami style.
The Clevelander is a South Beach-themed nightclub located in LF that features DJs and a swimming pool.
Concessions
Ceviche – shrimp or tilapia served with yellow corn, chopped onions and chips.
Velvet Crème doughnuts a South Florida staple brought to Marlins Park.
The Taste of Miami stand located near Section 27 offers Miami favorites Don Camaron, Latin American Café, Mama Choa and Panna Café Express.
For the Kids
Mascot – Billy the Marlin
Billy's Bunch Kids Club includes a welcome letter from Billy, lunchbox, water bottle, activity book and baseball clinic. Membership is $5 during Marlins games, $10 for Florida residents and $15 for out of state members.
Children 12 years of age and under may receive a Marlins "Safe in the Seat" identification wristband featuring a space to write in the child's name and seat location. The "Safe in the Seat" wristbands are available at all entrances, as well as the Guest Services Centers located on the Promenade Level at Section 15 and the Vista Level at Section 318.
While You're in Town
Trip Advisors' Top 5 Miami Attractions:
American Airlines Arena
Vizcaya Museum and Gardens
Zoological Wildlife Foundation
Boat Tours
Wynwood Walls
For a full list of attractions visit Trip Advisors' Miami page.
Ballpark Nerd Recommends – Coconut Grove
Road Trip Directions