Ballpark Nerd Rank: 28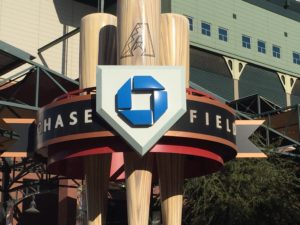 Opened: 1998 Capacity: 48,519
Schedule and Promotions
Seating Chart, Ticket Prices & Ballpark Nerd Recommendations
Baseline Box sections 113-114 & 130-131
Club Reserve sections 204-205 & 215-216
MVP Box sections 310-322
Getting to the Park
Address: 401 E Jefferson St, Phoenix, AZ 85004
Ballpark Nerd recommends staying within walking distance of Chase Field or a Metro Light Rail station. Most fans drive to the ballpark, there are 13 parking garages within walking distance.
Don't Miss
Sites
The Chase Field entry plaza has a pregame block party atmosphere with numerous vendors and street games available for fans to enjoy.
Keep an eye out for the Chase Field Bat Sculpture sign located on the entry plaza.
Take a walk around the Chase Field exterior concourse to enjoy the Desert Wall Art on the outfield windows.
The 2001 World Series Trophy is displayed near Gate E on the Main Concourse.
Take a walk past the only swimming pool in MLB located in right center field. Unfortunately it is not open to all fans. It is sold as Group Seating.
Chase Field's air conditioning system is the most utilized in MLB. The Chase Field roof is open during the day to aide grass growth. Once closed the AC is turned on and drops the temperature inside the park 30 degrees by the time the gates open.
Concessions
Churro Dog – Cinnamon churro served in a doughnut with frozen yogurt, caramel, and chocolate sauce.
Italian Beef – Chicago style beef
Cheeseburger Dog – ground up hamburger mixed with chopper smoked bacon, dill pickles, green onion and Cheddar cheese.
For the Kids
Mascot – Baxter the Bobcat
The Sandlot is a family-focused destination located on the Upper Concourse in leftfield near Section 332 and includes a Futures Field, kids' playground, toddler playground, batting cage and Kid's Club headquarters.
D-Backs Kid's Club members receive membership cards that can be scanned for special prizes throughout the year. Members earn a prize for each of their first 20 games and a bonus prize at game 25 and 30.
Children ages 3 and under are admitted free of charge.
After Sunday home games, fans 3-15 years old, have the opportunity to Runs the Bases.
While You're in Town
Trip Advisors' Top 5 Phoenix Attractions:
Musical Instrument Museum
Desert Botanical Garden
Arizona Scenic Day Tours
Heard Museum
Camelback Mountain
For a full list of attractions visit Trip Advisors' Phoenix page.
Ballpark Nerd Recommends – Sedona, AZ 2 hour drive North of Phoenix or Grand Canyon 4 hour drive North of Phoenix.
Road Trip Directions