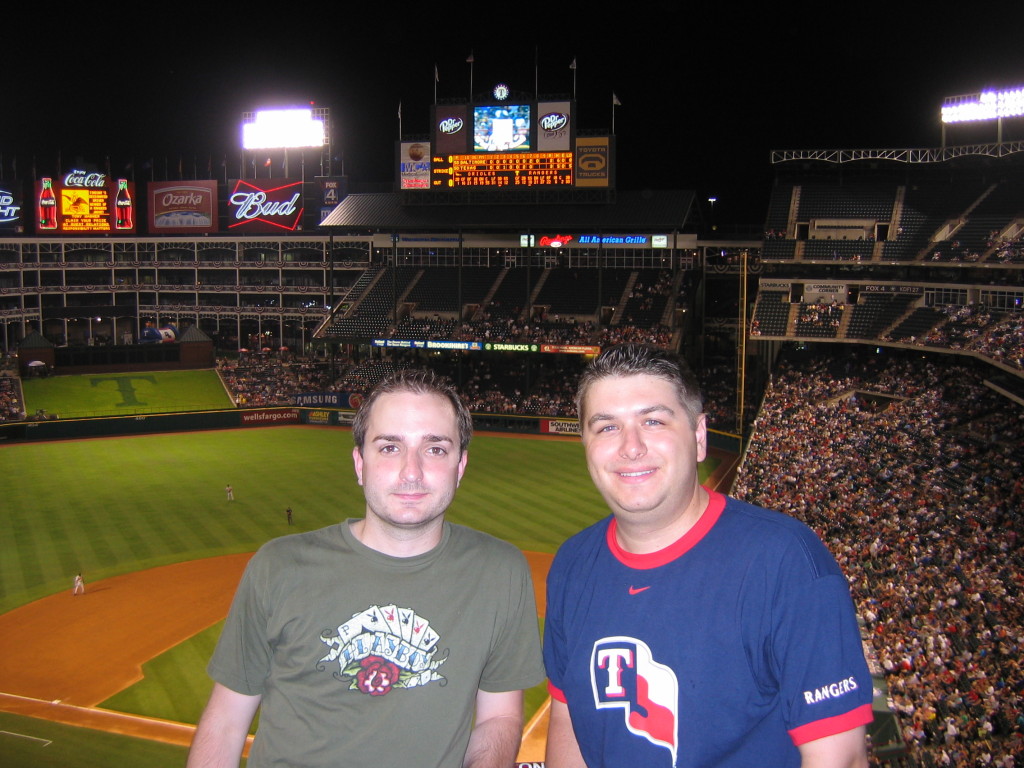 August 30, 2003: Arlington, Texas
Everything is bigger in Texas, even the ballpark. Built in 1994 as a mixture of Fenway Park (LF Green Monster), Ebbets Field (CF), and Tiger Stadium (RF Overhang HR Porch), Globe Life Park solidified Arlington, Texas as an entertainment giant in the Southwest. Globe Life Park was built in a sea of parking lots and concrete. There is little to do outside the ballpark pre- or post-game, but I was pleasantly surprised upon entering. I have made three visits to Globe Life Park and the name has changed each time: The Ballpark in Arlington (2003), Ameriquest Field in Arlington (2006), and Rangers Ballpark in Arlington (2007). The team was also sold in that interim from Tom Hicks, who made a few investments on and off the field that did not work out, most notably signing shortstop Alex Rodriguez to a 10-year, $252 million-dollar contract during the 2000 offseason. What followed were three consecutive last-place finishes and an erosion of interest in the Rangers, with attendance dropping from 2.8 million to 2001 to 2 million in 2003. I will admit to being an Alex Rodriguez fan, following his career and investing in his memorabilia, and am happy to say that I was in attendance for one of his last games as a Ranger. The Texas Rangers were originally the second installment of the Washington Senators, moving to Arlington for the 1972 season. They played at Arlington Stadium, which was known for its Texas-sized mosquitoes. It took some time for Texans to warm up to the last-place franchise. Despite turning their fortunes around during the 1974 season, the Texas Rangers drew only 14,924 fans per game. It wasn't until the 1996 season, led by Ivan Rodriguez, Juan Gonzalez and Dean Palmer, that the Rangers made the playoffs. They followed this success by winning the American League West in 1998 and 1999, although they never advanced past the first round, running into the vaunted New York Yankees each time. It took the Rangers ten seasons to return to the playoffs, winning American League pennants in 2010 and 2011.
During my first visit to Globe Life Park, Zach and I endured a 90-minute rain delay. Fortunately, this scared away many of the season ticket holders who were suffering through another losing season. Zach and I were able to sit five rows from the on-deck circle. They were the best seats I've ever had at a ballgame! What made it even better was the fact that we were watching future Cy Young award winner Johan Santana shut out the Rangers for six innings. The Rangers, led by Alex Rodriguez, could not muster even a run, losing to the Twins 2-0. Despite winning the 2003 MVP award, A-Rod was traded to the Yankees during the offseason. It was time for promising Ranger prospects Mark Teixeira, Michael Young, and Hank Blalock to step up and become the team's core.
The Rangers were adjusting without All-Star Alfonso Soriano when I made my second visit to Globe Life Park in April 2006. Soriano was the second baseman on what I thought would be the best infield of my generation. Teixeira, Soriano, Young and Blalock…it did not get any better than that. Instead of signing Soriano to a long-term contract, the Rangers decided to address their pitching needs by signing Kevin Millwood and trading for Vincente Padilla and Adam Eaton. This was vital because Globe Life Park is the Coors Field of the American League. Rangers' management is committed to building a well-rounded organization. The game I attended did not show that: Rangers 13, Devil Rays 7. Neither starting pitcher made it past the 3rd inning. The Rangers offense was led by Kevin Mench's 3-for-5 with a grand slam and 5 RBI, and Michael Young's 5-for-5 with 3 doubles and 5 RBI. A third visit in 2007 resulted in another win for the Rangers as they defeated the Orioles 4-3 in extra innings.
Two highlights from my visits to Globe Life occurred outside the Ballpark. After visiting Globe Life Park in 2003, I wrote a letter to Tom Hicks sharing my opinion on how he mismanaged his team as well as thrown the entire financial structure of baseball off-kilter. I was shocked to receive a return phone call from someone in the Rangers organization who asked me if I enjoyed my time in Arlington. I played along since I did not think arguing was worth it at the time. It's amazing what old-fashioned letter-writing can accomplish. The second highlight was running into Torii Hunter, who was driving a golf cart in the Globe Life Park lot in search of a family member. I would love to be able to share a picture, but the encounter was pre-digital camera and I had run out of film.