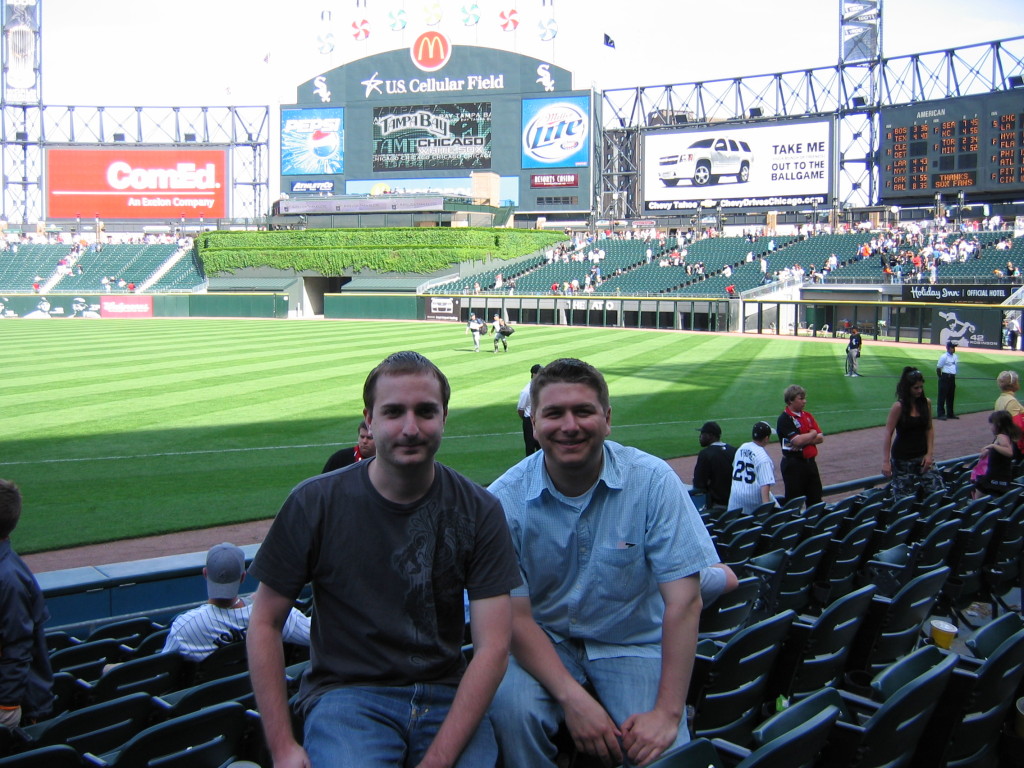 May 23, 2003: Chicago, Illinois
Mike and I decided to celebrate our college graduations by taking a four-day trip to Chicago. We found a weekend when the Cubs and White Sox both played home games. As an added bonus, we had enough time to catch a Brewers game in nearby Milwaukee. I was looking forward to visiting Chicago because it was the second-largest city in the country. Chicago is the home of world-renowned architecture (the largest collection of Frank Lloyd Wright-designed buildings reside in Oak Park) and a unique baseball tradition. Our trip to Chicago would be the first that required a flight from New York. It was an exciting time in Chicago as Memorial Day weekend brought many special events to the city. The Navy Pier held a fireworks display, the Baseball as America exhibit was in town, and the House of Blues was hosting DMX. With so many choices, Mike and I had to stay focused and experience as much of Windy City as we could. We spent the time between ballgames visiting Mike's cousin in Oak Park. He was a great tour guide, showing us the birth home of Ernest Hemingway, also located in Oak Park. He introduced us to the Midwestern version of a Philly cheese steak: Italian Beef, which was delicious! Upon returning to Downtown, we decided to visit the Willis Tower (formerly Sears Tower). Although I am from New York, the land of skyscrapers, I was impressed with the Willis Tower. It stands 1,450 feet (110 stories above the great city of Chicago) and offers a view of four states from the Sky Deck's four corners: Indiana, Michigan, Illinois, and Wisconsin. It was an empowering experience.
I was happy we could visit both Chicago ballparks during our trip. U.S. Cellular Field, now Guaranteed Rate Field, is located on the South Side of Chicago. There is no ballpark scene and very few vendors. Mike and I had purchased Upper Reserve tickets online before hearing that fans with Upper Reserve tickets were unable to visit the rest of the ballpark. This was in response to fans running on the field and attacking baseball personnel, TWICE! Mike and I had come all the way from New York to visit the entire ballpark. Improvements were made to U.S. Cellular Field prior to the 2003 season for the All-Star game scheduled for July. Two high-tech video boards were installed and a fan deck was created in dead center field. With all of this, as well as the White Sox Hall of Fame on the Lower Concourse, Mike and I were determined to visit the Field Level. We introduced ourselves to the White Sox Head of Guest Services, James, and after telling him our story he went above and beyond our expectations by trading our Upper Reserve tickets for Club Level seats with full access to U.S. Cellular Field. It was great to see someone who appreciated our interest in seeing the ballpark as well as the trust that we weren't going to run on the field and beat up a first base coach. We were thankful for our seat upgrade because Mike and I, as well as the other 15,067 in attendance, were treated to a poorly played game. The Tigers, led by Dmitri Young's game-winning hit, gave previously winless Mike Maroth (7 innings, 3 hits) his first win of the season.
Our trip to Chicago could not have been any better. It was the first time I ever visited a city that had as much to offer as New York. It provided me with perspective that there was more to the world than the five boroughs. Traveling to Chicago encouraged me to take an interest in other cities that we would visit throughout our travels. It reinforced the notion that the Ballpark Tour was more than just seeing baseball games in new venues; it served as a channel to explore the United States and Canada.