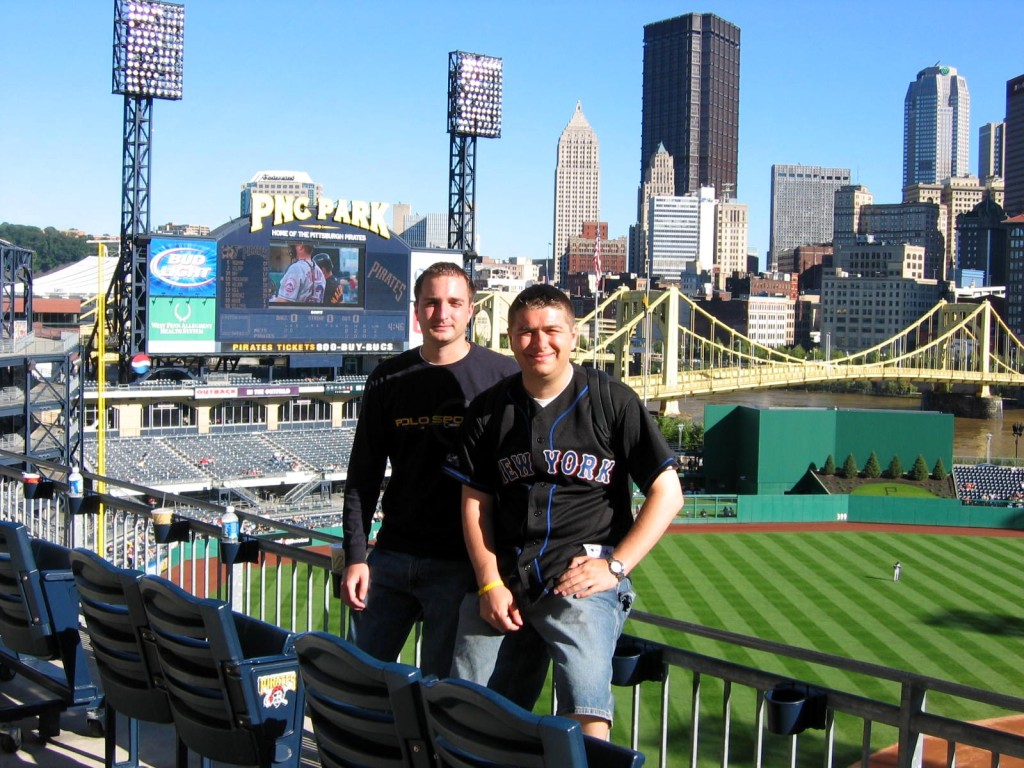 September 19, 2004: Pittsburgh, Pennsylvania
With Great American Ballpark and Jacobs Field behind us, Mike and I had one more city to visit on our September Central Division Ballpark tour. After visiting the Rock and Roll Hall of Fame, we set out for Pittsburgh, a two-hour drive east of Cleveland. Pittsburgh had recently been flooded by horrendous thunderstorms. Boats were blown off their docks and stretches of major highway had to be closed. These two occurrences combined to create a scene out of a movie – boats stranded on the highway. Mike and I were lucky to avoid the storm; we planned to attend the Sunday afternoon game between the Pittsburgh Pirates and our hometown New York Mets. Due to the inclement weather, the Friday game was rained out and rescheduled as part of a Sunday doubleheader. It would be the first doubleheader I ever attended. Two Major League Baseball games for the price of one; now that makes the Ballpark Tour worthwhile. Pittsburgh, Pennsylvania is a blue-collar town. It is the home of thousands of hard-working and hard-partying people. Pittsburgh is a no-frills type of town that any road tripper can feel comfortable in. Soon after arriving at our Radisson Hotel, Mike and I were back on the road in search of a Pittsburgh original – a Primanti Brothers sandwich. Primanti Brothers is a Pittsburgh institution. Opened during the Depression, Primanti Brothers created a sandwich that included "the works" between two slices of bread. No utensils required. This art form originated from the lack of preparation. When Primanti Brothers first opened, owners Lou and Dick Stanley forgot to buy plates, knives, and forks so they started piling coleslaw and French fries on top of the sandwich meat so the customers could eat the whole sandwich with one hand. Pure genius! I think it is safe to say that a sandwich at Primanti Brothers is as authentic a Steel City experience as anyone is going to get.
I had so much fun that night in Pittsburgh, I almost forgot I was in town to see a ballpark, but not just any ballpark – PNC Park. PNC Park was opened for the 2001 season; since then, it has served as the crown jewel of the Pittsburgh Pirates organization. PNC Park's prime location along the shore of the Allegheny River takes advantage of scenic views of the downtown skyline and riverfront, as well as pedestrian and riverboat access. It also provides easy access for pedestrians crossing the Roberto Clemente Bridge from downtown. On game days, the bridge is closed off to vehicles and an interactive retail/restaurant and sports pavilion beyond right field provides spectators with attractions for all ages. PNC Park offers the ultimate ballpark experience. It has become the Major League Ballpark gold standard by successfully combining the historic architecture of former Major League ballparks like Wrigley Field and Fenway Park with the modern amenities to which we have all become accustomed. A day spent at PNC Park is worth every penny, especially when you are able to attend two games for the price of one.
The afternoon's doubleheader was a matchup of two teams far out of playoff contention. The Pittsburgh Pirates had developed a few young players throughout the season, like 2004 National League Rookie of the Year Jason Bay, starting pitcher Oliver Perez, and shortstop Jack Wilson…but had failed to make noise in the National League Central standings. The New York Mets, on the other hand, were a ship without its captain. Manager Art Howe had agreed to step down at the end of the season, but still continued to manage the team. As if being a Mets fan wasn't hard enough; they couldn't even fire their manager the right way! The game was played at a getaway day pace. Any pitch thrown over the plate was called a strike. This helped Mets starter Aaron Heilman (seven innings, two hits) and Pirates starter Ryan Vogelsong (seven innings, no runs). Adding to the unexpectedness of the afternoon, Pirates backup catcher Humberto Cota accounted for the game's only run with his fifth home run of the year. This put the Buckos up for good, 1-0. I had come all the way to Pittsburgh to see my Mets and they couldn't even put one runner across the plate! Despite the Mets' lack of production and the fact that Mike and I had to leave the second game of the doubleheader to catch our flight, Pittsburgh was the best overall city we have visited on our Ballpark Tour. It combined the best ballpark in Major League Baseball with a great local flavor, filled with good food and good people. Pittsburgh will be a city I will always remember and one that I hope to visit again in the future.