Ballpark Nerd Rank: 13
Opened: 2003 Capacity: 42,319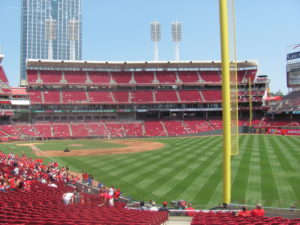 Schedule and Promotions
Seating Chart, Ticket Prices & Ballpark Nerd Recommendations
Infield Box sections 113-121 and 127-133
Mezzanine sections 415-419
Lower View Level sections 512-534
Getting to the Park
Address: 100 Joe Nuxhall Way, Cincinnati, OH 45202
Ballpark Nerd recommends staying downtown and walking to Great American Ballpark. Cincinnati's Metro bus system serves the area as well.
Don't Miss
Sites
A nod to the Reds former home, Crosley Field, a monument was created in front of the main entrance to highlight the park's left-field terrace. Statues of Crosley-era Reds Joe Nuxhall, Ernie Lombardi, Ted Kluszewski and Frank Robinson are depicted playing a game.
Reds Hall of Fame is located on the west side of Great American Ball Park and celebrates the Reds' historic past.
Adjacent to both Great American and the Reds Hall of Fame is a rose garden that symbolizes Pete Rose's 4,192 hits.
Keep an eye out for The Great Eight & The First Nine mosaics upon entering the Ballpark. These 16×10 foot panels honor the Reds Big Red Machine of the 1970s and first professional baseball team, who called the Queen City home in 1869.
The Power Stacks in right center field, two smokestacks with 7 bats on each, to honor Pete Rose's jersey number 14, are reminiscent to the steamboats that were common on the Ohio River.
Concessions
Skyline Chili Coney, a hot dog topped with chili and shredded cheddar cheese.
Smokehouse BBQ Pulled Pork sandwich is the choice if your stop by Mr. Red's Smokehouse near section 139.
The Reds new Meat Lover's Dog includes a bacon-wrapped hot dog topped with fried salami, pulled pork, queso blanco and pickles.
For the Kids
Mascot – Mr. Redlegs
Reds Heads Kids Club ($30) membership includes a gym bag, shirt, wall banner, two free tickets and access to ballpark experiences throughout the season.
The Reds Rookies Baby Fan Club ($20) includes a hooded towel, a Gapper pillow pet, picture frame and two tickets to a Reds Rookies game with pregame activities.
Club Red ($35), for fans 13-17, membership includes a t-shirt, drawstring bag, Bluetooth speaker, four tickets to a Club Red game and $10 gift card.
Reds Family Sundays offers the opportunity to buy up to three half-price tickets with the purchase of a full-price ticket plus Kids giveaways, face painters and live mascot races.
Located on the Terrace Level, the Fan Zone features interactive games for kids, a Wiffle ball field, Reds Kids Clubhouse, a playground and rose garden.
Carnival Games for kids are a new addition to the Fan Zone.
Children ages 3 and under receive complimentary admission to Great American Ball Park.
While You're in Town
Trip Advisors' Top 5 Cincinnati Attractions:
Cincinnati Zoo & Botanical Garden
Great American Ballpark
Spring Grove Cemetery & Arboretum
Cincinnati Museum Center at Union Terminal
Cincinnati Art Museum
For a full list of attractions visit Trip Advisors' Cincinnati page.
Ballpark Nerd Recommends – National Underground Railroad Freedom Center
Road Trip Directions