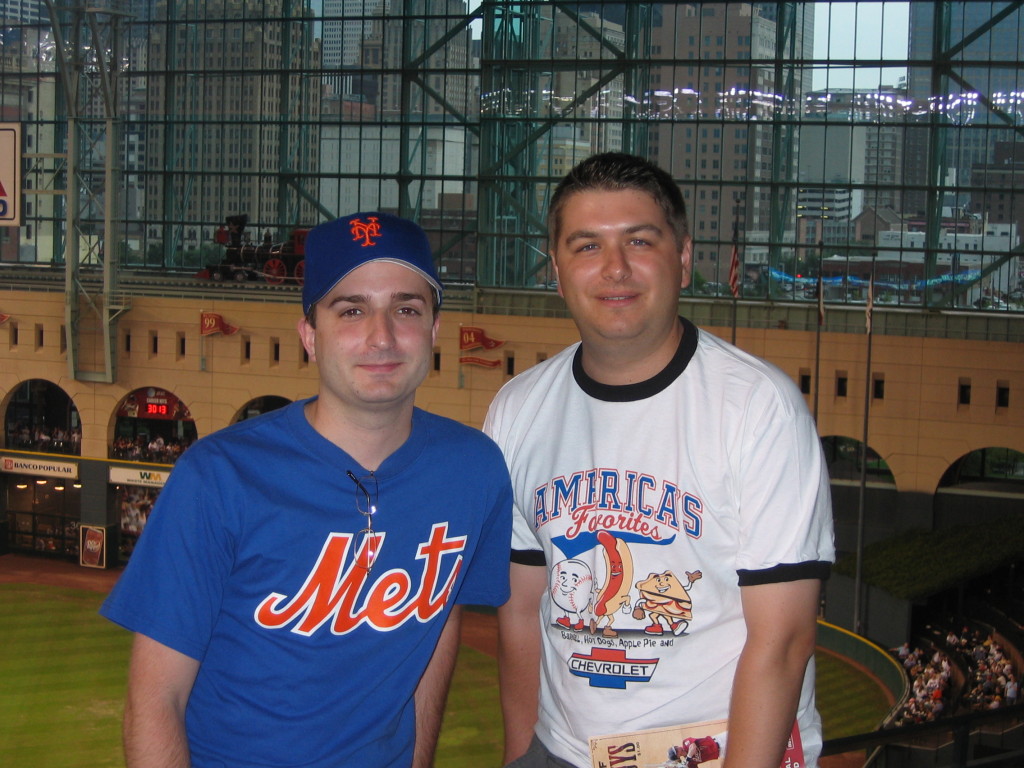 August 28, 2003: Houston, Texas
All three of my trips to the "Juice Box" were made with my Fordham roommate and esteemed Houstonian Zach; Mike joined us on the third. Zach was the "roommate to be named later" during my sophomore year at Fordham. There are times in life when you meet someone whose friendship changes your life. Meeting Zach and living with him for three years was just that. He challenged me to think about situations differently. In return I, along with our roommate Paul, turned Zach into a baseball fan by taking him to a number of Mets and Yankees games and teaching him the ways of SportsCenter. It wasn't long before I scheduled a trip to visit Zach in his hometown and catch a game at Minute Maid Park. Minute Maid Park is the third home of the Houston Astros, following Colt Stadium (1962-1964) and the Astrodome (1965-1999), baseball's first indoor facility and self-proclaimed "Eighth Wonder of the World." Built for the 2000 season, Minute Maid Park (originally named Enron Field) combined the convenience of a retractable roof ballpark with the modern amenities fans were becoming accustomed to. The Astros have enjoyed unprecedented success since moving to Minute Maid Park, advancing to the playoffs four times and making it to the 2005 World Series behind the starting trio of Roy Oswalt, Andy Pettitte, and Roger Clemens. It has also hosted the 2004 All-Star Game, which spotlighted one of the most unique ballparks in baseball today.
Minute Maid Park is the English muffin of ballparks, being built with numerous nooks and crannies. Its asymmetrical outfield is highlighted by the Crawford Boxes, which stand 315 feet from home plate in left field, and Tal's Hill, a 20-degree hill in dead center. Tal's Hill was the creation of Astros executive Tal Smith, who originally placed the hill in jest, not thinking that an obstacle would make the final cut in the ballpark's design, what with players making the money they make today. During my first visit to Minute Maid, Dodger center fielder Dave Roberts stole a home run away from Lance Berkman, using Tal's Hill as a guide up to the center field fence. Roberts would have never made the catch without it. It was the highlight of a 6-3 Dodger victory that also included a Jeremy Burnitz home run and Eric Gagne's 44th save of the season. During my third trip in 2007, Mets CF Carlos Beltran made a game-saving diving catch up Tal's Hill in the bottom of the 14th. Minute Maid Park is also home to a 57-foot, 19th Century replica locomotive that sits on an 800-foot track above center field. The locomotive pays homage to the impact the railroad has had on Houston during the early part of the 20th Century. The Astros have restored Houston's Union Station and included it as an entrance to the ballpark. Team officials note that approximately 60% of fans enter Minute Maid Park via Union Station.
My second visit to Minute Maid Park was much more successful. Led by 7 strong innings from Roy Oswalt and a 4-for-4 from Craig Biggio, including a leadoff home run, the Astros defeated the Pirates 7-2. The win completed a three-game sweep and improved the Astros' 2006 record to 13 and 5. Although they remained in the playoff hunt throughout the 2006 season, the Astros were without their MVP Jeff Bagwell. The former Astros' first baseman will, in my opinion, go to Cooperstown as the greatest Astro ever. His 449 home runs are impressive, but what makes that number even more impressive is the fact that Bagwell played nine seasons in the cavernous Astrodome. Along with former Astros' second baseman Craig Biggio, the Killer B's brought baseball to new heights in a region known for Friday Night Lights and BBQ. Bagwell and Biggio are the Stockton and Malone of Major League Baseball, teammates who will always be synonymous with one another. It would have been fitting for Bagwell and Biggio to join the Hall of Fame together. However, Biggio was elected in 2015, and Bagwell remains hopeful he will join.
I was disappointed with Minute Maid Park during my first visit in 2003, but am happy to say that I enjoyed my second and third. The team's recent success, making the playoffs in 2015, has created a buzz around Minute Maid that Astros baseball is winning baseball. My fourth visit cannot come soon enough.