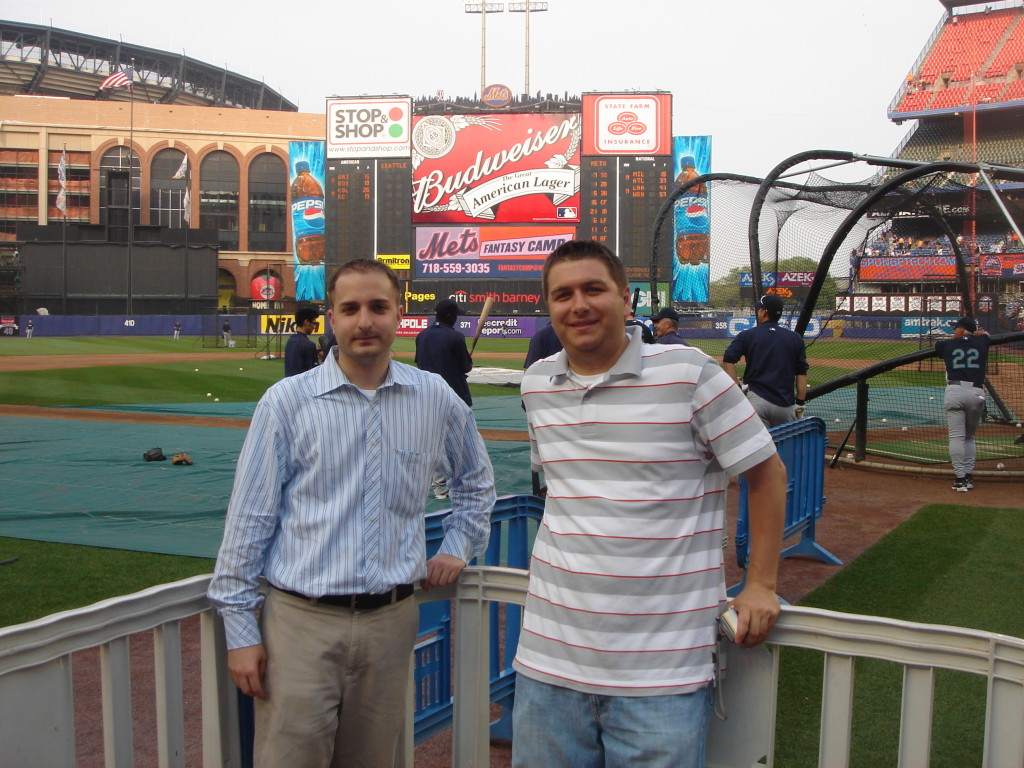 August 23, 1989: Queens, NY
Shea Stadium was more than just the home of my New York Mets; it was where my love for the game of baseball began. I can remember it like it was yesterday. My father was on vacation and bought two mezzanine reserve tickets for the August 23rd game against the San Francisco Giants. That morning, I woke my dad up and told him that I was ready to go. Needless to say, I did not know that the Shea Stadium gates did not open at 9am. I spent my time practicing my imaginary swing and windup. Although it happened almost 29 years ago, I can see it if I close my eyes.
These memories are timeless; they are what make the game of baseball unique. Sharing that afternoon with my dad was the first time I recall ever going somewhere with him and not my mom. We talked about the Mets and he encouraged me to stay in the game, even though they fell behind early. When he saw me becoming discouraged, he would say, "They just have to put together some hits and they'll be right back in it." Baseball and everything surrounding it – card collecting, little league, etc. – allowed us to spend time together. As my father battled lung cancer, baseball was something I could always go back to for a boost. He and I spent more time together during his cancer treatment than ever before and baseball was the focal point, but the roles were reversed. I have become very knowledgeable about the game and have answered his questions regarding which teams are playing and where a particular player might be playing or has played. Baseball, especially the Ballpark Tour, has saved me in many ways. It gave me a sanctuary as my family and I dealt with his illness.
All of this led me to Shea Stadium again. I visited Flushing for the first time in 2005 to see the Mets play the Los Angeles Angels of Anaheim. It was the first time I ever watched the Angels play (completing my goal of seeing all 30 Major League franchises), but more importantly it was the first time I watched Mets ace Pedro Martinez take the Shea Stadium mound. I wrote this prior to attending the Sunday afternoon game because I fully expected the Mets to win. (They did not.) The additions of Pedro Martinez and center fielder Carlos Beltran changed the attitude of the New York Mets organization to the point where fans expect them to win. It is a great feeling to have at Shea Stadium again. I usually write a brief summary of the game, but for Shea Stadium I will let my pictures and scorecard do the talking.
I have been a part of countless memorable Mets games, most of which resulted in a Mets win. I don't actually know my personal winning percentage, but I would have to say it is above .500. I have gone to games with friends, family, classmates, coworkers, and even Rachel. I have sat everywhere from the Upper Reserve to Field Box, eaten hot dogs, cracker jacks, and an assortment of other health foods (the Mets Carvel sundae). I've carried sandwiches from home, passed beer and money down the aisle, climbed hundreds of steps. Shea Stadium was heaven. I do not care what amenities are at other ballparks I visit; Shea Stadium will always be #1 for me. It's more than a ballpark; Shea was the ultimate time machine. Thinking about it takes me back to my childhood, to that day I woke up my dad and shared an experience with him that only a father and son can: their first ballgame.