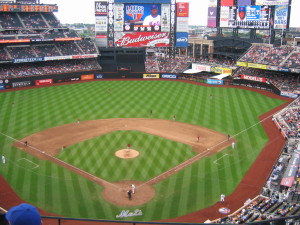 Ballpark Nerd Rank: 5
Opened: 2009 Capacity: 41,922
Schedule and Promotions
Seating Chart, Ticket Prices & Ballpark Nerd Recommendations
Metropolitan Box sections 111-114 & 121-124
Excelsior Box sections 311-312
Promenade Box sections 406-425
Promenade Reserve sections 510-518
Getting to the Park
Address: 123-01 Roosevelt Ave, New York, NY 11368
Ballpark Nerd recommends buying a MetroCard and taking the 7 train to Citi Field. To this day I still get excited when those subway doors open at Mets-Willets Point. Other public transit options include Bus, Long Island Railroad and on occasion Water Taxi.
Don't Miss
Sites
Shea Stadium's one unique feature was the home run apple in CF; well that very apple was brought over to Citi Field and now serves as a welcome to fans near the Jackie Robinson Rotunda.
Jackie Robinson Rotunda: Mets CEO Fred Wilpon grew up in Brooklyn and revered the Dodgers and Jackie Robinson. To honor both, Citi Field includes an Ebbets Field style rotunda and Robinson memorial.
One criticism during Citi Field's debut was the lack of Mets history and colors around the Ballpark. The Mets responded with the Mets Hall of Fame, located in the Jackie Robinson Rotunda, and photos of former Mets throughout the concourses.
Citi Field's features a bridge theme throughout. Left center field is home of the Shea Bridge which pays homage to NYC's 2,027 bridges.
Citi Field's Bullpen Gate, located in LF, offers fans a unique view of the Mets bullpen. Picnic tables are located throughout area.
Citi Field's foul poles are from the Mets former home Shea Stadium (1964-2008).
The top of Shea Stadium's Scoreboard was brought over to Citi Field and can be found in the CF Food Court above Shake Shack.

Fan assistance desk to the left of the top of the escalator at the Jackie Robinson rotunda to sign up for your 1st time at CitiField certificate, ask for some free mets stickers, pick up the game notes.

If you have a Citicard, stop at the Citibank booth at the top of the escalator for a free coozie.

If you have the Ballpark app, behind section 106 is a table where you can check in and pick up another coozie.
Concessions
If you have time and don't mind waiting on line Shake Shack Burger, located in the CF Food Court, is the most popular concession at Citi Field.
Mama's Italian Hero is a local Queens Deli that is well worth the price.
Fuku Spicy Friend Chicken Sandwich – section 102 sole location
Nathan's Hot Dog and Fries stands are throughout Citi Field.
​Arancini Brothers Rice Balls located in the Promenade Club and in the RF Food Court.
The culinary diversity of NYC is displayed throughout Citi Field. There is something for everyone.
For the Kids
Mascot – Mr. Met
The Mr. Met's Kids Club offers three membership options. For $55 MVP members receive 4 Field Level ticket vouchers, $35 All-Star Members receive 4 Promenade Outfield ticket vouchers, a drawstring bag, thunder sticks and a member passport. Rookie membership offers two Promenade Outfield ticket vouchers and access to Kids Club ticket offers.
All guests entering the ballpark who are 32" of taller require a ticket.
The Fan Fest is located on the Concourse Level in center field. Centered around Mr. Met's Kiddie Field, the Fan Fest features a batting cage, a dunk tank and video game kiosks. Met makes an appearance during the 2nd inning.
Family Sundays with the Mets include promotional giveaways, pregame games outside the Ballpark and postgame Mr. Mets Dash.
While You're in Town
Trip Advisors' Top 5 Queens Attractions:
Gantry Plaza State Park
Citi Field
USTA National Tennis Center
Flushing Meadows Corona Park
MoMA PS1
For a full list of attractions visit Trip Advisors' Queens page.
Ballpark Nerd Recommends – New York Hall of Science
Road Trip Directions