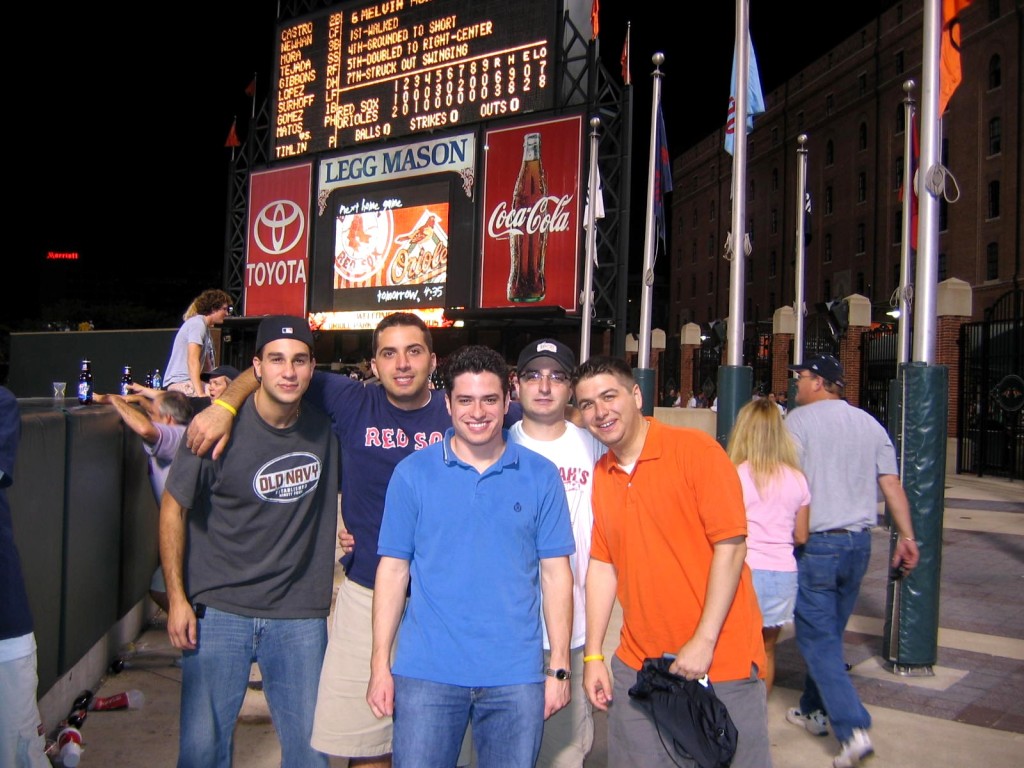 June 29, 2002: Baltimore, Maryland
I will always have fond memories of Oriole Park at Camden Yards and the city of Baltimore. Not only was it the first trip in Mike's and my Ballpark Tour, but it was also where I met someone very special.
June 2002: Mike and I were watching a Mets game and were discussing Shea Stadium, which at the time was the only place we had ever attended a baseball game together. To us, Shea Stadium was terrific; it was where we saw many memorable Mets wins, but at the same time we wondered what other ballparks had to offer. It was the time in our lives when we wanted to explore. Mike and I were two semesters away from getting jobs in the "real world" and wanted to enjoy one last summer as irresponsible kids. We decided on that night that we were going to visit all 30 Major League Baseball ballparks. We thought it would be a great way to show our independence and at the same time see parts of the country neither of us had ever visited before. So it was set! Mike and I would be traveling the United States and Canada in search of unique and memorable experiences. What better way to begin this journey than visiting what many call the best ballpark in Major League Baseball, Oriole Park at Camden Yards, located in the great city of Baltimore. June 29, 2002: The day was finally here. We reserved a room at the Radisson Hotel, a short walk from the ballpark, and had purchased our tickets. Charm City, here we come! After a fun drive, we arrived at the Radisson at 3pm. After checking in and unpacking, we were ready to go, but there were four hours before first pitch between the Baltimore Orioles and their inter-league rival Philadelphia Phillies. Mike and I decided to go out and explore Baltimore, making sure we would have an authentic Baltimore dinner. We could have gone into the Inner Harbor, the tourist-friendly destination for a touristy dining experience, but we wanted a unique Baltimore experience. Baltimore is known for its excellent seafood, especially their crabs. Mike asked a bellhop where we could go for great seafood. He wrote a few places down, but suggested Obrycki's.
Obrycki's was a great restaurant, whose downtown location has since unfortunately closed. In fact, I have never had better seafood before or after that night. After dinner, Mike and I took a cab to the ballpark. It was a warm and muggy night. The Philadelphia Phillies being in town brought thousands of Phillies fans to Oriole Park. The construction of Oriole Park at Camden Yards signaled the dawning of Baseball's ballpark renaissance. Not only did it raise the bar for MLB ballparks, but it was also the centerpiece for the revitalization of Baltimore's Inner Harbor. Oriole Park at Camden Yards can accommodate 48,876 fans. Mike and I were two of the 48,692 in attendance to watch the O's crush the Phillies 11-1 on the heels of Gary Matthews, Jr.'s 5-for-5 and Jason Johnson's complete game. Baltimore has a special place in baseball history. The greatest player who ever lived, George Herman "Babe" Ruth, was born in Baltimore; in fact, his father owned a tavern that once stood where Oriole Park's centerfield bleachers now reside. The Babe Ruth Museum is a great place to visit while in Baltimore. There are numerous pieces of unique Babe Ruth memorabilia that make the price of admission well worthwhile.
Not only will Baltimore be memorable because it was where the Ballpark Tour began, but more importantly it was where I met my wife Rachel. To be honest, meeting Rachel was pure luck. She was visiting Baltimore to celebrate her birthday with some friends. Mike started a conversation with one of them at Moby's, a bar located in Fells Point. The next thing I knew, Rachel and I were sharing a cab together. I didn't even want to go out that night, but as fate would have it, I met the future Mrs. Lorenzo. Without making the commitment to the Ballpark Tour and going outside my comfort zone, my life would be totally different today. For our first anniversary, I gave Rachel the gift of sharing our story on the Baseball PhD podcast; it was a great way to celebrate our time together and the city that brought us together. Although there will be many more Ballpark trips after Baltimore, none will have the impact of those two days.