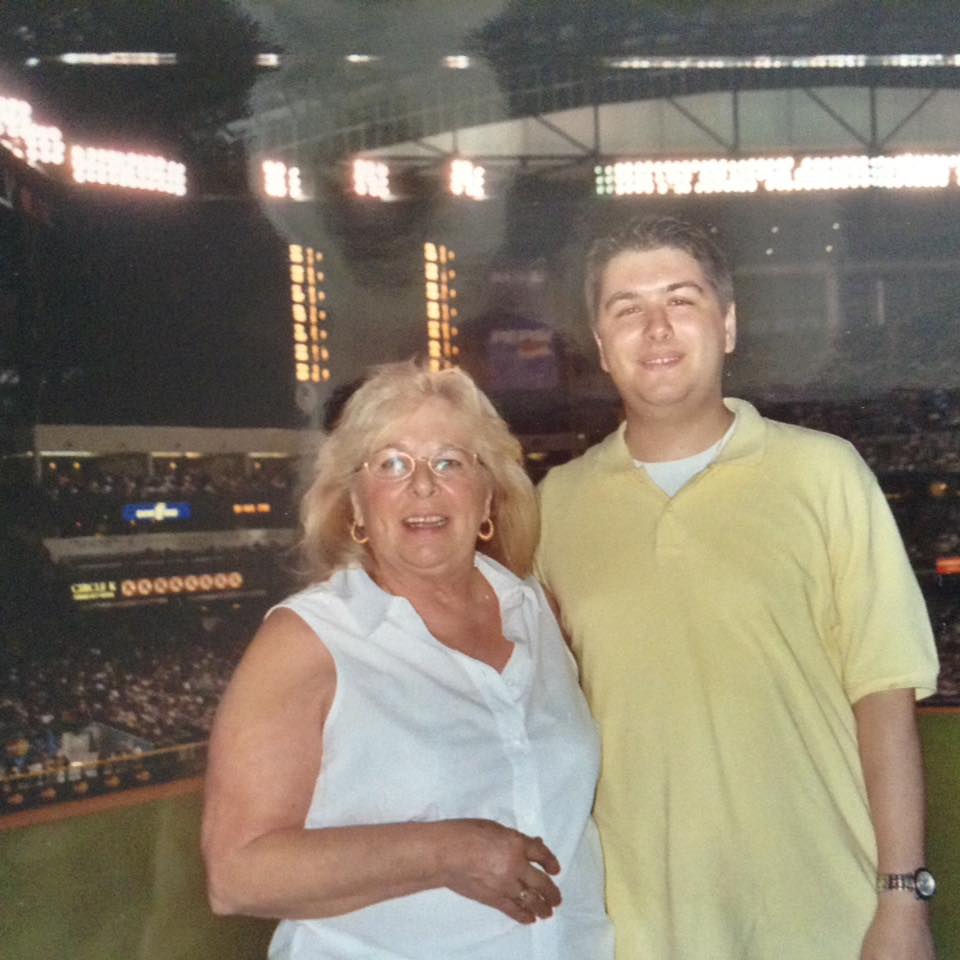 July 25, 2003: Phoenix, Arizona
My trip to Arizona was not only an opportunity to attend an Arizona Diamondbacks game at Chase Field (formerly Bank One Ballpark aka the BOB), but also a chance to spent time with a part of my family that I do not see often. Over the past decade, many of my relatives have relocated to the Phoenix area, the first of which was my godmother Katharine, who enjoyed the dry air and open space the Arizona desert provides. Over the past decade, Arizona's population has exploded. It attracts newly retired couples and young families looking for a change of pace. This surge in population, along with the success of Spring Training in Arizona, enabled Major League Baseball to award a franchise to the Grand Canyon State. The Arizona Diamondbacks made their debut on March 31, 1998; since that first game, nearly 45 million baseball fans have packed Chase Field, as the hometown Diamondbacks have enjoyed unprecedented success for a one-time expansion team, winning the 2001 World Series. My godmother Katharine was excited to find out that I was coming to visit, but she was even happier to hear that while in Arizona I was going to take her and her husband to a Diamondbacks game. Since their debut, Katharine has become a fan of her new hometown team. She is known to bring her radio to the community pool so that she and her friends can listen to the Diamondback games. What would make the game even more special was the pitching matchup – Los Angeles Dodger lefty Odalis Perez versus Diamondback future Hall of Famer Randy Johnson. It would be the first time I ever saw "The Big Unit" in person. Johnson's 6-foot, 10-inch frame, along with his filthy fastball and slider combination, retired as one of the top all-time left-handed pitchers. His performance would be crucial to the Diamondbacks' success down the stretch of the season.
Chase Field was packed with 41,382 fans cheering for a Diamondbacks win. The BOB was the first retractable roof ballpark with a grass surface playing field. The 9-million-pound steel roof, kept open during the day so the grass can grow, is now closed. Closing it takes only four minutes, a few hours prior to first pitch, allowing the air conditioning to be turned on. This formula has worked very well during the summer months. The BOB is also known for having a pool in the right center field stands. During the game Jeromy Burnitz hit a solo shot right into the pool. The BOB provides a unique ballpark experience. Since the Phoenix area is comprised of individuals from all over the country, the BOB's concession stands offer something for everyone. I had a Chicago-style Italian Beef sandwich that was delicious; in fact, it was one of the best ballpark items I've ever had. Diamondback Matt Kata hit a solo home run in the fourth inning, tying the game at one. This excited the crowd, but also was the beginning of one of the longest games in Arizona Diamondbacks history. Randy Johnson would throw eight innings of 3-hit, 1-run ball, but was matched by Dodger Odalis Perez, who also pitched eight innings, allowing 5 hits. Other pitchers' performances went unrewarded as neither team could break the 1-1 tie. Ten other pitchers would pitch in what turned out to be a 15-inning game, which ended on Diamondback Shea Hillenbrand's single, scoring David Dellucci for a 2-1 victory. After 4 hours and 10 minutes, the game was finally over! The Diamondbacks' good fortune could have been attributed to the fans that sung the 7th inning stretch in the middle of the 14th inning. All in all, it was a great game shared with some of the friendliest fans in the Majors.
Although visiting Major League Ballparks around the country has been fun, experiencing new things in each city has made the trip worth every penny. While in Arizona I spent time with my cousin Mike. Mike and I are the same generation, but 17 years apart. It was fun getting to know him and his family. It's amazing how even though you are not familiar with a long-lost relative, the fact that you are family brings a sense of friendship and love. Mike and I bonded over that weekend in Arizona. Since the trip, Mike and I have kept in contact. Visiting Arizona was not only a chance to see another ballpark, but, more importantly, an opportunity to bond with another part of my family.