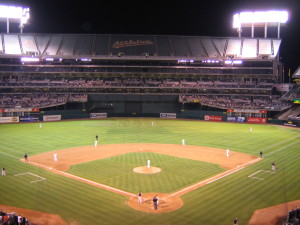 Ballpark Nerd Rank: 29
Opened: 1966 Capacity: 35,067
Schedule and Promotions
Seating Chart, Ticket Prices & Ballpark Nerd Recommendations
Field Infield sections 109-125
Plaza Infield sections 210-211 & 215-224
Value Deck sections 316-318
Getting to the Park
Address: 7000 Coliseum Way, Oakland, CA 94621
Ballpark Nerd recommends traveling via Bay Area Rapid Transit (BART) where upon exiting the station fans are a short walk from the Oakland Coliseum.
Don't Miss
Sites
A's History is honored on tarps throughout the View Level.
Stop by to visit the LF Drum & Flag Core, the A's rank low in attendance but not fan hardiness.
Upon their return from Los Angeles the Raiders built Mount Davis in CF to increase seating capacity however the monstrosity blocked views of the Oakland hills for A's fans.
The Oakland Sports Hall of Fame is located down the RF line of the 300 level.
Concessions
Ribs and Things – pork ribs, links, tri-tip and BBQ – Section 104.
Burrito District – Section 220
New for 2017 – Each game, there will be eight to 16 gourmet food trucks, including vegetarian and gluten-free options, on the plaza between the Coliseum and Oracle Arena,
For the Kids
Mascot – Stomper
The 2018 All-Star Membership Kit ($25) includes a Drawstring Bag, Beanie, Tattoo Sleeves, Lanyard, and Membership Card. The kit also includes an A's coupon booklet with several free and discounted offers on A's tickets and merchandise.
Sign up for the Kids Club Rookie membership (free) and receive newsletters, updates, and special offers.
Kids Club Booth located behind Section 114
The A's Amigos program gives the Oakland community's bilingual Spanish speaking children the opportunity to interact with bilingual speaking A's players.
Children 14 and under are invited onto the field after every Sunday day game to run the same bases that the A's do.
Toddlers under 24 months do not need a ticket to enter the Oakland Coliseum.
Fans ages 12 and under may obtain a wristband with their name and seat location written on it for identification purposes. Kids wristbands are free of charge and are available at the Information Booths, located at Sections 120, 134 and 210, during all A's home games.
While You're in Town
Trip Advisors' Top 5 Oakland Attractions:
Oakland Museum of California
Lake Merritt
Redwood Regional Park
Oakland Zoo
Jack London Square
For a full list of attractions visit Trip Advisors' Oakland page.
Ballpark Nerd Recommends – Chinatown
Road Trip Directions