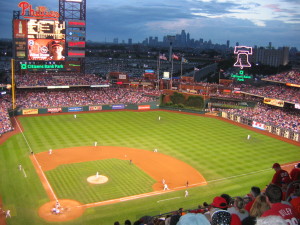 Ballpark Nerd Rank: 11
Opened: 2004 Capacity: 43,651
Schedule and Promotions
Seating Chart, Ticket Prices & Ballpark Nerd Recommendations
Baseline sections 114 & 133
Terrace sections 312-329
Terrace Deck sections 419-422
Getting to the Park
Address: 1 Citizens Bank Way, Philadelphia, PA 19148
Ballpark Nerd recommends taking SEPTA's Orange Line if you are staying in Center City, Regional Rail if you are staying in a Philadelphia Suburb or driving if you want to pay for parking. Citizens Bank is conveniently located off I-95 and is in a sea of parking lots.
Don't Miss
Sites
The Phillies honor their immortals with statues throughout entrance gates, Mike Schmidt, Steve Carlton and Robin Roberts as well as Richie Ashburn located in Ashburn Alley and announcer Harry Kalas located near the Harry The K's Bar and Grille.
Ashburn Alley is a walkway featuring restaurants, games and memorabilia from Phillies history.
Phillies Wall of Fame located behind the brick batting eye in center field.
Liberty Bell light, located in center field, rings and lights up after Phillies home runs and victories.
Concessions
Chickie's and Pete's Crabfries – old bay seasoned fries, make sure you pick up a side of cheese.
Tony Luke's Roast Pork Heroes and Cheesesteaks.
Bull's BBQ located in the center field plaza.
Federal Donuts Fried Chicken and Donut combination. Conveniently located near sections 140-142 on the 3rd base side.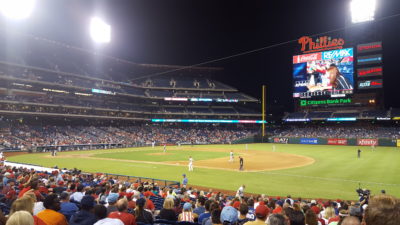 For the Kids
Mascot – Phillie Phanatic
The Phillies Newborn Club ($40) includes a Phillies personalized birth certificate, bib and birthday card.
The Junior Phillies Club ($20) includes a Phillies backpack, poster, wristband and watch.
The Phillie Phanatic MVP Club ($15) includes a Phanatic beach towel, paddle ball set, Phanatic poster and birthday card.
Fun features throughout Citizens Bank include the Phanatic Phun Zone, a jungle gym located near the First Base Gate, Citizens Bank Games of Baseball located in Ashburn Alley near the Right Field Gate and Phanatic Phood Stand & Kid's Corner located behind Section 318.
Children age two and under may be admitted to Citizens Bank Park without a ticket.
While You're in Town
Trip Advisors' Top 5 Philadelphia Attractions:
Philadelphia Museum of Art
The Barnes Foundation
Eastern State Penitentiary
Independence Hall
Reading Terminal Market
For a full list of attractions visit Trip Advisors' Philadelphia page.
Ballpark Nerd Recommends – University of Pennsylvania campus
Road Trip Directions