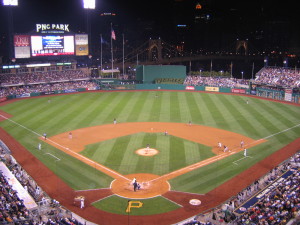 Ballpark Nerd Rank: 1
Opened: 2001 Capacity: 38,362
Schedule and Promotions
Seating Chart, Ticket Prices & Ballpark Nerd Recommendations
Field Box 6-13
Pittsburgh Baseball Club sections 207-228
Grandstand sections 311-327
Getting to the Park
Address: 115 Federal St, Pittsburgh, PA 15212
Ballpark Nerd recommends staying downtown and walking across the Clemente Bridge to PNC. If you have to drive I recommend finding a public lot downtown and walking across the Clemente Bridge. Public transportation options include one of 50 bus routes and free light rail transit from local garages. PNC Park is also served by Water Taxi.
Don't Miss
Sites
Statues honoring Roberto Clemente, Willie Stargell, Bill Mazeroski, and Honus Wagner can be found outside the PNC gates.
Legacy Square is an interactive exhibit to honor and preserve the history of the Negro Leagues.
Spiral LF Walkway is a unique location to watch a few innings and join the Marte Parte.
PNC Park pays homage to one of the Pirates former homes, Forbes Field, with seven vertical steel light towers, blue seats throughout and exterior stone arches.
Former Pirates owner Barney Dreyfuss is honored as fans enter the home plate gate with a stone monument that had previously been a part of Forbes Field and Three Rivers Stadium.
Concessions
Primanti Brothers Sandwich – choice of meat topped cheese, tomatoes, coleslaw and French fries
Chickie's and Pete's Crab Fries are offered. If you enjoy old bay seasoning and melted American cheese you'll love these.
Pop's Potato Patch offers a variety of regular and sweet potato fries.
For the Kids
Mascot – The Pirate Parrot
Bucaroos Kids Club membership options include Gold ($30) and Silver (Free). Gold Membership includes four free Pirate ticket vouchers; six buy one get one ticket vouchers, bag and sunglasses. Silver Membership offers fans the opportunity to accrue rewards throughout the season, one ticket voucher, and newsletters.
Children under 32 inches receive complimentary admission to PNC Park.
Young children may obtain free ID bracelet personalized with their name and seat location. Wristbands are available at any Guest Relations location.
Located in Right Field, the Kids Zone features a miniature PNC Park as well as a jungle gym.
Following select Sunday games, kids ages 14 and younger can head to the field for Kids Run the Bases.
While You're in Town
Trip Advisors' Top 5 Pittsburgh Attractions:
PNC Park
Phipps Conservatory
Mount Washington
Bicycle Heaven
Carnegie Museum of Natural History
For a full list of attractions visit Trip Advisors' Pittsburgh page.
Ballpark Nerd Recommends – The Strip District
Road Trip Directions