By day Craig Rose is a husband, father and engineer. By night he is a Loyal Tony Kornheiser Little, Clarkson hockey booster and Ballpark Chaser. Craig is making his way through all 30 MLB ballparks with assistance from the MLB Ballpark Pass-Port and is sharing the game with his wife and son. Last season Craig pulled off the Chicago Red Line Doubleheader with a trip to Guaranteed Rate Field in the afternoon followed by a trip to the North Side to watch the Cubs in Wrigley. Thanks Craig for sharing your ballpark experiences on Ballpark Nerd! I look forward to following you throughout your future ballpark trips. La Cheesiere!1st Inning – When did you become a baseball fan?
As far back as I can remember I have been a baseball fan, starting all the way back at the age of 5/6 years old when I began playing T-Ball.
2nd Inning – What was your first MLB game you attended?
It was a Braves game at old Fulton County Stadium, and since this was long before Facebook or other social media, the exact date is unknown but based on knowing we were on our way back from Florida on Easter break. I believe I have narrowed it down to happening early April 1993 during a series against the Dodgers. We arrived just before game time and bought standing room only tickets, this was interesting because one of the areas where you could stand was in the old football press box, which was no longer in use because the Falcons had moved over to the Georgia Dome.

3rd Inning – Total MLB games attended?
34 Games, I have a "ballpark Journal" that I started compiling on my computer a few years back to keep track of my games, with scores, highlights, and some memories including seat location. More recently I have discovered the BallPark Pass-Port, where I can get a stamp with the date at the stadium to record attending the game.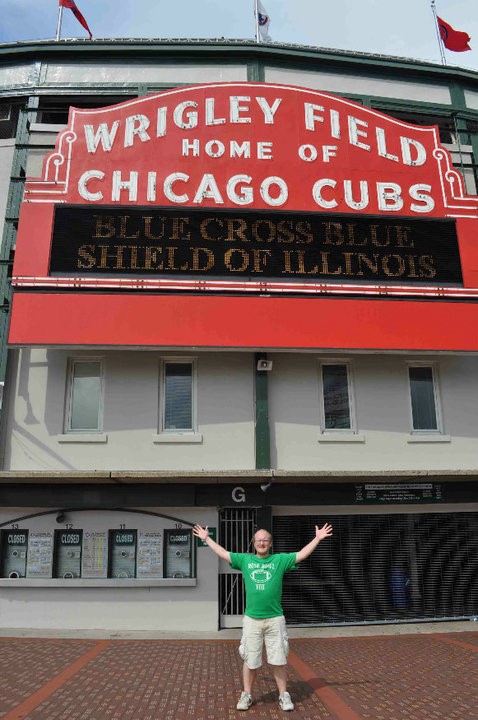 4th Inning – Who is your favorite team? What made you a fan?
I have a few "favorite" teams, but first and foremost I'm a Yankees fan until the day I die. Other teams that fit the description of favorite team are the Braves, Nationals, White Sox and Brewers. The Braves fandom stems from my early years of being a baseball fan and watching baseball games with my grandma who was a big Braves fan. I started following the Nationals about 5 years ago once I started listening to a nominal sports podcast, who's host, Tony Kornheiser, is based in DC and talks about the Nats as part of the show. White Sox and Brewers are the team's ballparks that I have visited the most after moving to outside Chicago from Western NY.
5th Inning – What ballparks have you visited?
Active (12): Miller Park, Guaranteed Rate Field, PNC Field, Wrigley Field, Progressive Field, Target Field, Tropicana Field, Rogers Centre, Camden Yards, Busch Stadium, Fenway Park, Yankee Stadium
Retired (5): Yankee Stadium, Busch Stadium, Cinergy Field, Turner Field, Fulton County Stadium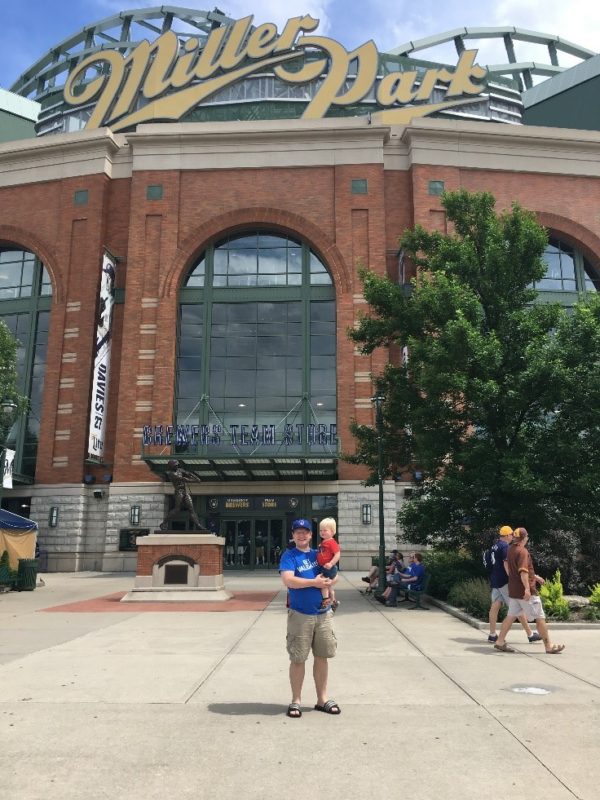 6th Inning – Do you plan on visiting all 30 ballparks?
Definitely, and the fact that every few years some team decides to build a new stadium means that when I do finally get to the 30 there will be another one being built somewhere, making this a life long journey.
7th Inning – 2017 Year in Review – Ballpark road trips, # of games, etc.?
In 2017, I attended six games, to date the most I have attended in one year. Three trips to Miller Park and one game each at Wrigley, Guaranteed Rate and Yankee Stadium. Some highlights of 2017 games are sitting front row behind home plate for a Brewers/Orioles game and a Chicago double header in August with an afternoon game between White Sox/Blue Jays and in the evening watching Cubs/Diamondbacks.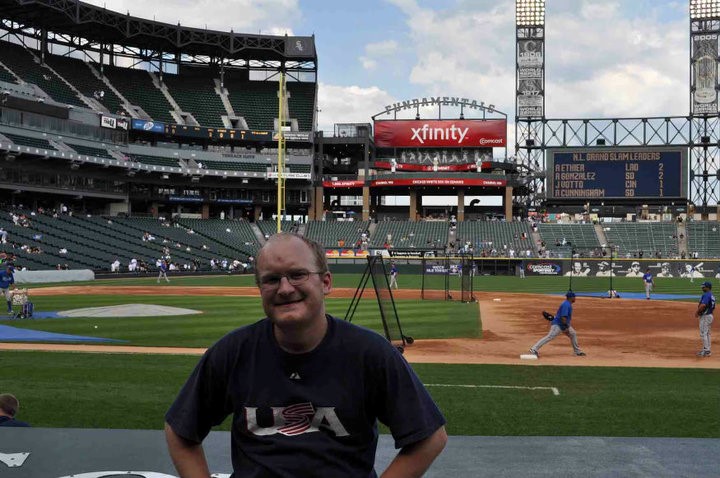 8th Inning – What are your plans for 2018?
Right now there are no big planned trips because of other family trips for weddings and graduations, but I'll still probably find time to get a Brewers, Cubs, and/or White Sox game in on a weekend.
9th Inning – What is your favorite ballpark memory?
As anyone that has visited years of baseball games (even more then me) there are tons of memories and picking just one is always hard, so I'll narrow it down to a few. The first one that stands out is a trip to Camden Yards in 2000. The game was part of a family trip to Washington DC, and as the date approached it was apparent that I may have a chance at witnessing history, as Cal Ripken Jr was quickly approaching 3,000 career hits. The morning we were set to leave for the trip, I ran to the road to get the newspaper (Yes, a newspaper, this was before wide spread internet access). On the front page of the sports section it displayed that Ripken had gotten his 3,000 th hit. So I missed history, but that would set up the part that makes this my favorite ballpark memory. After being held hitless all game Ripken came up to bat in the bottom of the 9 th with no one on and nobody out Ripken ended the game in walk-off fashion with a home run to left field for his 3,001 st hit, his first hit at home since getting 3,000 on the road.
One more moment that makes this one of my favorite baseball games in person, is that in pre-game warm ups my brother and I played catch with Tampa Bay Devil Rays Outfielder Steve Cox, while in the stands, for my brother and I it was the first time we had gotten a souvenir "game used" ball.
Another favorite memory happened more recently, and that was my son's first game. It was my Father's Day present, and even though he was just nine months old but it was still a fun day. What made it memorable and exciting was to see him experience the sights and sounds of the ballpark and I hope that there are many more of these games together as he grows older.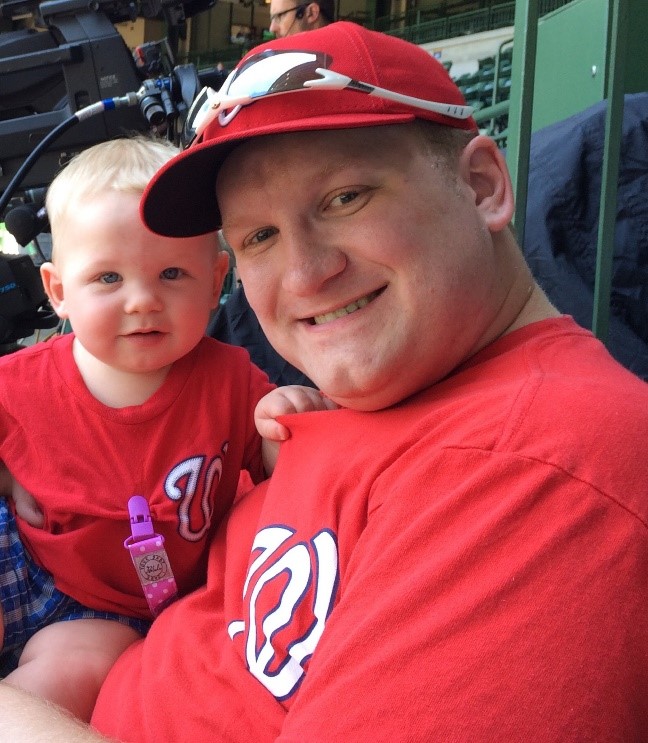 One last moment, that happened at an otherwise ho-hum regular season White Sox game, was catching a foul ball bare-handed off the bat of Paul Konerko. We were sitting in the club seats to the first base side of the press box, the ball came straight back to us, and if not for my quick reflexes, my then fiance, now wife would have caught one in face…… So I saved her "life", she had to marry me now.