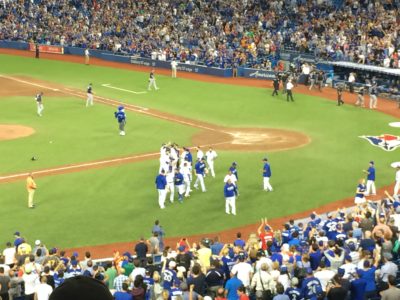 Investing your time following Major League Baseball can be a fruitless effort. As I've taken on more responsibilities it's been more difficult to track the day to day happenings throughout the game. Baseball minutiae, like who is closing for the Arizona Diamondbacks, is replaced with remembering when bills are due and what time the exterminator is stopping by.  When I was single I would watch, conservatively, thirty hours of baseball a week.  When you factor in time spent managing my fantasy teams, planning ballpark trips and reading articles online I probably spent more time each week with baseball than at work or with loved ones. I can hear my wife now as I write this so let me say I am not complaining in anyway.  Getting married and being a father to two children, four cats and a dog is the best thing that ever happened to me.  It's the life I wanted and am happy to be living it.  Having less free time has helped me prioritize my hobbies and my interest in baseball has grown.
What separates baseball from other sports is the game is not timed, twenty-seven outs is what matters most, but remember the home team always gets the last at-bat.  Every one of the 2,430 regular season games has a unique script that might end unlike any other game ever played. It's the best reality television on the planet.  Two weeks ago I attended the Blue Jays Padres game at Rogers Centre with my son Griffin. We were on a family vacation in Ontario. An outsider can say it was just another game, the Jays fighting for the playoffs while the Padres were in the midst of a rebuild.  What followed was a roller-coaster ride for the 45,515 in attendance.
Heading into the middle game of the three game series the Padres were focused on providing their younger players with playing time. Last season's quick rebuild was unsuccessful and this season started out the same. This forced Padres General Manager A.J. Preller to change course and trade previously acquired veterans.  One of these players, Melvin Upton Jr., was traded to the Jays the morning of the game.  After the trade was announced and he switched clubhouses Upton Jr. drove to Buffalo to obtain a work visa.  He did not make the night's starting lineup, but was a major topic of conversation for Griffin throughout the game.  When I told him Upton Jr. was in the dugout meeting his new teammates Griffin said "It's like when I played tee ball dad, on the first day I didn't know anyone."  Now that's a four year old equating his first year of tee ball to a thirty-one year old multimillionaire being traded. It was the early highlight of the night.
The Jays jumped out to an early 2-0 lead on a Josh Donaldson home run.  Padres starter Andrew Cashner, making his final start with the team before a trade to the Marlins, settled in after a rough first inning.  The longest tenured Padres at 4+ seasons Cashner could never put all of his tools together and become a consistent front-end starter. The trade of perennial All-Star Anthony Rizzo for Cashner will go down as a loss in Padres lore.  Two acquisitions that look promising for the Padres are left fielder Alex Dickerson (2-5 HR 3 RBI) acquired by trade with the Pirates and second baseman Ryan Schimpf (1-5 2B RBI) acquired after being released by Toronto, both contributed to the Padres come back against Blue Jays starter Marcus Stroman.  Dickerson's three run home run put the Padres ahead 4-3.  It was Dickerson's third consecutive game with a home run, joining Nate Colbert (no relation to Stephen), Ben Johnson (not the Canadian sprinter), Princeton grad Will Venable and 2006 NL Rookie of the Year Khalil Greene as the only Padre rookies to do so.
Toronto tied the game up at 4 on a 7th inning fielder's choice, setting the stage for extra innings.  As the game moved on and fans left Griffin thought it was over. Three times he asked "Who won?" If there's one code for Ballpark Nerd it's Never Leave a Game Early!  Taking a four year old to a baseball game can be tough, especially when the ballpark, as is the case for Rogers Centre, does not have a children's play area.  I brought along baseball cards to keep Griffin busy, opening a pack whenever he was antsy.  Unfortunately I did not plan on extra innings however by the top of the 12th our section was empty allowing for Griffin to roam free.  Jesse Chavez took the mound in the 12th, his third inning, and allowed a two-run home run to Matt Kemp who like Upton Jr. and Cashner was headed out of the Padres organization before the trade deadline. With the bottom of the Jays order scheduled to lead off the bottom of the 12th it did not look promising for the hometown nine.
Russell Martin led off the bottom of the 12th with a single, the crowd cheered. Kevin Pillar's fielder's choice allowed him to replace the slower Martin on the bases.  Pinch-hitter Darwin Barney followed with a double in the left field gap, the crowd raised to their feet. A comeback was in the air. With the tying runners in scoring position up stepped second baseman Devon Travis whose middle name happens to be Anthony, just like Griffin.  Travis battled Padres reliever Carlos Villanueva fouling off 8 pitches, the 8th was a shot down the left field line a foot or two away from winning the game.  Although it was a foul ball it felt as if that broke the Padres spirit.  The 14th pitch was a ball low and away, sending Travis to first and loading the bases for Jose Bautista.  Padres manager Andy Green brought in Paul Clemens to close it out, who struggled with control all season (14 BB in 23 innings through July 31st).  What followed was your typical non-scripted walk to make it 6-5, a Donaldson fielder's choice to tie the game at 6 and a wild pitch to Edwin Encarnacion to score Devon Travis.  Jays win 7-6 in 12 innings. I lifted Griffin up as Travis crossed the plate.  It was a night following Major League Baseball paid off with interest. Youneverknow!