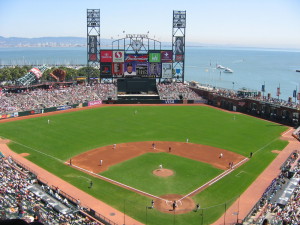 Ballpark Nerd Rank: 7
Opened: 2000 Capacity: 41,915
Schedule and Promotions
Seating Chart, Ticket Prices & Ballpark Nerd Recommendations
View Box sections 302-324
View Reserve Infield sections 308-324
The View Level offers fans the best views of the East Bay.
Getting to the Park
Address: 24 Willie Mays Plaza, San Francisco, CA 94107
Ballpark Nerd recommends taking one of the Bay Area's many public transit options to AT&T Park. That's if you are not staying within walking distance. The Tideline Water Taxi is an option for fans looking a unique mode of transportation.
Don't Miss
Sites
When visiting AT&T Park make sure to walk through the Home Plate entrance plaza where 24 Palm trees were planted to honor one of the greatest players of all-time Willie Mays.
The Promenade along McCovey's Cove chronicles Giants history. Check out warmups through screened viewing area in right field.
The Giants honor legends Willie Mays, Juan Marichal, Orlando Cepeda and soon Gaylord Perry with statues outside AT&T as well Willie McCovey out in McCovey's Cove.
Right-center field features a real San Francisco cable car.
The Giants Wall of Fame is located on the King Street side of the ballpark as part of the 50th anniversary celebration of the Giants move to the Bay Area.
Two sites synonymous with AT&T Park are the Coca-Cola bottle and old-fashioned glove in left-center field.
Concessions
Garlic Fries – French fries with minced garlic and parsley. Mint included.
Crazy Crab'z Dungeness crab sandwich located in the center field plaza.
Orlando Caribbean BBQ, located on Promenade Level 142 and View Level Section 314, offers the popular Cha-Cha Bowl that includes rice, beans and choice of chicken or pork carnitas.
For the Kids
Mascot – Lou Seal
Children under two years of age are not required to have a ticket upon entrance.
After every Sunday day game, children age 14 and under can run the bases.
The Fan Lot, open year around, is located in left-center field and offers fans the opportunity to run the bases, slide down one of the four 20 foot + slides, and play at Little Giants Park.
While You're in Town
Trip Advisors' Top 5 San Francisco Attractions:
Golden Gate Bridge
Alcatraz – reservations required
San Francisco Bay
AT&T Park
Golden Gate Park
For a full list of attractions visit Trip Advisors' San Francisco page.
Ballpark Nerd Recommends – Pier 39
Road Trip Directions