My name is Rachel Greenhouse and I met my husband Cole Greenhouse online. We began talking and connected over our love of sports. Cole's been a baseball fan for much of his life, while my fandom started in high school. I am a huge Red Sox fan, while Cole is a die-hard Cardinals fan. What a great rivalry!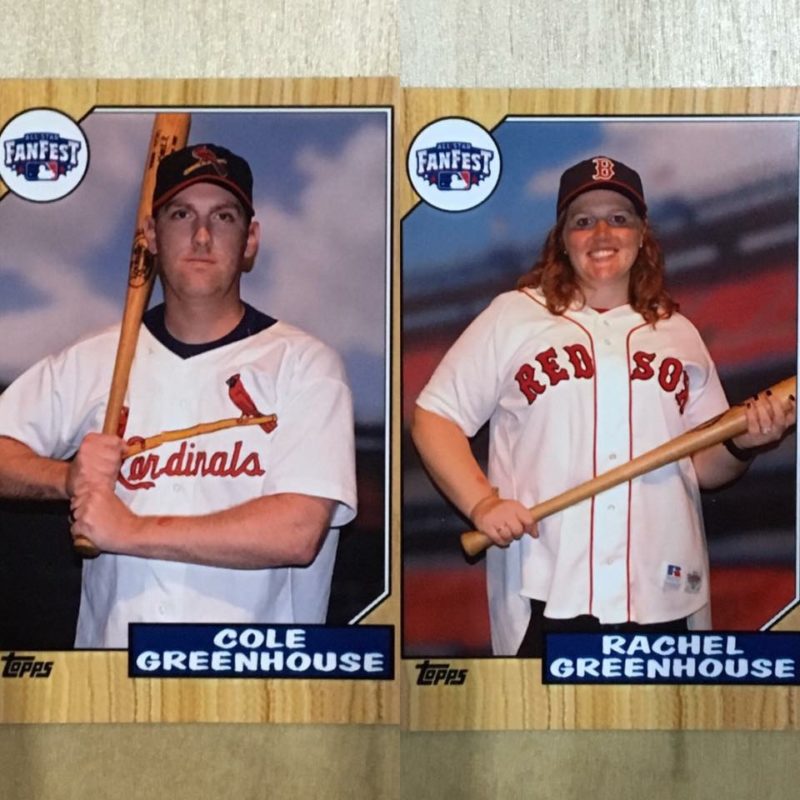 The Honeymoon
Originally for our honeymoon we were going to go to a nice, relaxing resort over the summer. But then we received our next set of military orders and found out we would be going to Japan. My first thought was "WE ARE GOING TO MISS SO MUCH MAJOR LEAGUE BASEBALL." Our goal together has always been to visit every ballpark, but if we made our honeymoon a baseball road trip, we would get the experience of a lifetime and get a lot of baseball in before we left for Japan.
As for the logistics, we knew we wanted to visit the west coast ballparks. My family lives on the east coast, and we knew it would be easier in the future to get to those parks. I went on MLB.com and made draft upon draft of dates for games, travel needs (flights or rental cars), and hotels for each location. It wasn't easy. Of course, some things made it a little more difficult. How nice would it have been for the Angels and Dodgers to play in consecutive nights for when we needed them to? Well, of course that didn't happen. We also were traveling during the All-Star Break and decided to break up the baseball with some rest & relaxation in Las Vegas.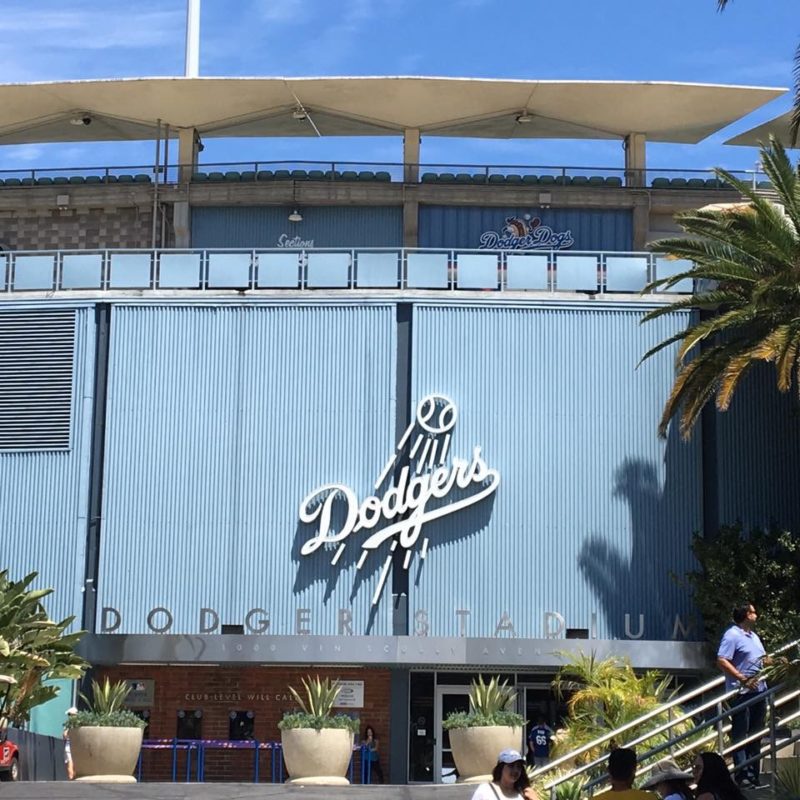 We then booked all the flights. Southwest Airlines is amazing for this type of trip; I recommend using them because you can change flights as needed for no extra charge. Luckily we didn't have any flying difficulties until our flight back home. We contacted a travel agent to assist with reserving rental cars and hotels to alleviate some of the planning stress and time it takes to research.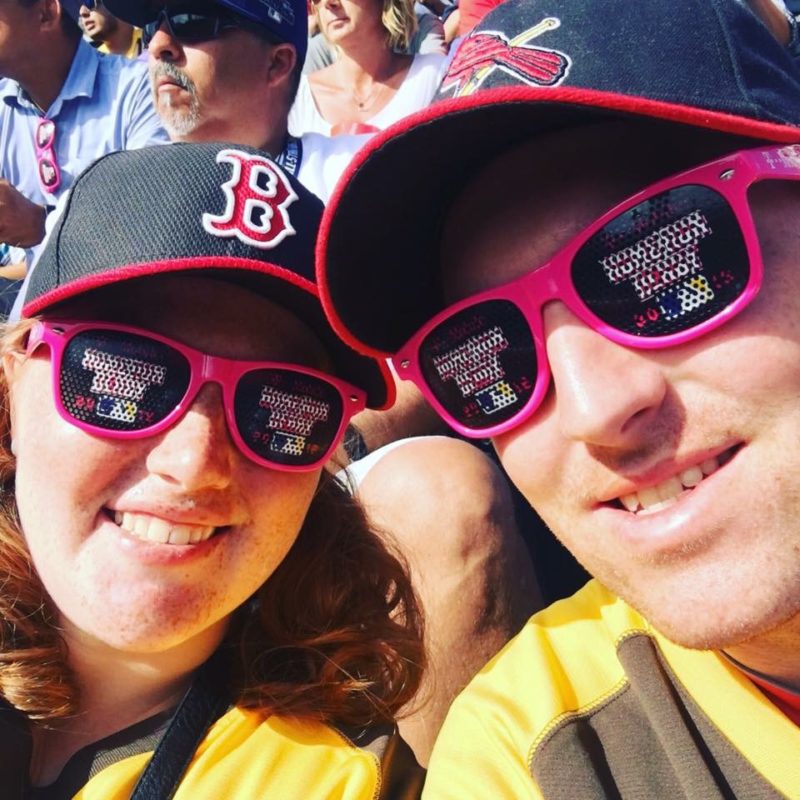 Once the itinerary was set, I e-mailed or called every team we would visit along the way. I explained that we were going on our honeymoon and my husband is in the military, and we would love to make it as special as possible before our big move to Japan. We heard back from 9 of the 10 teams with some INCREDIBLE opportunities. Some said they could display message signs for my husband, some said they could give us little give-away bags filled with goodies. Oakland, Houston, Anaheim, and Arizona all said we could get on the field for batting practice. Arizona even said they would buy us our tickets for us! They were first row behind home plate!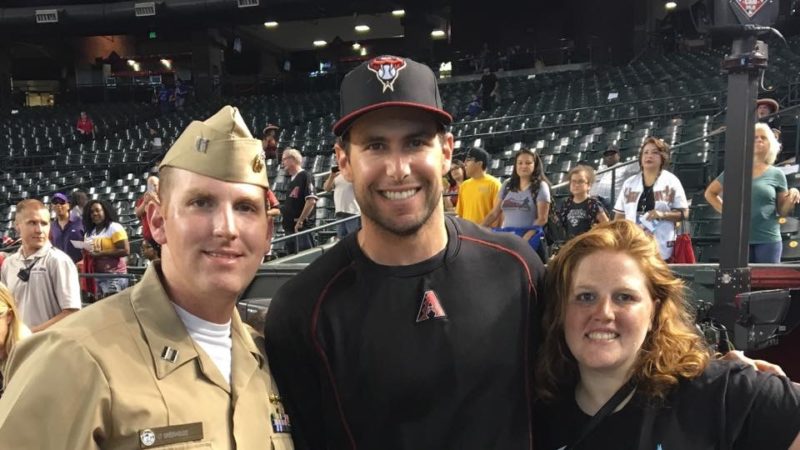 Every ballpark along the way had its' perks. We heard Oakland was rough around the edges and the Coliseum was not great but the experience A's provided was unforgettable. Sean Doolittle, a military kid growing up, came to talk to us for a good 10-15 minutes and was one of the nicest guys we met on the trip. Throughout our travels, we met some amazing players and I went a bit crazy taking selfies. Each park had something great for us to remember and we loved every second of it!
During our downtime we had so much to do in each city! In San Francisco, we took the trolley, saw the crookedest street (Lombard), went to Fisherman's Wharf, and saw the houses from Full House (my favorite show growing up). In Denver, we went to the Coors Brewery. In Seattle, we went to Pike Place and the Space Needle. And of course Las Vegas had lots for us to do during the All-Star Break.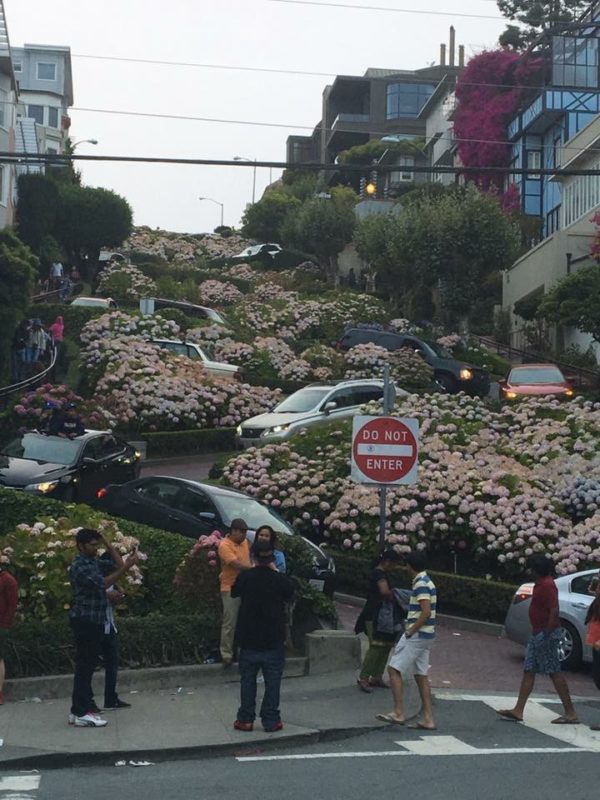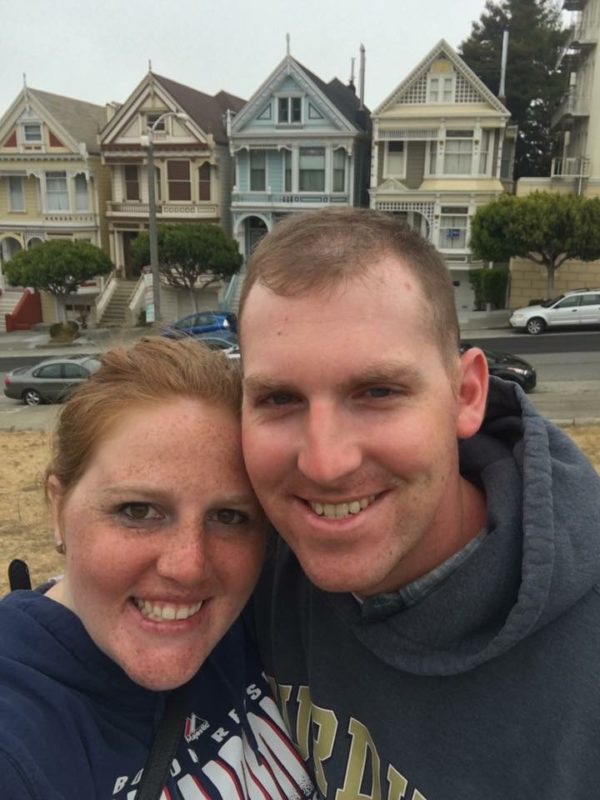 This was definitely the greatest honeymoon we could have imagined and looking back, I wouldn't change a thing!

Ballpark Stats
Neither of us have kept track of the total games we've attended. We go when we can and enjoy the experience along the way! Together we have visited 18 ballparks, 10 on our honeymoon. The parks are:
1) Fenway Park
2) Wrigley Field
3) Guaranteed Rate Field
4) Busch Stadium
5) Miller Park
6) PNC Park
7) Nationals Park
8) Progressive Field
Honeymoon
9) Oakland Coliseum (July 3, 2016)
10) AT&T Park (July 4, 2016)
11) Minute Maid Park (July 6, 2016)
12) Globe Life Park (July 7, 2016)
13) Dodger Stadium (July 9, 2016)
14) Petco Park (July 11, 2016–Home Run Derby)
15) Angel Stadium (July 15, 2016)
16) Chase Field (July 16, 2016)
17) Coors Field (July 18, 2016)
18) Safeco Field (July 19, 2016)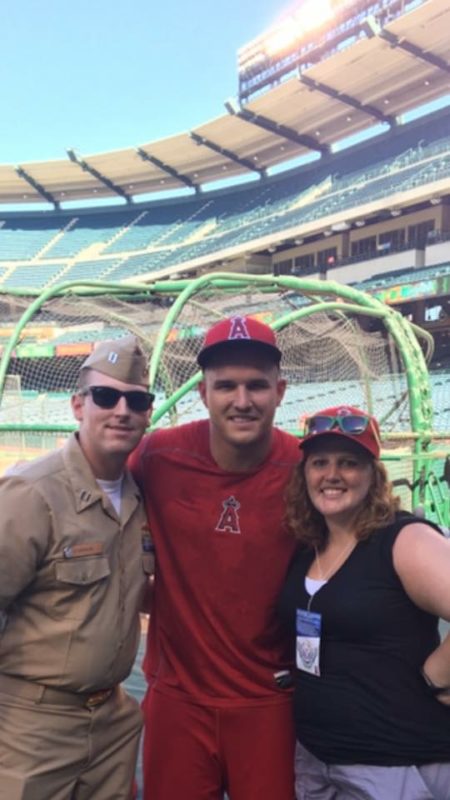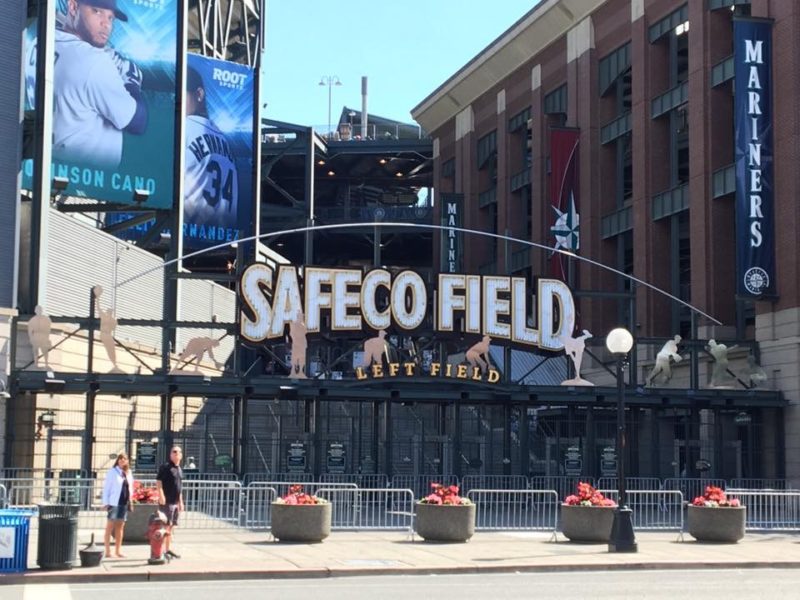 All of the parks listed, with the exception of Busch Stadium were visited in 2016. We visited Busch Stadium for Game 3 of the 2013 World Series, Red Sox v. Cardinals. What a thrill!
Our favorite baseball memories have to be our honeymoon. For me, personally, it was the best vacation I've been on. Prior to going on the trip, we researched sites Ballpark Nerd and Ballpark STAMPeders for ideas and can't miss sites that helped make our trip even better!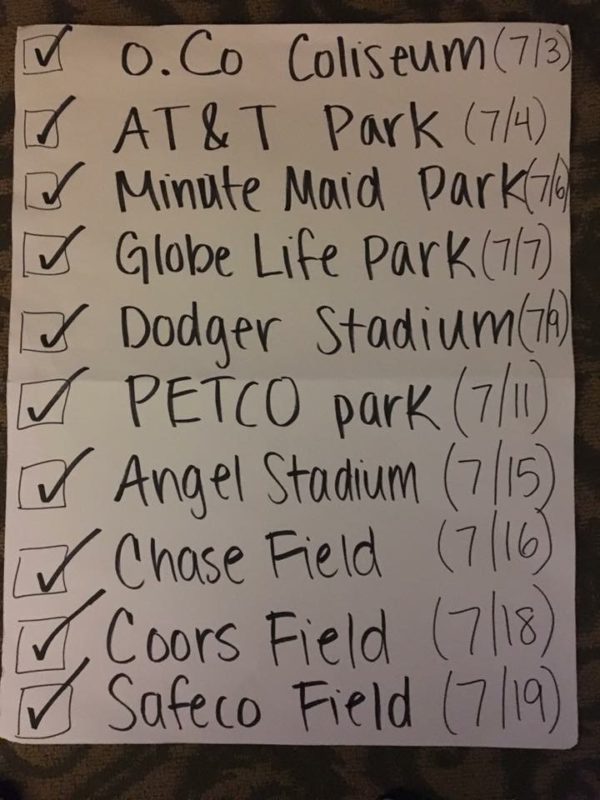 As I look back at our Baseball Passport and photos from our honeymoon, I am still in shock that we pulled it off. We met a lot of players, took a ton of selfies (maybe I went a bit overboard), spent time on the field for some batting practices and see history made at the Home Run Derby!