Lubec, Maine is the easternmost town in the contiguous United States and is the closest continental location to Africa in the United States. It is also home to Effectively Wild listener and Tony Kornheiser Little Isaac Watson Stephenson. (La Cheesiere!) The closest MLB ballpark to Lubec is Fenway Park, a mere 350 miles away. This fact does not stop Isaac from following his Detroit Tigers.
Growing up Isaac lived on the Wisconsin Michigan border. He watched the Brewers, Tigers and Cubs via WGN. In 1982 the Brewers won the American League Pennant but lost to the Cardinals in the World Series go to series. Then in 1984 the Cubs won the National League East while the Tigers were on their way to winning the World Series. That season Isaac caught the baseball bug. During the early 2000's Isaac moved back to lower Michigan and started attending West Michigan Whitecaps games. Some of those Whitecaps became 2003 Tigers, part of the infamous 43-119. Three years later in Magglio Ordonez hit a Pennant winning home run to sweep the Oakland A's while Isaac listened to the game in his EMS Ambulance. His fandom started early, was cemented and continues today which leads us to his 2017 West Coast Ballpark Roadtrip that included seeing the Tigers face the Oakland A's and Arizona Diamondbacks. While out West Isaac also caught games in San Diego and Denver, increasing his ballpark count to twenty.
O.co Coliseum – May 6th and 7th Tigers @ A's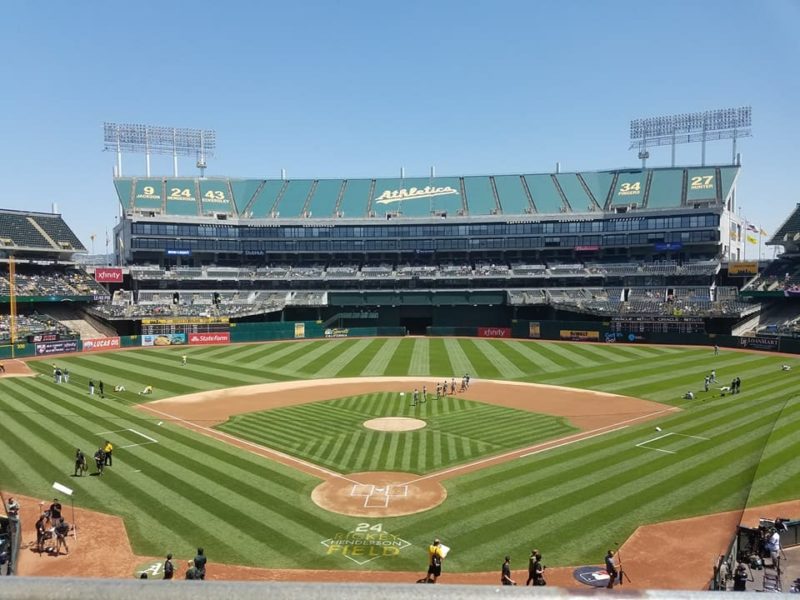 Location: In Oakland more or less. Off a freeway next to Oracle Arena where the Golden State Warriors play, surrounded by parking lots. It's not a very crisp urban area.
Getting There: Diving is the primary method. Parking is an unsettling $20. There is a BART station that is within walking distance of the Coliseum. I stayed at a nearby hotel and walked to the park. I wouldn't repeat this. One the area is not at all pedestrian friendly and two it's not an especially safe area after dark.
Food: I had an average for a ballpark Italian sausage. The peanuts are standard Hampton Farms fare.
In game: Certainly this stadium has plenty of capacity finding a seat should not be a problem. For a night game I sat behind home plate a dozen rows up and it was not crowded. The following game was played in the afternoon and I sat in the upper deck again behind home plate. Both had good views and I'd expect you can find equally good seats for a reasonable price.
Of the 20 big league parks I've been to this is definitely the worst. The exposed pipes and electrical wires tell the story of neglect, the location has no zip. During the game seagulls swarm the field creating a Hitchcockian bad vibes scene. The upside is getting good tickets and good views of the field.
Petco Park – May 8th Rangers @ Padres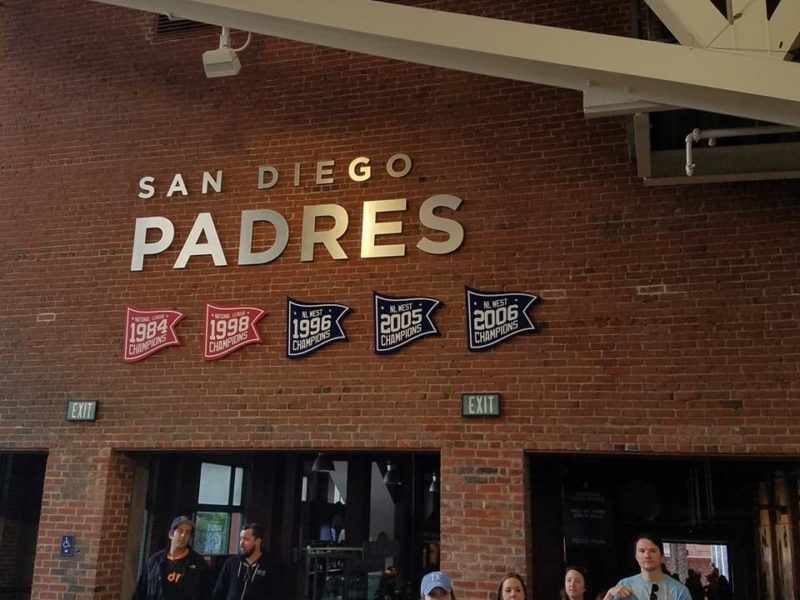 Location: 19 Tony Gwynn Way of course. It's a downtown park right in the heart of San Diego well integrated into the community.
Getting There: I stayed nearby at the Urban Boutique hotel and rode the Urban Rail/Trolley to the park. The rails actual border and are adjacent to Petco. Rail travel and baseball just fit I think.
Food: I'm partial to cheese steaks even when not in Philly or on the east coast. The sandwich I had was made fresh in front of me and was above average.
In game: Petco is a solid place to watch a game. The Western Metal building sets it off aesthetically a lot like the B & O Warehouse does for Camden Yards. The seats and views are good. When the Padres turn their fortunes around you will be able to watch a good team in an excellent park.
San Diego has a well deserved reputation as a place that can accommodate a paradise level life style. It's a convenient city with endless entertainment and site seeing options. I've been there going on 30 years now and it keeps improving. It's not as if a Padres game at Petco is the only thing to do in San Diego. Still the location and good game day experience mean that it sits well considering the competition for interesting experiences San Diego presents.
Chase Field – May 9th Tigers @ Diamondbacks
Location: Downtown Phoenix in a busy area.
Getting There: I frequently stay at a suburban La Quinta inn which requires a rental car. Additionally this can give you a ride to the light rail station in the area. I rode light rail which has a stop within walking distance of Chase Field.
Food: Hmmm I can't remember a single thing I ate. Take that to mean the offerings are average ballpark eats at best.
In game: My seat was down the 1st base line with a good game action view. It was a full row and personal space was lacking.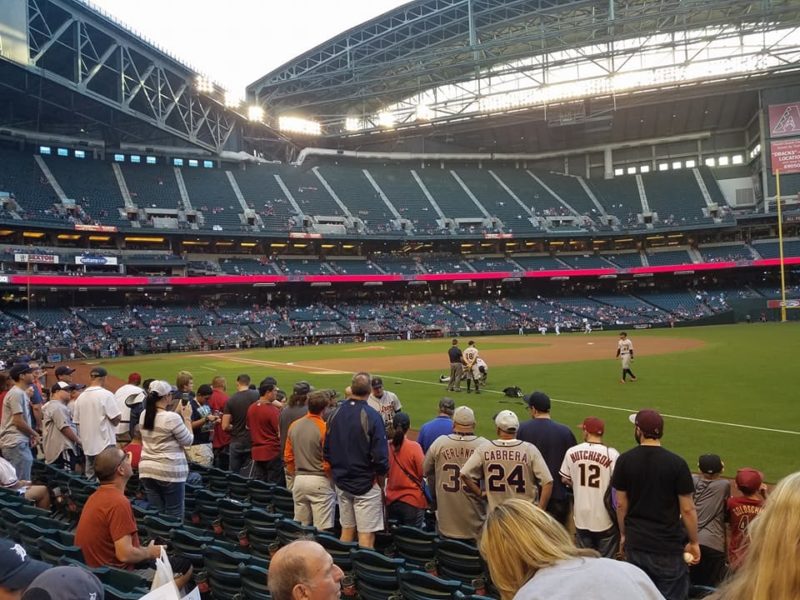 Chase Field is a good ballpark with some history such as the 2001 World Series. Not a great or overly memorable one though.
Coors Field – May 10th Cubs @ Rockies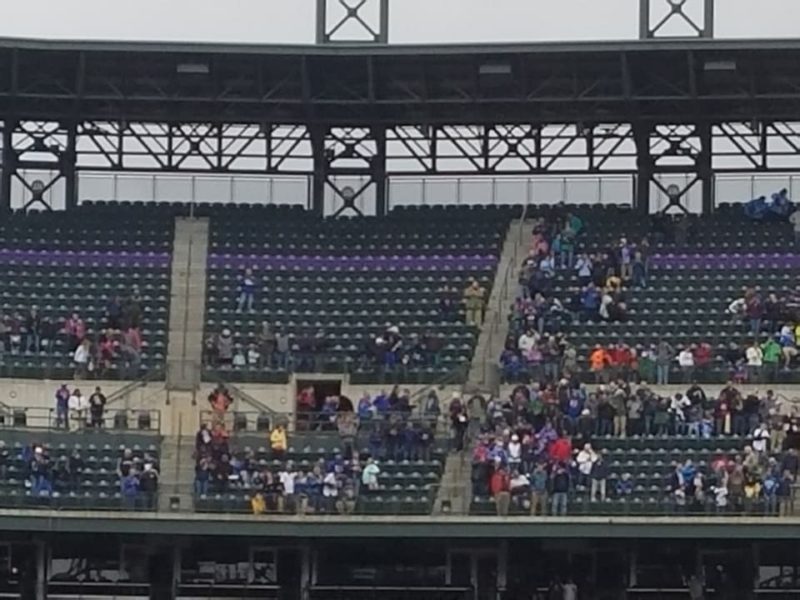 Location: Downtown Denver
Getting There: I piloted my rental to Coors Field. The parking is dispersed in a long and skinny manner throughout downtown Denver. Once I parked I thought there was a significant walk ahead. Except the Rockies run a convenient shuttle service to the ballpark.
Food: The Cubs were the opponent so perhaps the $9/can Old Style was a special sale or a troll of Cubs fans. The rest of the offerings were solid above average ballpark fare.
In game: Sat in the right field stands and had a good view of the action. It was an enjoyable game as the early season Rockies beat the defending World Series champ Cubs. The atmosphere was positive and enjoyable.
I might say that Chase Field is overrated. Coors Field is underrated it was a better experience than I expected. A pleasant surprise to end my Western Ballpark tour.