For some fans Opening Day is the start of the baseball season, but for me the announcement of the next season's schedule is when I start thinking about the upcoming season. The release of the MLB schedule, usually in September, offers 2,430 opportunities to plan time out at the ballpark six to twelve months in advance.
Citizens Bank Park was the place to be during the Phillies run of five consecutive National League East titles (2007-2011). Now, as the Phillies rebuild, it's the place to purchase below face-value tickets from season ticket holders on StubHub which I had the pleasure to do on May 6th. Fellow Ballpark Nerd Phil joined me in the Hall of Fame Club for the Phillies match-up with the 2016 National League East champion Washington Nationals. The Hall of Fame Club offers fans the best of both worlds, comfortable seating with cover and the option to walk inside and warm up or if you're in the mood purchase Crab Fries. Crab Fries might be my favorite ballpark concession throughout MLB, crinkle cut fries with an Old Bay like seasoning and melted cheese. Heaven in a cup.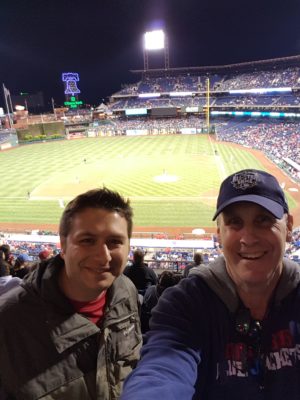 The Phillies sent hard throwing Vince Velasquez to the mound against the high-powered Nationals offense. The Phillies caught a break during the weekend series with Nationals right fielder Bryce Harper sidelined due to a sore wrist. However this did not stop the Nationals from putting six runs on the board against Velasquez. Home runs by Ryan Zimmerman and Anthony Rendon accounted for five of the runs. The Rendon home run in the sixth not only put the game out of reach, but will be remembered in Ballpark Nerd lore as being the Shot Heard Round Section 227 thanks to Phil's prediction prior to Rendon stepping to the plate. Overall Velasquez did not pitch poorly – two bad pitches in 7 innings ruined the 8 strikeout no walk performance. Final: Nationals 6, Phillies 2 in front of "21,298" fans in attendance.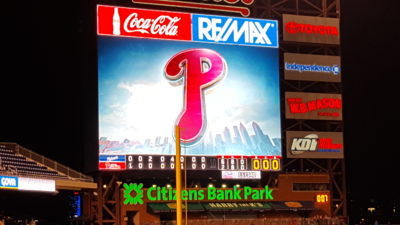 Regardless of the teams playing or venue, attending baseball serves as a great diversion and grounding exercise for me in my attempt to balance a hectic lifestyle. Worrying about the chores I need to finish at home or the e-mails I did not get to at the office doesn't cross my mind when I am at the ballpark. The best part of attending games is introducing all that baseball has to offer friends and family both young and old.