I met Justin Merrlles in the Ballpark Stampeders Facebook group. Justin is a Toronto Blue Jays fan and is working his way through the 30 MLB ballparks. Justin introduced baseball to his girlfriend Erynn Daros and has a pact to visit half of the current MLB stadiums before he puts a ring on it. I look forward to following Justin and Erynn's travel throughout the year. Thanks Justin for going Nine with the Nerd!
1st Inning – When did you become a baseball fan?
I became a baseball fan when I was seven years old after my first game in Toronto. Baseball seemed to be the thing that united both sides of my family. I loved playing catch with my dad when I was young. He had a 1993 Blue Jays VHS so let's just say it was difficult for that not to be on while I was growing up.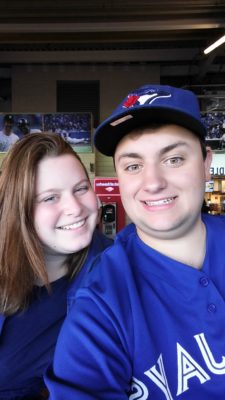 2nd Inning – What was the first MLB game you attended?
The first game I attended was in 2005. I was seven years old and watched the Blue Jays play the Texas Rangers. The Jays lost 3-2, but since it was Junior Jays
Saturday
I got to run the bases after the game. Blue Jays Center Fielder Vernon Wells was the standout from that game and he instantly became my favourite player.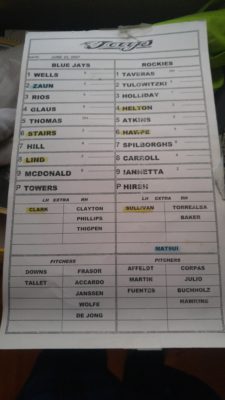 3rd Inning – Total MLB games attended?
Not including the 2 spring training games in Montreal and Kissimmee, I'm going to say about 45.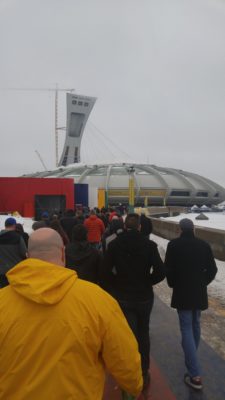 4th Inning – Who is your favorite team? What made you a fan?
My favourite team is the Toronto Blue Jays. Having grown up around the area, it's hard to cheer for another team. My dad and gramps have been fans since the team arrived in Toronto (My dad cheered for the Royals before 1977, so we both have a soft spot for them). Again them winning the World Series and having their VHS was a big help too. Just the baseball culture in Toronto and watching every night made me feel that I belonged.
5th Inning – What ballparks have you visited?
At the moment, I have attended games in seven different ballparks so far (5 MLB stadiums, and 2 exhibition sites)
I've been to …
Rogers Centre in Toronto
Jacobs Field (at the time) in Cleveland
PNC Park in Pittsburgh
Oscelola County Stadium in Kissimmee (Houston Astros' Spring Training ballpark)
Olympic Stadium in Montreal
Citizen's Bank Park in Philadelphia
Yankee Stadium in the Bronx
6th Inning – Do you plan on visiting all 30 ballparks?
I would love to, but I think that depends on my bank account
7th Inning – 2017 Year in Review – Ballpark road trips, # of games, etc.?
I attended four games last year. The first being in Montreal to see the Jays beat the Pirates 6-2 in front of 47 000+. I went to show my support for Montreal in their expansion efforts. It was a great atmosphere. It was my girlfriend Erynn's first game and she really enjoyed. We already have our tickets for this March where the Jays will be playing St. Louis. The second game was in Toronto where the Jays lost 5-2 to the White Sox. It was the first time I personally kept score while watching a game live, so that was a lot of fun.
Towards the end of the season I went on a road trip to Philadelphia and New York. It was my first visit to each city, it was an amazing experience. When I arrived in Philadelphia, the hotel had a view of Citizen's Bank Park which was tremendous. The tour of Citizen's Bank was amazing (shoutout to Tom who works for the Phillies for the tour) I wished I could have stayed longer, I had so many more questions. The game was amazing, we sat 8 rows from the field but we were unfortunately 3 sections over from the Philly Phanatic. The Phillies beat the New York Mets by a score of 6-2. Finally in New York City, it was the last game of the season so I got to see what was Jose Bautista's last game in a Blue Jays uniform and of course I was sitting in right field for it. The atmosphere was pretty rough as a fan of the visiting team but the 2-1 win over the Yankees made the experience worthwhile.
8th Inning – What are you plans for 2018?
I'm playing to visit six to eight ballparks in 2018. I'm hoping to attend my first minor league game this year (likely the Toledo Mud Hens). I'm going on two road trips, the first is Cincinnati, Toledo and Detroit. I've been a big fan of Reds First Baseman Joey Votto since 2008, so to see him play again would be incredible. Comerica Park seems to be the one ballpark all my friends have visited but I haven't, so why not cross it off the list? Toledo will be in between the two, I'm just curious to see what a minor league game is like compared to a major league game.
The second road trip will be towards the end of the season when I head to Boston and New York. I've never been to Fenway but as the best ballpark in the American League, I have to see it. The Yankees last year gave me two free tickets for any regular season in 2018, so I'm taking them up on that offer and maybe I'll tour Yankee Stadium this time. Of course while in New York I am going to visit Citi Field so I can finish both New York ballparks. In addition, I am going back to Montreal this March, and hopefully I can watch a Blue Jays game this summer in Toronto.
9th Inning – What is your favorite ballpark memory?
I have had a lot of great memories at the ballpark. I will never forget my first away game in Progressive Field (formerly Jacobs Field) or my first visit to Citizens Banks Park in Philadelphia. I'm going to say my favourite baseball memory is seeing the Cincinnati Reds hit an inside the park home run in Pittsburgh, because I had never experienced it before live or television, so that was pretty cool.