I met Billy Hinton through the Ballpark Stampeders Facebook group. Last season he visited 17 ballparks on his quest for 30 and has many great stories to share. After going Nine with the Nerd check out Billy's blog The Tenth Inning for his reviews and more on his ballpark adventures.Thanks Billy for sharing your story on Ballpark Nerd!
1st Inning – When did you become a baseball fan?
I became a baseball fan pretty much as soon as I was old enough to get into sports. Whether it was playing it or talking about it baseball has always been a big part of my life.
My mom's dad had once tried out for the Cardinals and my dads step father was a final cut in Spring Training with the New York Giants so baseball was just something I always grew up hearing about. My dad used to tell me stories about flying to New York as a kid to catch double headers at Yankee Stadium.
As I got older I began to collect baseball cards and just about anything else that had to do with baseball. These hobbies have stayed with me ever since as today I sit typing this in my office surrounded by everything from cards to signed baseballs and photos to bobbleheads I have gotten as giveaways at games over the years.
Baseball has become so much more than a game to me over the years. As a teacher, and a history minor in college, I have taken a particular liking to the history of the game and have really delved deep into the players of the past who carried this game on their backs and made it into what it is today. The players who worked a regular job over the offseason or the ones who had to break a color barrier just to play at the highest stage available in the MLB.
I have brought this love of baseball and traveling to ballparks across the country into my own blog/website, The Tenth Inning, that I started this past season. I have always enjoyed writing and now being able to write about baseball is something I really enjoy doing in my free time, which I wish I had more of lately.
2nd Inning – What was your first MLB game you attended?
To be honest I really have no idea when my first MLB game was but I am almost positive it was a White Sox game. Growing up right outside the city on the South Side of Chicago that would have been the closest ballpark and I have numerous memories attending White Sox games as a kid.
Over the years we have attended games as a family at over 15 different MLB parks all across the country but the majority of our baseball memories will always be at White Sox games.
3rd Inning – Total MLB games attended?
This is actually a great question that I wish I had an accurate answer for. Growing up I never kept track of how many games I attended other than maybe keeping some of the ticket stubs. Now if I could tell how many games I went to by the amount of signed baseball cards I had from my childhood chasing down players at games then my guess would be I have been to more games than I can even count.
I did not really start keeping track of games attended until a few years ago. Over the past 3 seasons I have been to over 100 games which has kept me very busy during baseball season. In addition to going to games I have worked for the White Sox since I was 16 years old which means I am going to be starting my 13th season with them come April this year. If I count the games I have worked as ones I have been at then I am well over 1,000 games. However, I don't consider those as games I have attended since I am technically working even if I get to watch majority of the game while doing it up in the Stadium Club Bar.
This past season I actually started doing the MLB Ballpark Pass-Port program which is a really cool way of keeping track of the games you have attended and which stadiums you have visited. I wish I had bought into this years ago when it first came out but hey late is better than never. If you have not heard of the pass-ports then you should definitely give it a google search and see what it is all about.
4th Inning – Who is your favorite team? What made you a fan?
I am a huge White Sox fan. It has not always been easy claiming them as my team but alas, I still do.
The White Sox were the first team I really started following as a kid and that was attributed to one player, Frank "Big Hurt" Thomas. I worshiped him as a kid and even now as an adult I still collect almost anything to do with him whether it is his baseball cards or numerous signed items I have obtained over the years.
The White Sox always had great promotions growing up and it made it affordable for my parents to take myself and a friend to games. Whether it was the kids games where they could get $1 tickets for us and let my friend and I get autographs pre game or the Fuji Film Photo Day where we got to take photos with all the players, the White Sox always seemed to have a good way to involve the fans.
In the offseason we would always attend SoxFest which is a fan convention where you can meet and get autographs from all your favorite players. This was heaven for me as a kid and even today is one of my favorite weekends of the year when I go with my fiance Jenna and another couple we are friends with.
In 2005 the White Sox won the World Series and it was some of the best memories I have to this day as a baseball fan. To see your favorite team win the World Series is something I really do hope every fan gets the chance to experience at some point or another.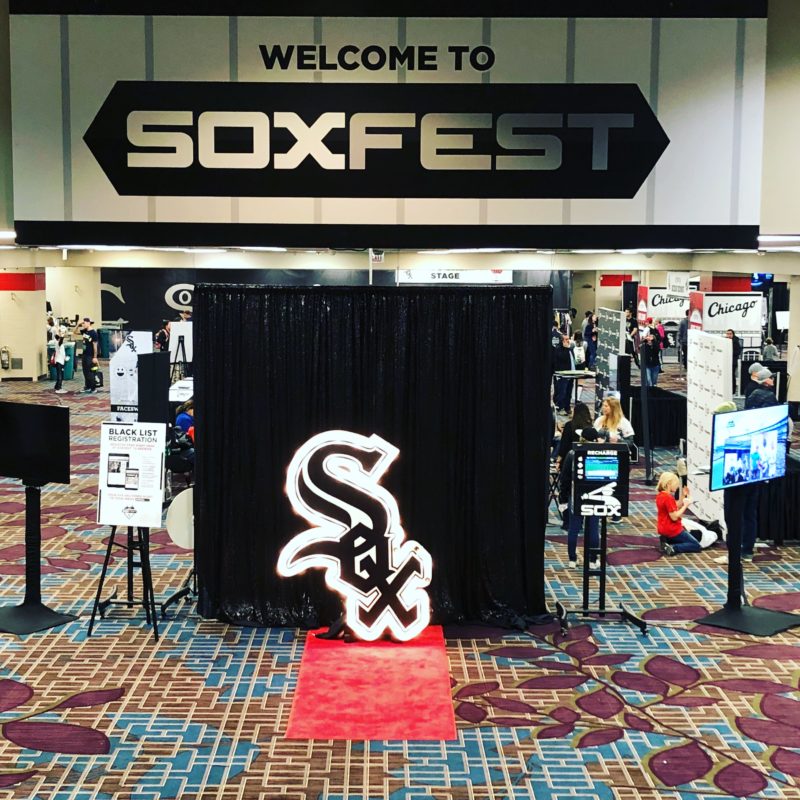 5th Inning – What ballparks have you visited?
Well this list is quite extensive as I have been fortunate enough to take in games at many different ballparks.
I have seen a game in 23 of the current MLB ballparks. In addition to those 23 stadiums, I also saw games at the MetroDome in Minnesota, the old Yankee Stadium in New York, RFK Stadium where the Nationals played when they moved to Washington and were awaiting their own ballpark and also Turner Field before the Braves moved into SunTrust Park.
That puts me at 27 ballparks over the years. I have always had a fascination with baseball stadiums. Each ballpark brings a new atmosphere, fan traditions and sights to check out.
6th Inning – Do you plan on visiting all 30 ballparks?
As I am sure you can guess from the previous answer about how many ballparks I have already seen, the answer to this question is yes.
One of my main goals is to see a game at all 30 MLB ballparks. I am down to needing 7 stadiums which are the 5 in California, Seattle and lastly Toronto which I am hoping to get to this season.
I have been working on seeing all 30 ballparks for quite a few years now and as weird as it is to say I think I will be just as much sad as I will be happy when I walk through the gates at the 30th ballpark. I love the excitement that comes with seeing a new ballpark and it will be somewhat disappointing when I will not have anymore ballparks to go see the next season. However, I still cannot wait to get to all 30 and join that elusive club of fans who have been to every stadium across the country. Who knows maybe after I check out all the MLB ballparks I will start planning some road trips to see Minor League stadiums which I have only seen one game at in Scranton this past summer.
7th Inning – 2017 Year in Review – Ballpark road trips, # of games, etc.?
Oh man, 2017 was an absolutely crazy year for me when it came to trips and games. Before the season I decided to start my own baseball blog/website that I previously mentioned called The Tenth Inning as a way to kind of document all of my travels and especially my reviews of each MLB ballpark. Out of the excitement of starting this I quickly filled up my summer schedule with almost every road trip I could possibly imagine. Being a teacher this really opens up a lot of opportunities for Jenna and I to travel around.
First, in April I headed to the Inaugural game at SunTrust Park with my two buddies, John and Tim. This was our Spring Break trip as we drove down to Atlanta and took in the first two games at the new home of the Atlanta Braves. That was an awesome experience to say we were there the night a new ballpark opened and something that I know I wont ever forget.
In May, Jenna and I flew out for a quick long weekend in Minnesota and took in 2 games at Target Field. This was the first time we had been there together and we hit a great weekend for it when it came to the weather. We also took the 2 hour trip up to the cheesehead state and caught a weekend game at Miller Park with our friend Paul Rodriguez.
Over the summer we went on a Jay Buckley Baseball Tour and hit games at Citi Field, Yankee Stadium, Fenway Park, Orioles Park at Camden Yards, Citizens Bank Park and the MLB Hall of Fame in Cooperstown. After the Buckley Tour we also went on a road trip to St. Louis for the 4th of July, flew out to Colorado with my family for 2 games at Coors Field and also caught a mini STAMPede out there which has to do with the Ballpark Pass-Port program which we started doing this year as well. After we got back from Colorado we did a weekend in Kansas City at Kauffman Stadium and then took a road trip where we hit Progressive Field, PNC Park and Great American Ballpark for the 2017 STAMPede event that Pass-Port founder Tim Parks puts on every year.
We finished up our travels in September with a quick one day trip up to Detroit to catch a game at Comerica and partake in their Star Wars Day events. In addition to doing local Guaranteed Rate Field and Wrigley Field I ended up hitting 17 different MLB stadiums in 2017. It was a crazy year and I had an absolute blast doing it.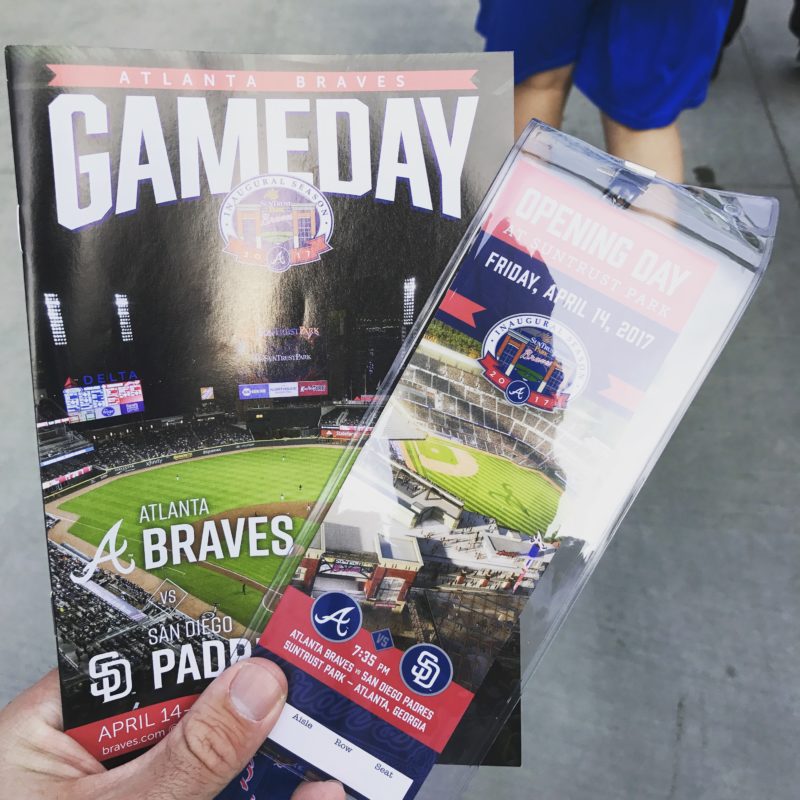 8th Inning – What are you plans for 2018?
At the end of 2017 I kind of said that this season I could not be as go-go-go as last year when I hit 17 parks. I was exhausted and tired of traveling when it was all said and done. Well, the winter months let me catch up on sleep and I filled my schedule up again.
Spring Break will take Jenna and I out to Texas for two games at the Globe Life Park in Arlington to see the Rangers and then we will catch the hour long flight from Dallas to Houston where we will be in attendance for Opening Day at Minute Maid Park to see the defending World Series Champion Astros for a couple games.
In May we are doing a long weekend and flying to Arizona to check out Chase Field where the Diamondbacks call home. We also plan on going back up to Miller Park at some point in either April or May and of course will take in games at both Chicago ballparks as well.
Over the summer we are working on plans to get up to Toronto for a game with my family and then in July Jenna and I will want to take a long trip down to Florida to do Disney World. Of course we will work in some baseball as well and check out Tropicana Field, Marlins Park and then also SunTrust Park on the drive back to home.
We are going to continue the 4th of July tradition and head back to Great American Ball Park to see our White Sox take on the Reds as well. When all is said and done we plan on seeing 10-12 ballparks even though some will be repeats for us.
9th Inning – What is your favorite ballpark memory?
I would have to say my favorite ballpark memory happened this past season at Yankee Stadium when I got engaged to my fiance, Jenna. We were on a Jay Buckley Baseball Tour and our last day was scheduled to be spent watching the Yankees.
Jenna grew up in a house that, much like myself, always had baseball in it. Before her dad passed away a few years ago he was a huge fan of Yankees legend Lou Gehrig. Jenna has carried on this love of Gehrig so when I started kicking around the idea of proposing I immediately thought about doing it at Yankee Stadium while on our trip.
Lucky enough for me everything fell into place perfectly and while we were in the Yankees Museum at the stadium the manager offered to help me out and asked if I would like one of Lou Gehrig's bats to have for Jenna to hold when I proposed. The whole thing turned out to be absolutely incredible and is definitely a ballpark memory that I don't think either of us will ever be able to match.