I met Anna Davenport in the Ballpark Stampeders Facebook group. She was planning a trip to the East Coast to see her Cardinals and I helped with some recommendations. She hopes to see the Cardinals play in all 30 MLB Ballparks. With the current interleague schedule that might take a few years but . Anna went Nine With the Nerd to share her ballpark experiences!
1st Inning – When did you become a baseball fan?
I've loved sports my entire life. I grew up listening to the Cardinals baseball games with my dad on the radio. But I think I really started getting into baseball after he passed away when I was 12 because it was the link for me to the memories of good times with my dad.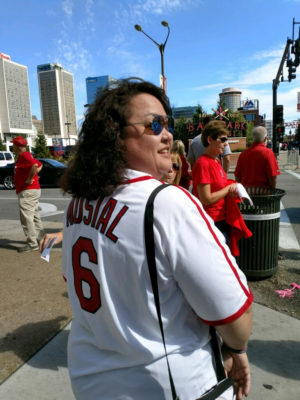 2nd Inning – What was your first MLB game you attended?
I don't even remember it was that long ago. We used to get Straight A passes for two free Cardinals tickets in grade school so that was my incentive to get good grades.
3rd Inning – Total MLB games attended?
LOL, I don't have a clue … somewhere between 50 and 500, I guess.
4th Inning – Who is your favorite team? What made you a fan?
Hands down … the St. Louis Cardinals, thanks to my dad. When I moved to Chicago for work, some co-workers gave me a Cubs cap as a going away gift and I told them I could never wear it! The Cards have given me three World Championships (technically 4 because they won the year I was born), lots of other postseason memories, spring training fun, the pomp and circumstance of Opening Day in St. Louis, Whitey ball, the rally squirrel, McGwire's chase of Maris' HR record, the Wizard, Lou Brock (who could forget the Brockabella) and the greatest player of all time – Stan the Man Musial.
5th Inning – What ballparks have you visited?
Retired (3): Busch Stadium II, Comiskey Park, Fulton County Stadium
Current (10): Busch Stadium III, Wrigley Field, Target Field, Nationals Park, Miller Park, Great American Ballpark, PNC Park, Oriole Park at Camden Yards, Citizens Bank Park, Kauffman Stadium
Stadium Tour Only (1): Fenway Park
6th Inning – Do you plan on visiting all 30 ballparks?
Absolutely and we've made the journey a little more difficult because we want to see the Cards play in each of those stadiums. I made the decision to start the journey for 30 once I found the MLB Ballpark Pass-Port book last year. I have three friends that I get a 3-game pack of Cards tickets with every year so we can get tickets for Opening Day and luckily I was able to convince one of them to do the journey for 30 with me. We've only gotten stamps from 7 stadiums so far … it will be a long journey for us because we only get to visit 2-3 new parks a year. But we've turned the trips into some really fun vacations … between her love of history (we got the National Parks Passports too), my love of quirky road stops and our combined love of baseball, we have had three amazing trips so far. If you love road trips, I highly recommend the app "Roadtrippers". "Splitwise" is another great app to make it really easy to split expenses with friend(s).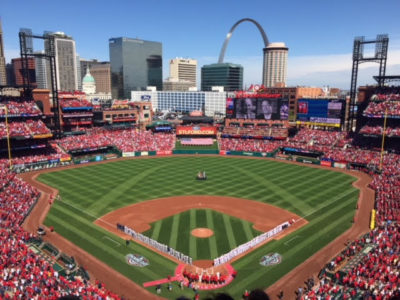 7th Inning – 2017 Year in Review – Ballpark road trips, # of games, etc.?
2017 = 6 games at Busch, plus one game and stadium tour each at Camden Yards, Citizens Bank Park and Kauffman Stadium. We took two road trips this year. The first to Baltimore and Philly – in addition to the games and studio tours, we did lots of sightseeing in Baltimore and Philly plus we also did a QVC studio tour, the Flight 93 Memorial, Kentuck Knob (a Frank Lloyd Wright house), the First Ladies' Historic Site, the McKinley Museum and Library, the Smucker Store & Cafe and Casey, IL (Home of Big Things in a Small Town). Our second trip was across Missouri but on our way to Kansas City, we stopped in Marceline, Missouri, home of Walt and Roy Disney. And when in Kansas City, you must do a compare and contrast taste test of all the BBQ … we enjoyed Jack Stacks, Q39 and Oklahoma Joe's.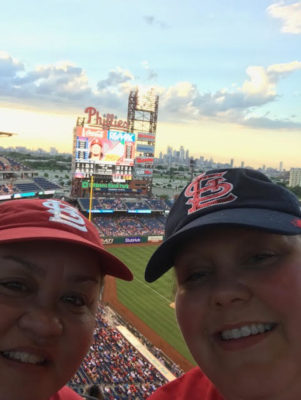 8th Inning – What are your plans for 2018?
We're still working on that, but I'm hoping to start the season in Montreal to see the Cards play the Blue Jays at Olympic Stadium before the season starts. Then we might pick up games in Minnesota, Detroit and maybe Chicago to knock out some AL stadiums since the Cards play them in interleague this year. But a weekend trip to Coors Field could be a possibility if the budget allows.
9th Inning – What is your favorite ballpark memory?
I have SO many great ballpark memories, but I don't think there will ever be a game that is better than Game 6 of the 2011 World Series. My sister and brother-in-law bought tickets for myself and one of my brothers for early Christmas gifts. By far, it was the most exciting game I've ever been to in my life. I think I went through every emotion in the book that night.