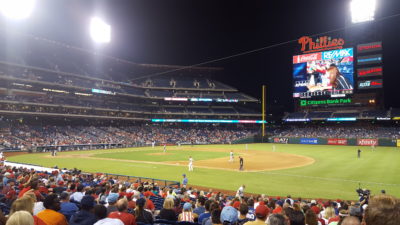 First, a disclaimer…I am a New Yorker by birth and lifelong Mets fan that now lives amongst Phillie/Flyer/Eagle fans in Fleetwood, Pennsylvania, about an hour and a little from Philadelphia.
After a nice bicycle ride on a beautiful late summer day, September 2nd, 2016, I decided on the spur of the moment to head down to Citizens Bank Park to check out the Phillies/Braves game. Perfect weather day, and I figured the Phillies are playing the one team that I dislike more than them, so I can actually root for the home team…my upbringing taught me to dislike all the Philly teams, but being a Mets fan the one team I dislike even more is the Braves. I'm embarrassed to say this is my first time to the Park…my "nerdiness" for ballparks has just been rekindled in the past couple years after being dormant for a while.
Many summer days, while living in NYC, were spent going to Shea and Yankee Stadiums, and while the charm and history of those parks are something I miss to an extent, the new ballparks, with their open-air plans, awesome sight lines, perfectly-angled seating, and gourmet fare, are light-years ahead of those "charming" old stadiums for my money. I've not been to Wrigley or Fenway, and I am sure they are both on a singular level of tradition and charm, but for the sheer joy of watching, and hearing a game (I love the sounds of baseball), the newer parks are the way to go, and Citizens is certainly a great example.
What I Loved
I came in through the left field gates and headed toward the food…the game was just starting, but as there wasn't a big crowd this night I was able to grab a quick Cheesesteak from Campo's (great bread, marginal steak) and eat at one of the many bar rails out in center field and watch the first inning. Great view except that the Wall of Memories cuts off the view of left field a little, but a great atmosphere with plenty of room to move around. After the cheesesteak, I had some pepperoni pizza from Seasons Pizza – very tasty and nice and crunchy!
Being a stat nerd I am big on the new tech-heavy scoreboards around the league, with their wealth of stats and great visuals, and the one at Citizens is sweet – I especially like the little field graphics that  show the batter's previous at-bats as on a scorecard and even little arcs that show where the hits went – just a nice little touch that I liked.
I did some walking around between innings, and being a sparse crowd I was able to check out a lot of different areas and seats, and as with most of the computer-designed structures these days, everywhere I went the views were good, and the seats were fairly comfy and on good angles for easy-on-the-neck viewing.
I mentioned some food before – I also had some nice chicken fingers with french fries – outstanding.
#13 Freddy Galvis – Phillies Shortstop. I haven't watched him a ton, but in this game, he was a vacuum cleaner and made some really nice plays at short and looked great doing it.
What I Didn't Love
There really wasn't much that I didn't like about Citizens Bank Park – a few things maybe if I am being picky:
For the sparse crowd, service at all the stands was slow – can't imagine if it was crowded. Yes, I'm impatient.
The scores from around the league are on the right field wall, so you can't see them if you are anywhere from around center field over into right field. Yes, being picky, but I like to see the other scores especially when you get later in the season.
Travel in and out of Philly is not really ever fun, and from where I am driving is really the only option…422 to 76 East and I was down there in an hour and 15 minutes – not terrible – and coming back on a Friday night, the traffic was the usual congested mess…just glad there were no accidents…if someone crashes you can be there for a while.
A note to Phillies fans: I'm all for the "retro" thing, and I know you are proud of the World Series-winning Phillies team, but seriously, how about showing the new guys some love? Put away the Lee, Hamels, and Halladay jerseys and buy a Galvis one.
Oh yeah, the game…
A.J. Ellis hit a three-run homer for the Phillies in the second inning, bringing in Ruf and Galvis, extending their lead to 4-0, but lost the lead when Kemp's three-run homer in the fifth tied it.
It stayed tied until the ninth inning when Inciarte and Garcia started the inning with consecutive singles for the Braves off closer Jeanmar Gomez. Freeman then lined a double to left to put the Braves up 5-4. Kemp followed with an RBI single past a drawn-in infield.
Nick Markakis added an RBI double in the ninth and Tyler Flowers had a sacrifice fly.
All in all, a pretty good game – some good hits, a couple of homers, decent pitching, and some good defense as well. And while I was rooting for the Phillies to win this one, it never really hurts my feelings to see Philly fans going home disappointed.
Phil Black