When the 2017 MLB scheduled was released the first game I circled on my calendar was the May 27th match-up between the Mets and Pirates at PNC Park. It was an opportunity to see my favorite team in my favorite park while bringing my family along for the ride. To date I've attended Mets road games in Philadelphia, Washington D.C., Milwaukee, Atlanta, Baltimore, Pittsburgh and Houston with success. There is nothing like walking out of "enemy" territory with a road win. Despite the Mets early struggles in the 2017 I was hopeful for a good showing in the Burgh but the Pirates had other ideas.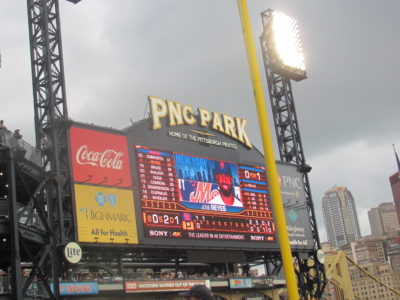 The Mets offense is predicated on hitting home runs. This approach is exciting from a fans perspective but is also prone to slumps. The Mets scored three of their four runs on solo home runs by Jay Bruce, Travis d'Arnaud and Lucas Duda however could not get the big hit to extend their lead, leaving ten men on base. The Pirates offense was paced by Andrew McCutchen who was hitting just .212 heading into the game. The former National League MVP tied the game at two with a two run home run off Mets starter Zach Wheeler and brought the Pirates within a run with a 6th inning RBI double. It was the start of Cutch's resurgence.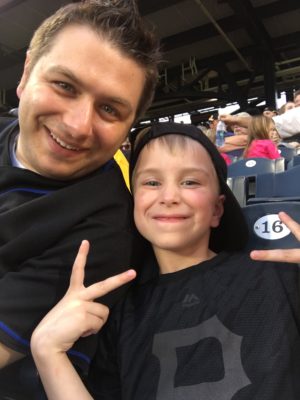 Throughout the game I cheered for the Mets while my family, in full Pirates paraphernalia, pulled for the home team. This created an interesting dichotomy in our section down the third base line. The Mets have a faithful following and bring fans out to road games, especially to games at great ballparks like PNC. A few of these fans play to the New York stereotype by being loud and obnoxious, egging on the home team fans. Fortunately for me the young gentleman in the Strawa 86 Mets jersey provided entertainment and a common cause for Section 130 to rally around.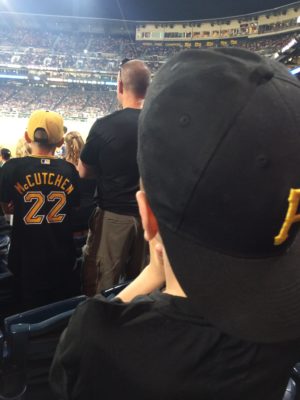 As the game progressed so did Strawa 86's antics, rising from his seat to pop his jersey and raise his arms after exciting Mets plays like the three spectacular Juan Lagares catches in center field. The novelty wore off after a few instances to the point where fans, me included, started chanting his name…Strawa, Strawa, Strawa. Strawa needed attention and we gave it to him. All of this occurred while the Pirates mounted a comeback from a 4-2 deficit. The Mets leaky bullpen was unable to hold the lead, allowing the tying run in the 9th and game winner in the 10th, both on John Jaso singles.
After the game I posted a few photos on Instagram and was happy to see Strawa 86 liked them. If he only knew two hours earlier I was one of the fans chanting his name.