I met Phil Chmielewski in through the Ballpark Stampeders Facebook group. Phil's fandom dates back to the early 1970's and is now working his way through the 30 MLB ballparks. Phil also enjoys visiting Spring Training and Minor League sites; he's a true baseball fan. Thanks Phil for sharing your ballpark experiences on Ballpark Nerd! 1st Inning – When did you become a baseball fan?
I'm not sure. It was sometime between the Milwaukee Braves departure for Atlanta in '65 and the Seattle Pilots move to Milwaukee in early '70. I was given my first baseball cards in the late 60s as well. Those really got me started as a baseball fan.
2nd Inning – What was your first MLB game you attended?
The exact date escapes me. It was sometime in the summer of 1970, the Brewers first year in Milwaukee. Baltimore was in town. If memory serves, the pitching matchup was Jim Hardin v. Marty Pattin. Not surprisingly, the O's won that one on their way to the World Series.
3rd Inning – Total MLB games attended?
Your guess is as good as mine. Numbers get fuzzy after a few decades, especially when you start doing something as a kid and don't keep track for the first 10-15 years. The only record I have of those days are some old programs and ticket stubs. I've tried to log as many games as I can remember/document on Sportspassport.com, but their MLB database only goes back to 1972 right now. I'll keep working at it.
4th Inning – Who is your favorite team? What made you a fan?
I don't know that I have a favorite team. As I mentioned earlier, I became baseball-aware in the window between the Braves and Brewers. If I had a favorite team growing up, it was probably the Cubs. Once we got cable, I regularly watched Cub games on WGN. In the early 2Ks, I started to visit Cleveland regularly and began to follow the Indians. That made the 2016 World Series even more special.
5th Inning – What ballparks have you visited?
Of current MLB parks: all the parks in both Central Divisions, plus Fenway, Houston, Seattle and Arizona
Older parks I've visited that are either gone or no longer MLB venues: Milwaukee County Stadium, Exhibition Stadium, the Metrodome, old Comiskey, Shea, old Yankee Stadium, Olympic Stadium, old Busch, Turner Field, Riverfront/Cinergy and the Vet. Many of those I saw in their last couple of years. Visiting older parks just under the wire has become a habit. If that continues, I'll be making my only visits to the current parks in Texas, Tampa and Oakland before long.
Minor league parks: I've seen affiliated teams play in 13 of the 16 current Midwest League parks, plus Toledo, Madison (WI), Kenosha, Akron, Iowa, Louisville, Columbus, Indianapolis, Brooklyn, Mahoning Valley (Niles, OH), Las Vegas, Tucson, Reading, Jamestown, Auburn (NY), Huntsville, Lexington, both Memphis parks (Tim McCarver Field and Auto Zone Park) and Omaha.
I've visited or toured these parks on non-game days: Binghamton, Buffalo, Rochester, Syracuse, Erie, Chattanooga, Mobile.
Add in spring training, which I'll talk about later on, and the list gets even longer.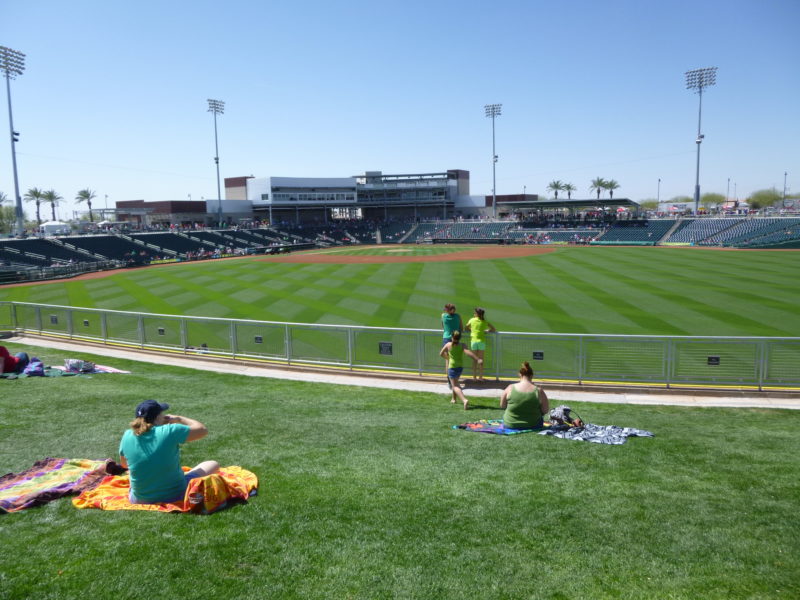 6th Inning – Do you plan on visiting all 30 ballparks?
Absolutely. If something comes up to prevent me from completing the run, Camden Yards, Dodger Stadium, Coors Field and ATT Park are the "bucket list".
Along the way, I'd like to get in as many minor league parks as possible. Finishing all of the affiliated minors might be a little too ambitious, but at the very least, I'd like to take in at least one game in each league and see every league's All-Star game at least once. So far, I've seen regular season games in both AAA leagues, the Eastern and Southern Leagues, Midwest League, South Atlantic League and NY-Penn League. I've also had the pleasure of taking in two AAA All-Star games, two Midwest League All-Star games, one each of the South Atlantic and NY-Penn League All-Star games and the 2016 AAA Championship game.
I've only seen postseason action twice: 1982 at Milwaukee County Stadium and 2016 in Cleveland. Also attended the 1975 All-Star game in Milwaukee.
7th Inning – 2017 Year in Review – Ballpark road trips, # of games, etc.?
2017 was a down year. Including spring training, I saw about 10 games, only one of which was an MLB regular season game. The upside is that I added three new Midwest League parks in a short road trip: Lansing, Fort Wayne and Dayton. Lansing was a particularly good time. We talked to a guy down the row who introduced us to the Lugnuts' radio announcer and gave us a tour of the press box. That was probably the high point of the trip.
8th Inning – What are your plans for 2018?
Planning far ahead isn't a luxury which I'm often afforded. Because of other commitments that can upend my life in a hurry, any advance plans I make have to be flexible. So far, the only item on the schedule is my annual trip to Phoenix for Cactus League action. I fell in love with spring training during my first visits in 2005 (Florida) and 2006 (Arizona) and try to get out there for at least a long weekend every year. If things go as planned, I'll finish this spring one short of seeing all the current Cactus League parks. Maybe a quick trip to Sloan Park will materialize so I can finish, but that would be a spur of the moment decision.
Beyond that, I'll spend a fair of time in Cleveland this season, having happened into a share of a partial season ticket package. I want to add a few more parks, but given other commitments, it's too early to make plans.
9th Inning – What is your favorite ballpark memory?
There are so many I couldn't begin to know where to start to pick just one. If you and your readers will indulge me, I'll go into extra innings and categorize some of them.
Funniest memories: It's a toss up between two. The first was in Kenosha, WI back in the 80s. They hosted the Twins Midwest League club at the time. The team was hosting "Just Say No" night, a popular anti-drug message at the time. One older usher didn't quite get it, announcing to his section, "Remember, everyone. Don't say no!". We got into the spirit of things, laughing and leading the section in a chant of "Don't say no!" The celebrity guest at the front of our section — Green Bay Packer tackle Ron Hallstrom — didn't find that particularly amusing, but his disdain may have been due to having one of his kids with him at the time.
The other technically wasn't at a ballpark. It happened at the AAA All-Star Fanfest in Toledo in 2006. Among other luminaries, we had the pleasure of meeting Jake the Diamond Dog, a sweet-dispositioned Golden Retriever. Jake was apparently a little thirsty when we met him because he slowly edged his nose forward toward the cup of cold water my friend was drinking while we were petting him. She asked his handler if it was ok for him to take a drink and the handler agreed, once he verified that it was water. Once he got the ok, Jake enthusiastically helped himself. After Jake finished, the handler said "Bet you don't drink out of that cup again." She looked at the handler, scratched Jake's ears one more time, took a long swig out of the cup, smiled and walked away. I'd love to share the handler's reaction, but I was laughing so hard I couldn't see it. There are some people who you just don't dare to do things.
Most fulfilling memories: First is the 1982 World Series in Milwaukee. I worked at County Stadium while attending college. At that time, employees were allowed to purchase playoff tickets, so I bought the maximum allowed. While I worked the playoffs, I gave the tickets to my mom, who shared them with various family members. None of them were able to see the Braves in the '57 or '58 Series and almost all were gone by the time the Brewers became competitive again, so this was the only opportunity they'd ever had to see playoff baseball in person.
Next was the 2016 playoffs. My bestie is a 25 year cancer survivor and Cleveland native who I refer to as "Wisconsin's Biggest Indians Fan". I secured tickets to the DS and ALCS in Cleveland that year so she could see her first playoff games. I'm hoping to add the 2019 All-Star game to the list.
Game 2 of the LCS was particularly memorable. We got to talking to the usher in our section, a charming older guy named Bob. After hearing Judy's story — 25+ year cancer survivor, Cleveland native who comes from a family of big Tribe fans, coming in from Wisconsin for her first playoff experience, family brick in Heritage Park, etc. — Bob and one of the Guest Services staff (I think his name was Jesse) were so touched that they came back later to thank her for her support and present her with a bag of team swag, "courtesy of the Cleveland Indians". It's one of the most generous gestures I've ever seen at a ballpark.
Third would be a trip to Houston in about 2009. One of my former students/teaching assistants worked for the Astros at the time. He invited some of us down to Houston for a couple of games and a ballpark tour. One of the biggest thrills a teacher can have is to see an alum succeed while doing what they love most. Meeting Astros GM Ed Wade in the elevator was a nice capper to the day.
Biggest "oops" moment: 2007 at Fox Cities Stadium, home of the Wisconsin Timber Rattlers. That game brought me my first and only foul ball, which I snagged with my left hand without spilling so much as a drop of the beer in my right hand. What I didn't realize was that the catch would bring all kinds of attention to me … as I sipped my beer in the top row of the "family" section. The place was overrun with school groups, so we took refuge in the most sparsely populated section. Thankfully, the usher gave me an "atta boy" and went on his way. Whew!
Most exciting moments: Two walk-off grand slams. One was on Opening Day, 1980 in Milwaukee. Sixto Lezcano hit a walkoff granny to beat the Red Sox 9-5. Gametime temperature was 35 degrees. It was so cold that the guy sitting next to me couldn't use his air horn. He tried, but the compressed air had condensed so much that the horn spit instead of blowing.
The other was July 7, 2011. Down 4-0 going into the bottom of the 9th, Cleveland's Travis Hafner capped a 5-run rally with a walkoff slam to ground the Blue Jays 5-4.
Most challenging playing conditions: Cashman Field in Las Vegas back in 1995, I think. The winds were the strongest I've ever seen at a ballgame, so strong that the blowing sand and dirt made anyone walking around the park feel like they were being sandblasted. 40' tall dust devils were sprouting up on the infield. The winds were such a challenge that routine throws from third to first ended up in the stands and routine fly balls and popups had AAA players running around like the Charlie Brown All-Stars.
Most amazing play: Detroit at Houston in 2009. Michael Bourn stayed in the longest rundown I've ever seen. Bourn singled to right field and rounded the bag at first only to be caught off base by a bullet throw from the right fielder. The ensuing 9-3-6-4-3-6-5 rundown not only allowed Kaz Matsui to score, but had the fans roaring on their feet. It's the only time I've ever seen fans cheer for a curtain call after a rundown.
To close, favorite park food? Now that the parks have upped their concession game and included local favorites, it's harder than ever to pick. Some recent favorites are the Burnt Ends sandwich in KC, BBQ nachos in Memphis, Polish w/ red sauce (apologies to Bob Costas; I'm not a bratwurst fan) in Milwaukee, Skyline Cheese Coney in Cincinnati and most anything from the Happy Dog in Cleveland.