I met Jeff Fiesta before the 2017 MLB season when he announced in the Ballpark Stampeders Facebook group that he would be traveling to all 30 MLB ballparks throughout the upcoming season. Jeff had planned several trips throughout the year and was in search of tips to get the most out of each ballpark experience. Jeff also reached out to all 30 MLB teams to share his goal and received some very positive feedback. Jeff's travels were tracked on Twitter @30MLBParks2017 and Instagram @PinoyMeetsWorld. Thanks Jeff for sharing your amazing year on Ballpark Nerd!
1st Inning – When did you become a baseball fan?
I became a fan in the mid-80's I had just moved back to the United States from Italy. Growing up in Florida, there were only 2 teams that came on TV at that time. Chicago Cubs (WGN) and the Braves (TBS). Naturally I became a Cubs fan… the lovable losers.
2nd Inning – What was your first MLB game you attended?
The first baseball game I ever attended was actually Chicago Cubs vs the Cincinnati Reds in the early 1990's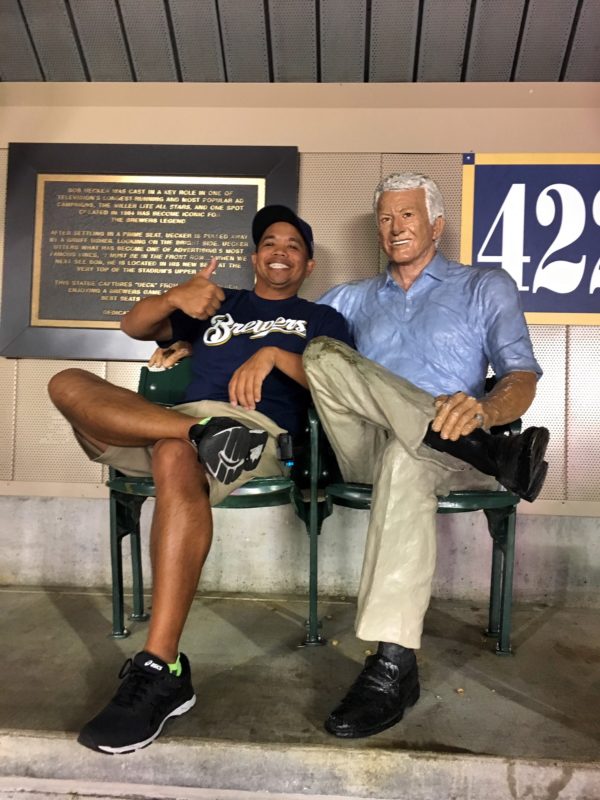 3rd Inning – Total MLB games attended?
It's really hard to say as I didn't keep track really prior to the MLB Ballpark passport. It would easily be in the 60+ range.
4th Inning – Who is your favorite team? What made you a fan?
My favorite team is the Chicago Cubs. As previously mentioned, growing up I could only watch one of two teams regularly. Back then, Florida didn't have a team. I played 2nd base growing up and I loved the way Ryne Sandberg played. He was my favorite player growing up. Getting to watch your favorite player on TV every day after school drew me into the game and the craft. Cubs/Ryno fan for life.
5th Inning – What ballparks have you visited?
33 Total. I've visited all 30 current ballparks, some more than once, and the old Yankee stadium, Turner field, and Comiskey Park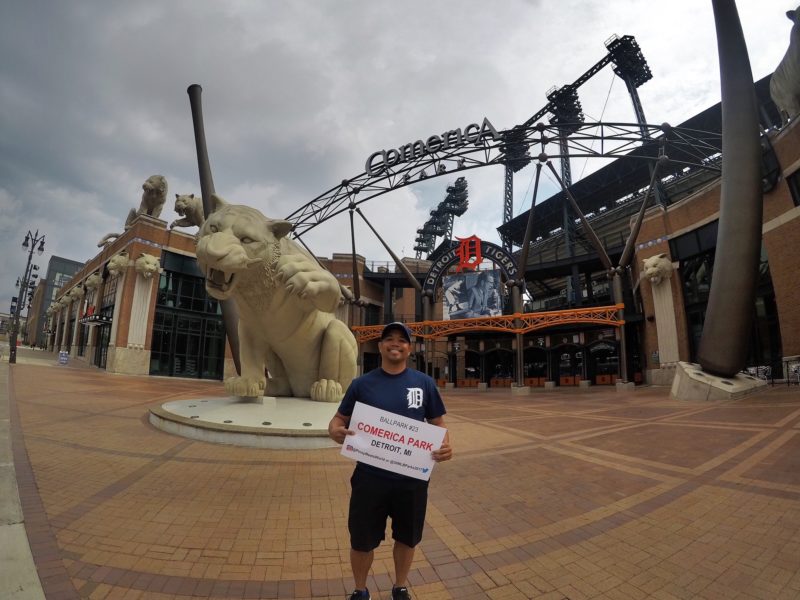 6th Inning – Do you plan on visiting all 30 ballparks?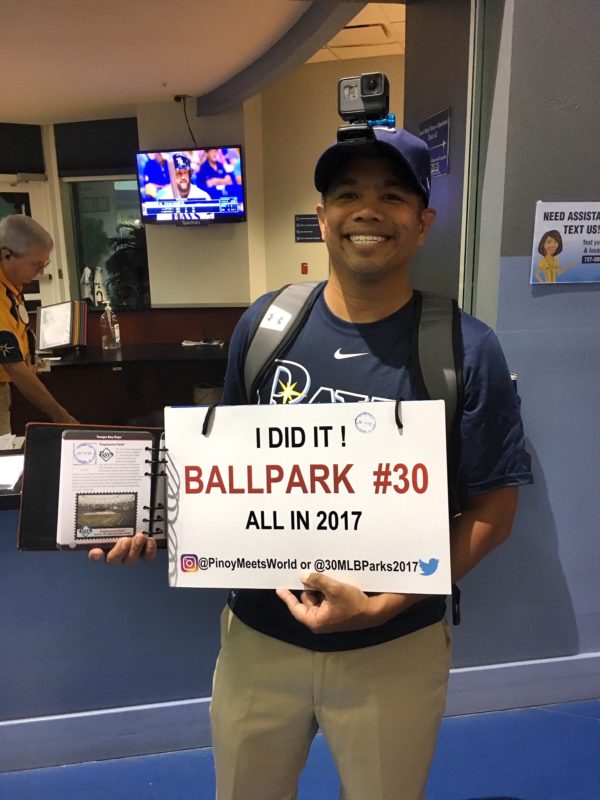 7th Inning – 2017 Year in Review – Ballpark road trips, # of games, etc.?
In the quest for all 30 ballparks
in one year
, I decided that I was going to write all of the teams and tell them that I was going to donate to charity $1 per run for all 30 games I attended and invited them to match my donation. I also asked them if they would donate to me anything from baseball swag, tickets, tours, etc. Surprisingly many teams did donate something and we were very accommodating. I planned several trips each month throughout the season. My first month, April, I did Nationals (free game tickets), Orioles (free tour tickets), Phillies (free game tickets), Mets, Red Sox (free Red Sox swag, and tour), and Yankees (free Delta 360 suite ticket). In May I went to Astros, Rangers (free tour/BP tickets), Rockies (free game tickets). In June I went to Diamondbacks (free BP tickets), Padres (free game/BP tickets), Dodgers, Angels, Giants (free SF swag/tour tickets), A's (free game/bp tickets), Mariners (free bp tickets), and Marlins. In July I went to Blue Jays and Braves (free bp tickets). In August, I went to Reds (free game tickets), Pirates (free game ticket), Cleveland, and Detroit (free swag). September was the final leg to the road to 30
in one year
. Royals (free personal tour, game tickets, BP), Cardinals (free tour tickets), Cubs (got to on the field prior to first pitch), White Sox (free game tickets), Brewers (free game tickets), Minnesota (free game/bp tickets), and I finished it up in my current hometown Tampa Bay (free game ticket, swag, and BP) vs my favorite team the Cubs.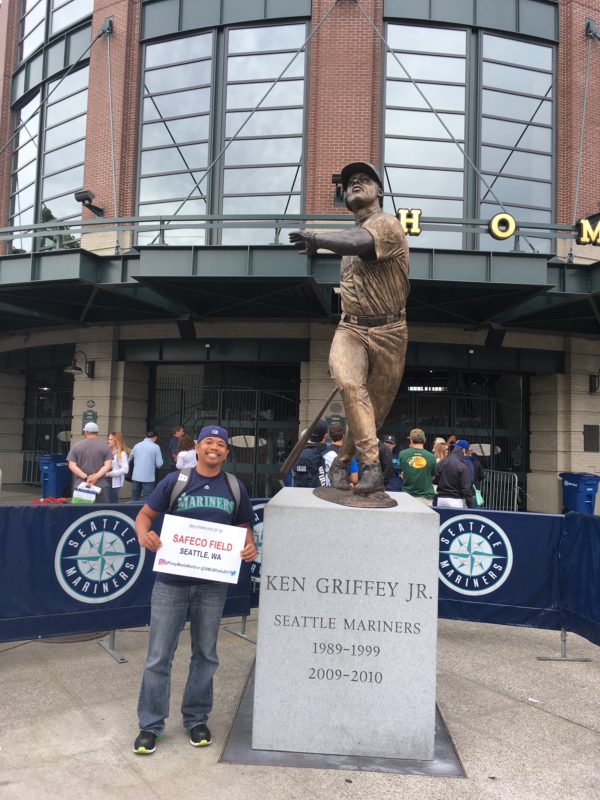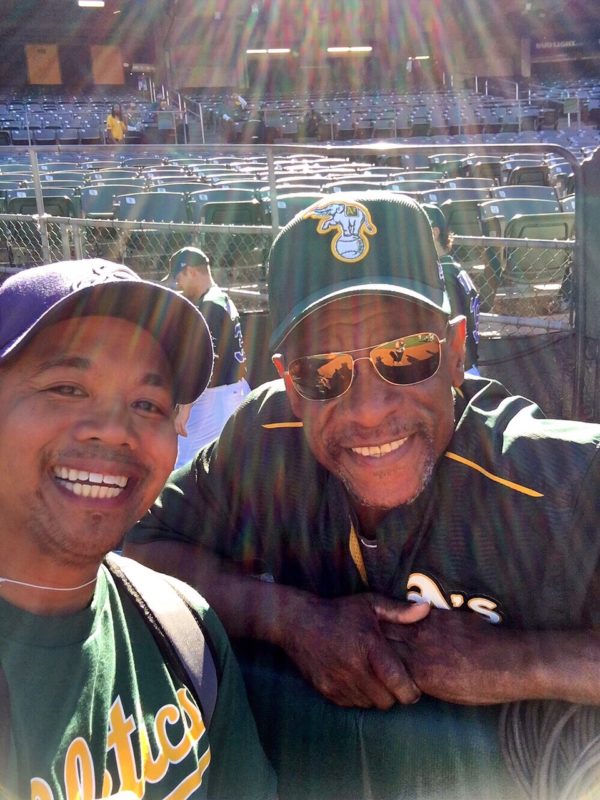 8th Inning – What are you plans for 2018?
Pay of debt! Haha. Honestly, I will catch some Spring Training games here in Tampa, but no significant plans. Time to recover and plan possibly all 30 Spring Training sites in 2019.
9th Inning – What is your favorite ballpark memory?
2017 was definitely a special year filled with surprises around every turn. If I had to choose one it would be the experiences given to me by the Boston Red Sox. They assigned an ambassador to me, Agusto Gomez. As I waited in the front for Gus to arrive I got to meet Dennis Eckersley and Jim Palmer. During the game, Gus came over and gave me a personal tour of behind the scenes at Fenway Park. He brought me an awesome Swag bag filled with a bunch of goodies. Brought me to his favorite seats in the ballpark on the green monster. And after the game had a special surprise for me. He asked me to meet him at one of the sections. When I did he walked me behind the scenes. Walked through the Orioles press conferences, and then out onto the field. It was COMPLETELY empty. Just Gus and I, and the Green Monster. He said he got permission to take me out there. It was so surreal. So much history there, and only 2 people on the entire field. We took pictures, I didn't want to leave. It was a night game and I had to walk back to my AirBNB, but I stayed as long as he let me until he eventually told me it was time to go.