You never know when you're going to meet "the one". For me, I met my wife Catherine in one of my favourite places, at SkyDome (errr Rogers Centre) in Toronto. My brother and I flew down to Toronto from Edmonton Alberta, which is a cool 3,400 kilometres (2,112 miles) away, for Opening Day 2012. We were excited to see the Jays take on the Boston Red Sox, and decided to stay in the Renaissance Hotel which overlooks the field. We felt like ballers!.
I became active on "Blue Jays Twitter" in 2010, and when I mentioned that we were making the trip for the home opener, a really nice group of Jays fans planned a post game excursion to Real Sports Bar and Grill, where I met Catherine for the first time. I became friends with a handful of them which was really cool, especially since my Jays fandom had been fairly independent up until that point. After the series, my brother and I headed back to Alberta and life went on.
The Jays had a lot of hype behind them heading into the 2013 season. They John Gibbons as their manager for the second time, and acquired 2012 NL CY Young winner R.A. Dickey and All-Starts, Mark Buerhle, Jose Reyes and Melky Cabrera. Excited about being a part of what promised to be an exciting season, I booked trips to see the Jays play in San Diego, San Francisco and Seattle. I wanted to sneak in an extra trip to Toronto as well. The only issue with that trip was my brother, who was my baseball traveling buddy, was selling a team of mules for somebody on the weekend that I was planning on going. When I tweeted that I would be flying solo, I received a direct message from Catherine, who was a Blue Jays season ticket holder, saying that she would be open to accompanying me to the games if I still decided to go. I'm so glad that she extended the offer! Although our intention was to go as friends, we hit it off and the rest is history. Catherine was coincidentally recruited for a job in Edmonton later that summer, and moved out west. 2013 ended up being a terrible year for our beloved Blue Jays, but it worked out pretty good for the two of us.
Since that time, Catherine and I have gone on baseball vacations every year:
2014- SkyDome, Wrigley Field, U.S. Cellular Field, Miller Park
2015- Chase Field, SkyDome (Postseason!)
2016- Angel Stadium, Petco Park, Safeco Field, Dodger Stadium
2017- Skydome
In 2014, we visited Wrigley Field for the 100th anniversary celebration. We were going to see the Cubs for Saturday and Sunday games. We ended up hitting the jackpot and play was suspended on the Friday game due to rain. They ended up playing the end of that game on Saturday, before playing their regularly scheduled game. We ended up seeing the Cubbies lose three games in two days. Yikes!
I had been planning to pop the question on this trip, which was super exciting. We hadn't been together for much longer than a year, but I knew she was the one. On this particular day, we took the Wrigley Field ballpark tour, which every baseball fan should do. The depth of rich baseball history that you'll experience on the tour is terrific. Once the tour ended and the ballpark opened, we went and found the Bartman seat, and then took our seats to watch batting practice. I remember saying to Catherine "I think something special is going to happen today", knowing full well that I was going to ask her the big question later that evening in downtown Chicago.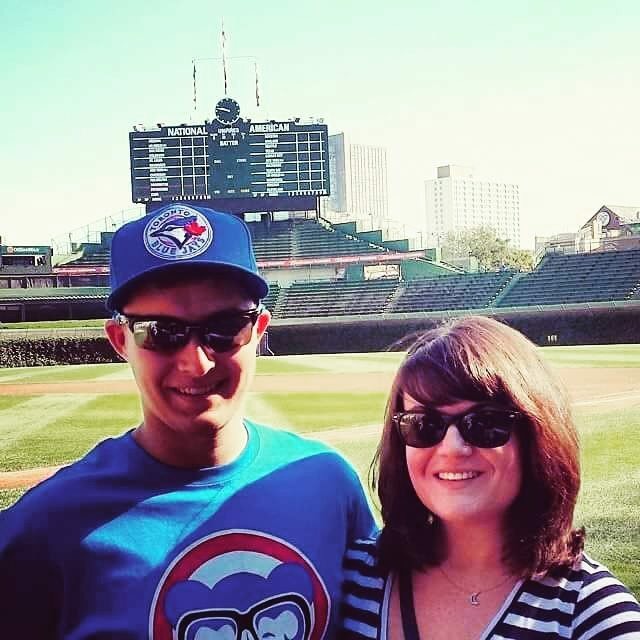 Fast forward to 2017, and we got married at a lovely restaurant in downtown Toronto. Of course, we extended our trip so we could see the Jays before they went on the road and we were around for a couple of games when they got back. Having our big day a few blocks from where we first met, and close to the baseball team that brought us together was very special.
Looking ahead, we're both hell bent on seeing all 30 MLB Ballparks together, with the next ones on our radar being Fenway Park, Minute Maid Park, AT&T Park and Coors Field. We both use the Sports Passport app to keep track of the games we see, and highly recommend it to any ballpark enthusiast.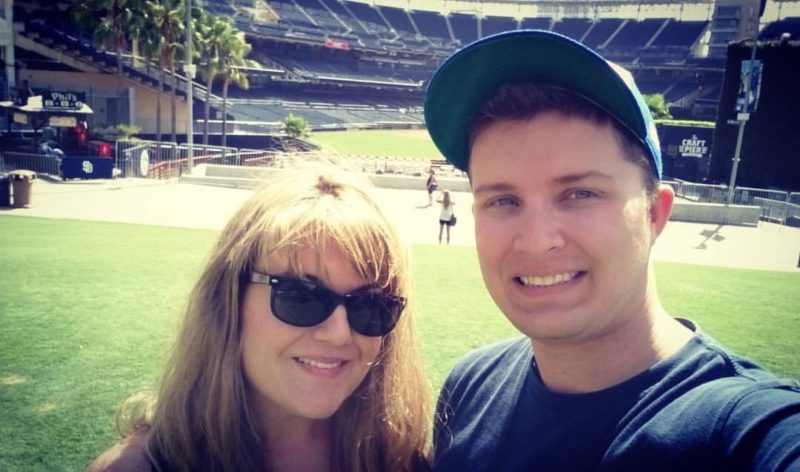 Fred's Ballpark Checklist (10) – @yourbestfred on Twitter
SkyDome
Petco Park
Angel Stadium
AT&T Park
Safeco Field
Wrigley Field
US Cellular Field
Miller Park
Chase Field
Dodger Stadium (Vin Scully's last home game!)
Catherine's Ballpark Checklist (14) – @catherine0626 on Twitter

SkyDome
Kingdome
Safeco FIeld
Oriole Park @ Camden Yards
Yankee Stadium (2009 edition)
Citi Field
Marlins Park
Wrigley Field
US Cellular Field
Miller Park
Chase Field
Angel Stadium
Petco Park
Dodger Stadium