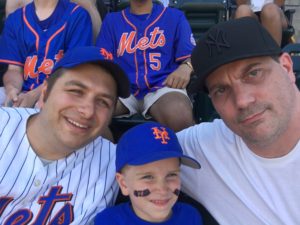 Last week I had the pleasure of taking my 4 year old son Griffin and cousin Vin to Citi Field for a 2015 World Series rematch between the Kansas City Royals and New York Mets.  Surprisingly this was Vin's first visit to Citi Field despite living in New York because for some reason Vin's a Yankees fan.  I enjoy playing tour guide to all MLB ballparks, especially Citi Field which has become my home away from home since its' opening in 2009.  Heading to Citi Field from Central Pennsylvania can be a challenge, New York traffic makes driving next to impossible.  I try and make the travel a part of the experience, especially when taking Griffin to games.  During the work week Griffin and I have trouble waking up but on game day we were out of the house and on the road by 7:30a to catch a NJ Transit train to Penn Station.
Once in NYC I took Griffin on a walk over to Grand Central Station to check out the famous station that is all of his train books.  Another book Griffin and I enjoy reading is the illustrated "Hello Mr. Met" by Rusty Staub. It follows Mr. Met through a day at Shea Stadium, the former home of the Mets.  I wanted to follow Mr. Met's travel itinerary and take the 7 train out to Mets-Willets Point.  Despite having gone to close to 100 Met game I still get excited as the 7 rolls through Queens on the way to the game.
I am a biased fan, but Citi Field is one of the best ballparks around.  The lack of pre and post-game dining options surrounding the ballpark are cancelled out by having one of the most diverse concession scenes around.  New to Citi Field in 2016 was David Chang's Fuku Chicken sandwich, a Korean-style fried chicken sandwich.  Picking up one was on my to do list however when you take a 4 year old and a Citi Field new comer you have to build in some Fan Fest and site seeing time into the game day experience.  The Fan Fest is located in center field and offers young fans batting practice, dunk tank and video game opportunities.  Be prepared to wait on line if you visit this area however you will be able to follow the game on one of the numerous screens throughout the concourse.  My takeaway from our visit to the Fan Fest was the $7 combo meal, a hot dog, apple juice, popcorn and giveaway, offered at Mr. Met's Kids Kitchen. It will be a staple on future visits to Citi Field.  With concessions in hand and a tour of Citi Field's Jackie Robinson Rotunda, Shea Bridge and Bullpen Gate behind us it was time for some baseball.
Noah Syndergaard, or Thor as Griffin calls him, was on the mound for the Mets against Royals' lefty Danny Duffy. It was the second game of a short 2 game interleague series.  The Mets jumped out to a 1-0 lead in the 4th inning on a James Loney 2-out single only to see the Royals take the lead in the top of the 5th with a Chelsor Cuthbert solo home run and Whit Merrifield RBI single. (Two of the most unique names in baseball).  The teams continued to trade runs throughout the middle innings, by way of an Asdrubel Cabrera two run home run and Paulo Orlando RBI single, that bounced off second base on its' way to center field.  With the game tied at three in the bottom of the 7th inning Mets rookie and first time left fielder Matt Reynolds hit his first career home run off Royals' reliever Joakim Soria to put the Mets ahead 4-3. The Mets bullpen would hold the Royals the rest of the way; Griffin's new favorite Met Jeurys Familia closed it out for his 24th save of the season.
The trip home to Central Pennsylvania is a lot easier after a Mets win.  It was a great day out with Griffin and Vin that I hope to repeat in the future.  Next stop for Ballpark Nerd, July 26th Padres and Blue Jays from Rogers Centre in Toronto.