I met Tracy Tran through our mutual admiration for the Tony Kornheiser Show (La Cheesiere!). Tracy is a devout Nationals fan and is hoping they can tie their 2017 NLDS Series up today against the Cubs. This week Tracy went Nine with Nerd to share his Baseball ballpark experiences.
1st Inning – When did you become a baseball fan?
Around the early 90s with the Orioles. I was a big Cal Ripken Jr. fan at the time.
2nd Inning – What was your first MLB game you attended?
1998 – Red Sox-Os at Camden Yards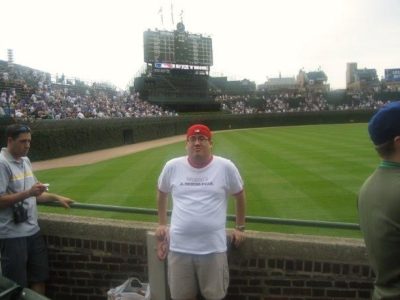 3rd Inning – Total MLB games attended?
Around 175 games
4th Inning – Who is your favorite team? What made you a fan?
Washington Nationals. I wanted a team in Washington and when I heard the Montreal Expos were the rumored team to move to DC. In 1999 they played an exhibition series against the Cardinals and I started following the Expos. When they moved and became the Nationals in 2005 I was on board.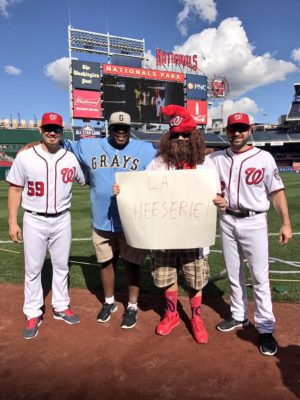 5th Inning – What ballparks have you visited?
Camden Yards, Nationals Park, Petco Park, Turner Field and Wrigley Field.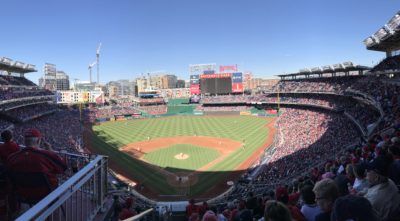 6th Inning – Do you plan on visiting all 30 ballparks?
Maybe, but I would like a partner (and lots of money) to share those experiences with me.
7th Inning – 2017 Year in Review – Ballpark road trips, # of games, etc.?
No road trips, Attended 40 games at Nats Park. Nothing spectacular this season except hosting a group of Tony Kornheiser fans (The Littles) when Tony was inducted to the DC Sports Hall of Fame.
8th Inning – What are you plans for 2018?
The All-Star Game is in DC, so I am going to take full advantage of it. Hopefully going to Chicago next year as well for vacation and going to the SHRM Conference in June.
9th Inning – What is your favorite ballpark memory?
September 8, 2014. A week before, the Nationals held a social media contest and I was selected as one of the fans to go on the field for the introduction of the Starting Nine. I dressed up as the Jayson Werth gnome to honor the best gimmick the Nats have ever done and for the guy who was the first player who truly wanted to join the Nats. I looked around the Starting Nine and there was one kid, so it's likely the kid would select Bryce Harper. I had Werth and we had a brief conversation. Werth touched my fake beard and enjoyed it. When I got to my seats, everyone was cheering I saw a person, who I gave an extra ticket, got a whole pizza pie from 7-Eleven and offered me a piece since I gave him the free ticket. In the 6th inning, they were announcing the Fan of The Game and I won, beating two children. When it was announced I won, Werth, who was playing right field at the time, saw me and tried to throw a baseball to me, but overshot it. The game was also a critical division matchuo against the Braves. The Nats won that night and took the series, eventually winning the National East title.