I've been reading Joe Sheehan's work since he started writing for Sports Illustrated in 2007. When I was struck by the Sabermetric bug I discovered his podcast The Baseball Show with Rany and Joe and subscribed to the Joe Sheehan Newsletter. (It's the best money I spend on baseball all year.) Joe was one of the founders of Baseball Prospectus, helping to bring the analytical side of baseball mainstream. Whether it's lineup construction or bullpen use Joe is always up to talk baseball and was gracious to share his ballpark experiences in this edition of Nine with the Nerd.
1st Inning – When did you become a baseball fan?
I don't remember a time when I wasn't a baseball fan. I have vague memories of going to a game at Shea Stadium when I was three or four, although my mother said she didn't remember that. I know I went to a Yankees/Twins game in the summer of 1978, because I kept the scorecard for a long time. The first season I really remember well was 1979 (when I was eight). I played baseball and all its city variants – a dozen or more, if I think about it – constantly as a kid.
2nd Inning – What was your first MLB game you attended?
As I say, I feel like I was at Shea in 1974 or 1975, but my mom said it didn't happen. The first game I can confirm was July 29, 1978.
Yankees 7, Twins 3
. I don't know that I remember the game, but I had the scorecard stashed away for a long time.
3rd Inning – Total MLB games attended?
I have no real idea. My attendance peaked from 13-17, I think, with maybe 20 Yankee games a year, plus an occasional Mets game. I'll guess wildly and say 500, but I really don't know.
4th Inning – Who is your favorite team? What made you a fan?
I grew up not far from Yankee Stadium and I was five when the Yankees came out of the CBS-era funk to own the city, so it was pretty easy to become a Yankee fan. I listened to or watched some ridiculous percentage of games through when I went to college in 1989. The whole cliche about falling asleep listening to the west coast games under the bed covers? That was me.
I don't really remember what "made" me a fan. It was always just there. My mom was a big sports fan and baseball was her favorite, so that was certainly part of it. I can remember playing catch with her and her pitching me a Wiffle ball. My grandfather was the one who taught me to hit, which is why I was BL/TR. Still am, I guess. There was always a game on at home, and this was back when TV sports weren't quite so omnipresent.
5th Inning – What ballparks have you visited?
I counted this up recently…I've been to 20 current MLB parks, plus five that no longer exist and the pre-renovation editions of the parks in Oakland and Anaheim. I've been to a half-dozen minor league parks as well.
6th Inning – Do you plan on visiting all 30 ballparks?
It's not a goal, but seeing a new park is always a fun experience. I have a bit of a gap in the middle of the country, which mostly reflects that I've lived on the coasts my whole life.
7th Inning – 2016 Year in Review – Ballpark road trips, # of games, etc.?
Milwaukee, Pittsburgh and the two New York parks, maybe seven games all told? I think that was it. The Pittsburgh trip was fantastic, went with a close friend and we caught two games over a weekend. I'd long wanted to go to PNC, and it did not disappoint.
The overall number of games is small, I'm aware. I'm pretty open about the fact that the ballpark experience in 2017, as an everyday thing, is challenged by the home experience. Maybe that's colored by the local parks here — going to the new Yankee Stadium just always feels like work — but it's also a function of how strong an experience watching from home is in the modern era.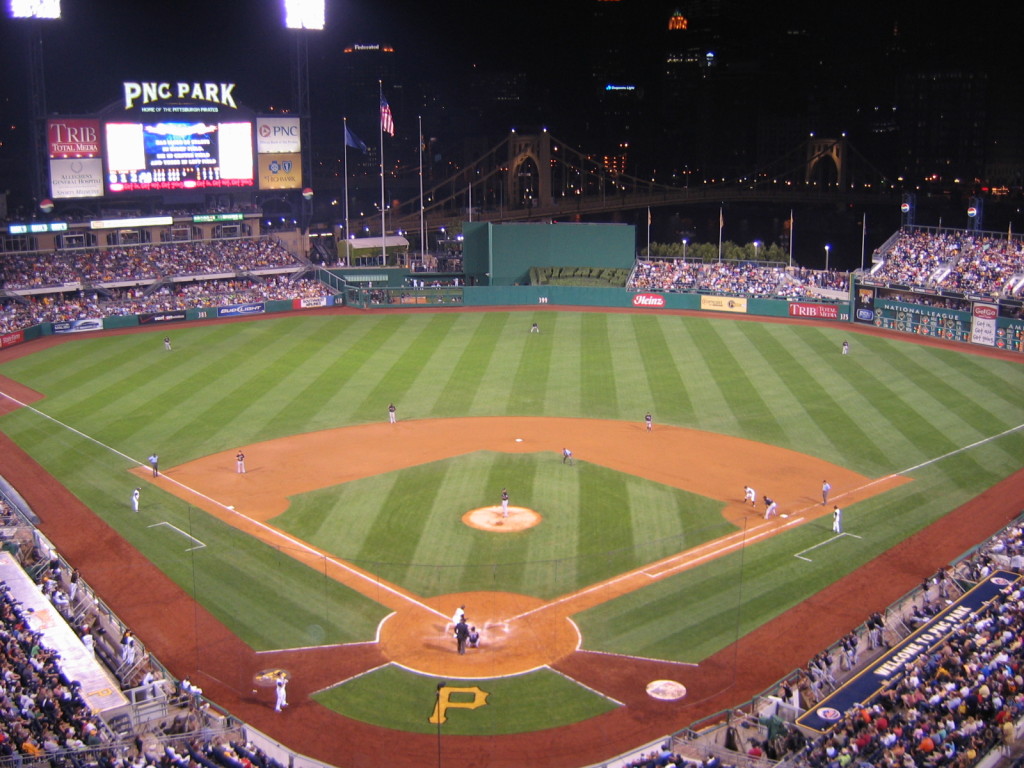 8th Inning – What are you plans for 2017?
I've hit the local parks a couple of times. When I go to games now, it's largely a social thing, as opposed to a hardcore baseball thing. I'm almost always with a friend or six, and we're kibbitzing about baseball and catching up and having fun. I'm probably more of a casual baseball fan at a baseball game than I am anywhere else in my life.

9th Inning – What is your favorite ballpark memory?
This is very hard to narrow down, and on any given day I might pick from four or five games that stay with me through the years. I guess I'd choose September 26, 2013. It was to be Mariano Rivera's final home game, and turned out to be his final game. You may remember Derek Jeter and Andy Pettitte being sent to the mound to take him out, Rivera breaking down and crying as it happened.
I was there with my mom, who was fighting cancer at the time. I had decided at the last minute to splurge for tickets for us because it was Mo's last game, and I thought she'd enjoy it. As it turned out, it was the last game we ever attended; she passed
six weeks later
.
That sounds like a sad story. It's not. We got to see this wonderful moment, we shared a hot pretzel, we complained about the offense, and we talked about everything. It was like so many games we'd attended across the street when I was a kid. I am so incredibly grateful to have had that night with her.