Being the new guy at the office can be scary.  Since beginning my professional career in 2004 I've been the new guy on three occasions and each time baseball has been a way to bond with new colleagues.  I recall some heated Yankees Mets debates during the 2006 season as both teams won their divisions and I wish I could forget the 2007 Mets Phillies battle, ending in a Mets collapse, for the National League East after moving to Pennsylvania.
Since transitioning into my current role in 2012 the Phillies have been a topic of discussion around the proverbial water cooler.  After winning five consecutive National League titles they have devolved into a team in full rebuild mode.  The team's current roster includes only 2 members, Ryan Howard and Carlos Ruiz, from their 2011 102-win team, with both assuming part-time roles.  The nadir of their rebuild was last season's 99-lose campaign which included trades of future Phillie Wall of Famers Jimmy Rollins, Chase Utley and Cole Hamels.
The Phillies outlook was bleak heading into the 2016 season, however it did not preclude four of my coworkers and I from scheduling a Business Persons special for the Blue Jays game on June 16th.  Citizens Bank Park offers great site lines and concessions regardless of the Phillies record which heading into June was .500. An added bonus was the pitching match-up between former Phillie J.A. Happ, a Blue Jay offseason acquisition, and emerging Phillies ace Aaron Nola. Unfortunately the game did not live up to the pregame excitement, with the Blue Jays hitting 5 home runs on their way to a 13-2 win. The game will live in Phillies infamy, not because of the final score, but because Center fielder Odubel Herrera forgot the number of outs in the 8th inning after catching a fly ball. Phillies manager Pete MacKanin ended the night with a postgame team meeting to address the team's lack of execution in the field.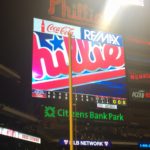 My take away from the night was the number of Blue Jays fans in attendance.  Despite the 8 hour drive south Jays fans migrated to Citizens Bank Park for the 1993 World Series rematch.  I met a few who were headed down to Baltimore after the game for the Blue Jays weekend series against the Orioles at Camden Yards. My coworkers could sense my jealousy. Having traveled to a few road ballparks to watch the Mets; I can attest to the excitement of watching your favorite team win outside their home ballpark.