I've always been interested in numbers. It's why I became a Financial Analyst and enjoy balancing my checkbook. I love baseball because it's rich in statistics, whether it's ERA, xFIP, OPS+ or WAR the game is a treasure trove for fans like myself who continue to learn more about the game each day. The Ballpark Nerd Game Log preserves the memories of visiting 38 ballparks (and counting) with friends and family. When I was growing up my father told me how he would skip school to attend Brooklyn Dodgers games at Ebbets Field. Who knows how many games he attended but the thought of him sitting in the Grandstand watching Jackie and the Duke puts a smile on my face. My dad and I attended 6 Mets games at Shea before he passed away in 2005, too few games when I look back but I plan to make it up with my children.
With a busy home life I can't attend as many games as I would like however thanks to my affinity for round numbers and desire to stay married (love you Rachel) ten games a year seems to be the sweet spot. The 2016 season was a fun one but with the Mets battling for a Wild Card spot my 10th game of the year and 200th overall had a unique feel. The fourth game of the Mets Phillies series also served as the Mets final scheduled home game. Game 81…I've been there before. Back in 2007 and 2008 I was in attendance as the Mets lost out on their chance of a playoff berth – historical collapses in back to back years. Fans were confident throughout the game that this would not be the Citi Field finale.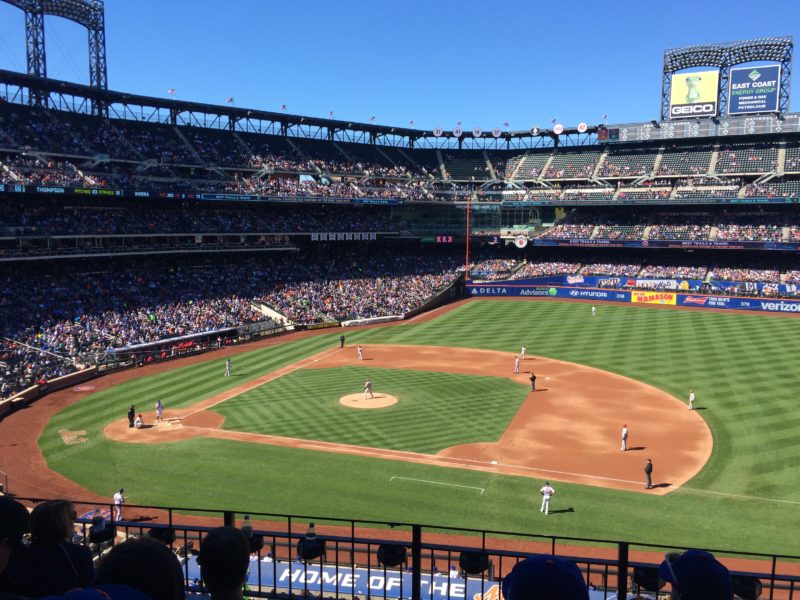 Throughout the season, as Mets were placed on the disabled list, players who started the season low on the ladder stepped up. None in my opinion more than starting pitchers Seth Lugo and the day's starting pitcher Robert Gsellman. They stabilized the rotation after season ending injuries to Opening Day starter Matt Harvey and 2014 Rookie of the Year Jacob deGrom. Gsellman pitched seven shutout innings, allowing three hits and striking out eight Phillies. Gsellman also delivered his first big league hit despite a left shoulder injury, forcing him to bunt if he wanted to put the ball in play. The Phillies were playing out the string, having come off a 10-8 win they were ready to head home and wrap up their 2016 season. Philadelphia's pitchers walked nine, threw three wild pitches and hit four batters. The Mets took advantage of the Phillies poor pitching to a tune of 17 runs scored by 11 Mets. Asdrubel Cabrera's grand slam led to the largest shutout home win in Mets history: Mets 17, Phillies 0.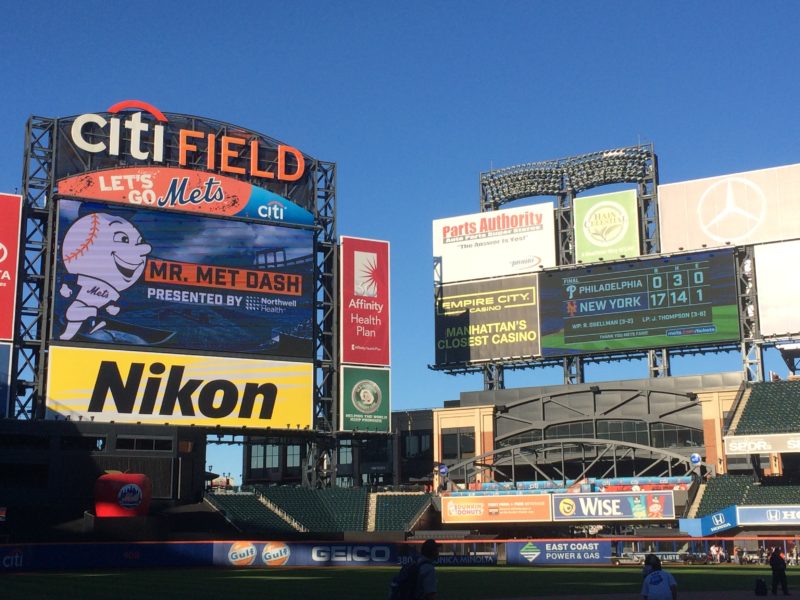 The Mets-Phillies game was also the last chance Griffin had during the 2016 season to run the bases. Rain thwarted our two previous attempts and we were determined to stick around despite the Mets blowout win. It was a great way to end a long day and our 2016 season. Five games together in four ballparks…not a bad way to raise a ballpark nerd.
The Mets would go on to win the Wild Card by taking four of six games on the road during the final week of the season and host the San Fransisco Giants in the 2016 National League Wild Card. Unfortunately Griffin, Ballpark Nerd Phil Black, and I saw the final Mets home victory. Here's to a great 2017! #LGM