It's been almost 18 years since I was a Freshman at Fordham University in the Bronx. It was during the Yankees dynasty, that I chose to pledge my allegiance to the crosstown Mets. Fortunately Fordham was full of Met fans despite being a few stops on the D Train away from Yankee Stadium. One of those fans, Paul Nigido, was also one of my Resident Assistants helping poor little freshman like myself navigate college life. I met Paul during one of his RA Programs, a Thursday night Mets game. Studying for my Math quiz the following day took a backseat to checking out the Mets as they pushed for the playoffs.
Since that night Nigido and I have followed the Mets every move. Whether it's e-mailing trade proposals back and forth or his RA Program that involved free breakfast and watching the Mets and Cubs open the 2000 season in Japan the Mets have served as a constant as we've both added responsibilities along the way. I can remember Nigido picking me up in his 1988 Honda Accord, with manual locks and crank windows, on the way to Shea to see the Mets play the Giants, where I scalped two tickets in different rows or having to park in the auxiliary parking lot which felt like miles away from Shea for hat night against the Royals. My favorite Nigido ballpark story was when we were tailgating before a Sunday night Mets Yankees game in 2003. Apparently open container laws applied to our parking lot and we, along with Nigido's friend Neumann, were given citations for drinking. The cops told us we could sit in our car and drink or find red cups. The cover image for this post is a picture we took together with our beers and citations.
This is the first edition of Nine with the Nerd, nine questions related to ballparks, baseball and the fans who want to remember them. If you would like to share you story drop me a line at ballparknerd@gmail.com
1st Inning – When did you become a baseball fan?
1985; I was 6 years old
2nd Inning – What was your first MLB game?
Cardinals v. Mets from Shea Stadium
3rd Inning – Total MLB games attended?
At least 50
4th Inning – Who is your favorite team? What made you a fan?
The Mets, the first year I followed baseball they won the World Series. My first baseball jersey was Keith Hernandez and I had Doc and Darryl pictures in my room. Over the years I have professed my love for Mike Piazza, who the Mets acquired in 1998. During my time at Fordham I had a life size cut out of him in my room. It was a real chick magnet.
5th Inning – What ballparks have you visited?
Citi Field, Shea Stadium, both Yankee Stadiums, AT&T Park, Oriole Park at Camden Yards, and Citizens Bank Park.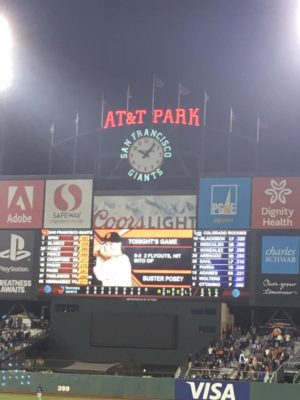 6th Inning – Do you plan on visiting all 30 ballparks?
No
7th Inning – 2016 Year in Review – Ballpark road trips, # of games, etc.?
1 game in San Francisco on a business trip. I bought my ticket on SeatGeek and read up on Ballpark Nerd's AT&T Park Concierge page.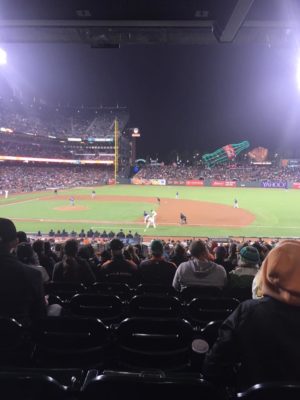 8th Inning What are you plans for 2017?
Maybe a Mets game or two.
9th Inning – What is your favorite ballpark memory?
My parents bought Sunday season tickets for the Mets when I turned 16. The Mets were awful, but we needed to find a family activity we all would enjoy. Anyway – one Sunday Shea was empty so we moved our seats. I was with my friend Neumann. We sat there for a few innings and it was warm. Neumann decides that we are going to move – as soon as we move Mets utility infielder Tim Bogar hits a lazy fly ball that lands in the exact seat that I was previously sitting in. It was my only chance at foul ball.