As a lifelong Cubs fan, attending any playoff game is a special occasion. Game 1 of the 2016 NLCS was my third playoff game. I had previously attended Game 3 of the 2007 NLDS and Game 4 of the 2015 NLDS. What made this game special is that it was the first playoff game I was able to share with my 8 year old son.
Within the past year or so he has developed a healthy baseball obsession. A couple of years after he was born my 10 year wait on the Cubs season ticket wait list came to an end. My first season with tickets was the same year as the arrival of Theo Epstein. Those were some lean years early on, but the last two seasons have been a blast. We do not live in the Chicago area so we can't attend as many games as we would like, but we try to make a few trips each year.
Upon entering the gates my son was immediately handed a blue "W" towel which he insisted on waving a full 2 hours before the game. He can tend to get a little bit of anxiety when in the midst of big crowds so I was somewhat concerned how he would handle it all. He couldn't have done better and was in the game for every pitch. He even made sure he used the restroom prior to the game because he didn't want to miss a pitch.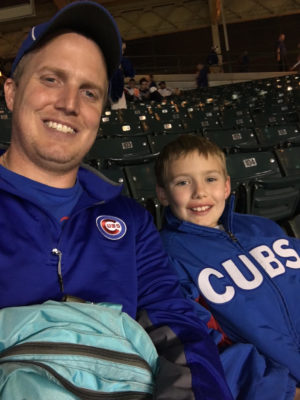 8th innings have not been historically kind to the Cubs in the NLCS (see 2003 Bartman) and I have been a Cubs fan long enough to sense trouble when it arrived. Bringing in Aroldis Chapman with the bases loaded was a sight to see and the crowd certainly had some nervous energy. It continued to get louder and louder as he struck out the first two batters before giving up a game tying single to Adrian Gonzalez. I looked down at my son and he was crushed. I immediately felt like I was 8 years old again watching the Cubs lose to the Giants in the 1989 NLCS.
His sad face wouldn't last long though. When Miguel Montero stepped into the box with the bases loaded I leaned down and reminded him that we saw Montero hit a grand slam the year before at Wrigley against the Diamondbacks. He gave me a smile and said, "I wouldn't mind if he did it again." Well, amazingly it did. I think I picked him up before the ball landed in the seats and just started jumping. Strangers around us were high fiving him as well. I've been to many games in my life but nothing will top that memory I got to share with my son. It is something I will cherish for the rest of my life. Go Cubs!
Steve Beyl @sbeyl01