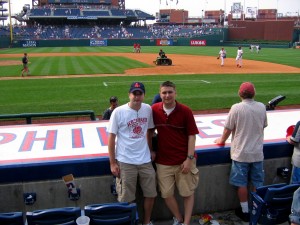 Philadelphia, Pennsylvania
October 2, 2004
Shortly after the 2003 season, the Philadelphia Phillies left Veterans Stadium and moved across the street to their new home, Citizens Bank Park.  The 2004 season promised to be a memorable one.  The Phillies added closer Billy Wagner to their bullpen and starter Eric Milton to the rotation.  These acquisitions along with their new home were supposed to put the Fighting Phils over the top.  What followed was a season of discontent, as the Phillies failed to meet expectations.
Citizens Bank Park offered Phillies fans everything Veterans Stadium did not.  The 43,000 seating capacity allowed for a more intimate ballpark experience.  The grass playing field save the Phillies many injuries, as the Veterans Stadium AstroTurf was considered the worst in all of professional sports.  Ashburn's Alley offered Citizens Bank Park visitors a festive, history-filled, outdoor entertainment area located on the outfield concourse.  All of these features make Citizens Bank Park one of the best ballparks in Major League Baseball, but what makes it special to me is it's the first ballpark Rachel, Reaghan and I ever visited together.
October 2, 2004: Game 161.  The Phillies and Florida Marlins were wrapping up the 2004 season.  Although both teams finished the season above .500 it was a disappointing year for both.  All of this is secondary because that night will be remembered as the night I took Rachel and Reaghan to Citizens Bank Park for the first time!  Baseball and children go together like peanut butter and jelly, a perfect combination.  Reaghan was excited to see her first game.  She rooted for the Phillies and met the famed Philly Phanatic.  Reaghan caught onto baseball pretty quickly: I was taught her two cheers, "Go Phillies" and "Hit a Home Run".  That evening was the beginning of an interest in baseball for Reaghan, who enjoyed spending time at Citizens Bank Park, although it might have been the cotton candy, hot dog, cheese steak and soda combo that she are while at the game.  I was proud to take my two girls to the game and plan for more in the future. I tease Reaghan that we are going to plan her college visits around ballpark trips.  Maybe she can be the first in her class to visit all 30 Major League Ballpark! Hey I can dream, can't I?