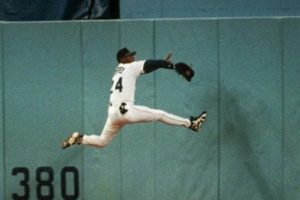 "Did you watch the game last night?" I asked one of my first-grade classmates as we cleaned our classroom chalkboard. It was April 27, 1988 and I had spent the previous night watching the New York Mets defeat the Atlanta Braves 13-4; it was the first time I could remember watching a Major League Baseball game. Ralph Kiner and Tim McCarver introduced the game into my life that night and it has been a significant part ever since. I will also remember 1988 as the year I began wearing glasses. The last thing I wanted as a 7-year old was to stand out in any way. Despite my teacher calling me The Professor it did not take long for my classmates to start calling me a nerd.
"We should do something fun before we graduate." I suggested to my friend Mike. It was June 2002 and we were two semesters away from our respective college graduations and subsequent entrance into the real world. MasterCard had a commercial at the time where a father and son attended a ballgame. The narrator mentions how much tickets, concessions and souvenirs cost however the time spent together and experience were priceless. It was with that idea in mind that Mike and I decided to begin touring the 30 Major League Ballparks. We have spent the last 14 years traveling across North America creating priceless memories throughout our 38 Major League Ballpark visits while bringing many friends and family along the way. I wish I could go back to first grade and let my classmates know that I am a nerd. I am a Ballpark Nerd.
"Why Ballpark Nerd?" With all the baseball, ballpark and travel information available online, why spend time on this one site? I would suggest it's because I have put in the time over the past 14 years researching all the ballpark sites and resources available and am confident Ballpark Nerd is the one site to handle it all. My goal is promote the experience of passing through the turnstiles, a new ballpark, a new city, a new adventure. Ballpark Nerd is a way to preserve these experiences and share them with fellow baseball fans and Ballpark Nerds around the world.
Ballpark Nerd is organized into seven sections:
Ballpark Experiences & Galleries – Essays and Photos from my travels. Fan Experiences section to come.
Ballpark Concierge – Travel, ticket, children's activities, concession, schedules and promotions for all 30 teams. Need help planning your next Ballpark road trip? I am available to assist.
Rankings – Need help deciding which Ballpark you should visit? I've included a synopsis on what makes each Ballpark unique. Additional rankings to come
Inside the Park – Want to know what new concessions are being served at the ballpark? Updates on what impacts fan experiences while they are at the Ballpark.
Game Log – A listing of the 200 MLB games I've attended through 2016 along with players of the game and proof of purchase.
About & Contact Us – Share your own Ballpark experiences and request information regarding a personalized Ballpark Tour.
Thanks for stopping by Ballpark Nerd!